South Korea has set a serious goal for itself: achieve carbon neutrality by 2050. The goal has been laid out in the government's Green New Deal, a sweeping and ambitious plan launched earlier this year. The country seeks to invest $61 billion in various technology initiatives to create hundreds of thousands of jobs and reduce the country's carbon footprint. As part of this plan, the government intends to increase South Korea's renewable energy capacity to 42.7 gigawatts (GW) by 2025, up from 12.7 GW last year. So, how will the country, which must overcome some massive geographical and population density constraints, get there?
South Korea has seen its energy needs surge amid years of steady economic growth. The country's electrical consumption rose 5.4% from 2015 through 2019, according to data from the U.S. Energy Information Administration. And according to the International Energy Agency, as recently as 2018, South Korea had become the eighth largest emitter of CO2 in the world.
As a result, some of the country's biggest utilities are turning from coal-burning power plants to liquefied natural gas, which can help deliver power on demand and support the development of renewable energy resources like wind and solar. In fact, three major projects in South Korea will soon be using highly efficient HA gas turbines engineered by GE to work toward the environmental goals laid out in the country's Green New Deal.
Naepo Green Energy Co. Ltd.'s new district heating plant in the center of Naepo City, about 65 miles south of the capital Seoul, will be powered by GE's advanced and highly efficient 7HA.02 gas turbine, as well as a STF-D650 steam turbine in a combined-cycle power plant. In a combined-cycle power plant, exhaust energy from the gas turbine creates steam in the heat recovery steam generator (HRSG) with the steam then used in the steam turbine, increasing the plant's power output and overall efficiency by roughly 30%. These GE machines in a combined cycle power plant can push beyond 63% efficiency in converting the energy of the fuel into electricity. The new plant will replace a previously planned waste-to-energy plant.
Korea Southern Power Co. Ltd. (KOSPO), a unit of the national utility Korea Electric Power Corp., has placed an order with GE for main equipment for their Shinsejong combined-cycle power plant (CCPP) — including its 7HA.03 gas turbine, the largest and most efficient turbine of its kind in the world — for a plant that will supply heat to Sejong City, the country's administrative capital.
Tongyeong Eco Power has also placed an order for its combined-cycle power plant at Anjeong Industrial Park in Tongyeong City, which includes two 7HA.02 gas turbines, one STF-D600 steam turbine, two HRSGs and three H65 generators. Commercial operations there are expected to begin in 2024.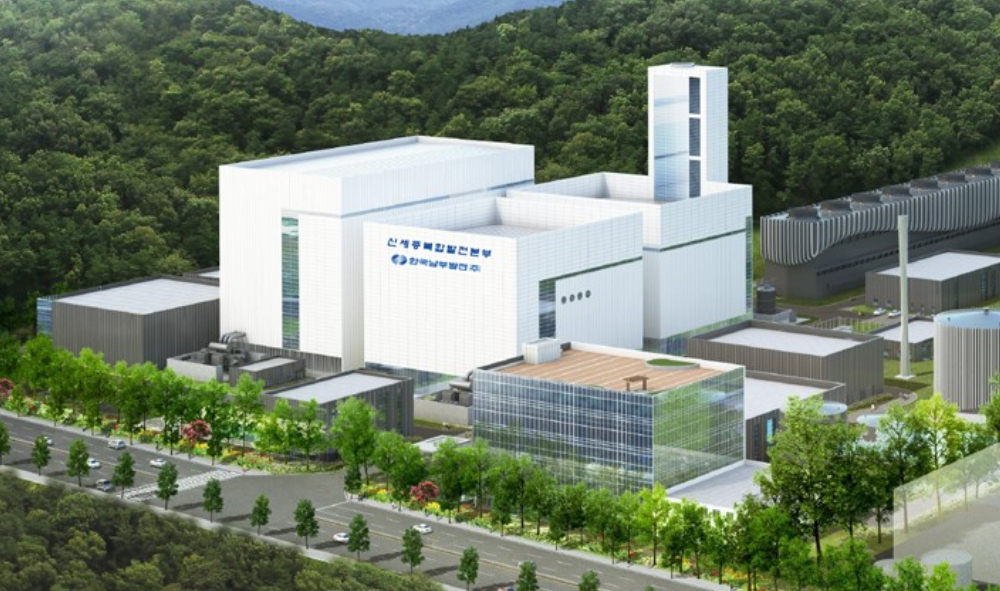 Gas-burning power plants can produce 40% less carbon than coal-burning plants. But the number can go as high as 60% in the combined-cycle setup, as reported in a recent white paper published by GE that looks at the fastest ways to decarbonization. There is an additional opportunity to further reduce coal emissions by retiring existing coal-fired capacity and replacing it with new, high-efficiency combined-cycle capacity. Doing so would almost immediately bring down global power sector emissions by 10% and total energy-related CO2 emissions by 4%.
GE's HA turbines are the company's most advanced turbines. The high-efficiency, air-cooled (HA) gas turbine utilizes a passive air-cooled turbine section without the excessive use of pumps, valves, tanks and heat exchangers. Because the HA gas turbines generate more power than the F-class turbines, the power plants need fewer gas turbines to make the same amount of electricity, thereby reducing both the physical space needed to build the plant and capital expenses. In addition, the higher efficiency of the HA gas turbine means it will cost less to operate over the lifetime of the plant. GE's HA gas turbines are highly fuel flexible and able to operate on a variety of fuels, including blends of hydrogen and natural gas, to offer multiple pathways to achieve near-zero carbon operations in the next decade.
Both the Naepo and Shinsejong projects should help move the country further along in its quest to reduce carbon emissions by ensuring that new urban development is connected to South Korea's District Heating System (DHS), a centralized heating system that distributes heat to residential developments, eliminating the need for people to install individual heating systems in their homes.
The country has used the DHS since the 1990s. With a growing population of nearly 52 million, the DHS delivers energy efficiency on a national level and has enabled better urban planning. The use of district-wide heating and cooling systems has helped South Korea contain carbon emissions, relative to the impact of individual heating and air-conditioning systems. It's also played an important role in the expansion of densely populated communities.
"If these plants did not exist, each house would have its own small individual gas boiler for heating and hot water use," says Jongsoo Kim, country sales leader for GE Gas Power Korea. Considering that South Korea added 490,000 housing units in 2019, an increase of 2.8%, according to Statistics Korea, reducing the need for potentially hundreds of thousands of home boilers brings with it significant environmental advantages.
The Naepo project is expected to provide electricity for about 125,000 homes and heating services to 100,000 people, while the Shinsejong CCPP in Sejong City will likely service 160,000 homes with electricity and 270,000 people with heat. Both plants are projected to come online in 2023. The Tongyeong Eco Power project in Tongyeong City is expected to supply more than 1 gigawatt of electricity to the grid — enough to power the equivalent of approximately 1 million South Korean homes.
The Naepo, Shinsejong and Tongyeong projects are an example of GE's strong relationships with the largest EPC companies in the Korean power segment — including Daewoo, Hanwha, Lotte, POSCO and Hanjin Heavy Industries — Kim says. Since South Korea's long-term goal is to increase its reliance on renewable power sources, gas — and gas turbine technology — is going to serve as a critical bridge. "While the Green New Deal does not directly call for using gas power, it does require more gas power eventually to make up for the intermittent nature of renewable energies derived from solar and wind," Kim says.
Gas power is projected to last well into the future. It will help to backfill the gaps created by the retirement of aging coal- and nuclear-fueled plants and may further lower emissions through the eventual replacement of older gas-powered facilities with the latest turbine technology. The Naepo and Shinsejong plants are expected to average production of two GWs per year for the next 15 years. "Considering the geographical, topographical and resource-wise conditions of South Korea," says Kim, "rather than competing, we see the shared roles of gas and renewables as essential to the country's future power needs."
Categories
tags