One door closes, and another opens. Not far from one of Germany's many retired nuclear power plants is a new kind of generator, never before seen on the country's electricity grid. Opened in March, the 300-megawatt (MW) Biblis Grid Stability Power Plant has one job and one job only: to ensure stability in tense grid situations, when supply and demand are out of balance. In the energy system of the future, such flexible operating resources are important for secure grid operation.
Remote-controlled from many miles away, Biblis, because of its unique configuration, can come on strong in less than 10 minutes after a push-button start. And it can cut out just as fast. Aman Joshi, general manager for GE Vernova's aeroderivative business, which engineered the plant for Germany's RWE utility, says Biblis is "really a short-duration energy solution, coming on just for two or four hours at a time."
Based on its innovative architecture, Biblis offers a singular edge. A 300-MW power plant would typically be configured with a single giant turbine. Biblis, however, uses 11 much smaller turbines, GE's LM2500XPRESS, and arranges them like a rack of servers. Theoretically, Joshi says, a utility can fine-tune its response to grid demand, if only two or three of the turbines are needed. Typically, however, the Biblis plant is expected to mostly run at the full 300-MW level.
"The plant has kind of broken the glass ceiling and shown that if you go with smaller aeroderivative gas turbines, it actually offers you more flexibility and broader ability to respond to grid variation fluctuation issues," says Joshi.
Germany has been heavily criticized for shutting down its nuclear plants this past spring. While less polluting and steady, they're not flexible, and startups and shutdowns take a long time. As Germany's renewables and hydropower reach an ever higher share of the power grid — hitting 41% in 2021 — the most flexible backup source is increasingly natural gas.
"Another way of thinking about this is we are a long-duration energy storage system, in the form of natural gas or hydrogen, and you can generate it whenever you need it," says Joshi. The hydrogen opportunity is not just theoretical. Germany plans to build an 1,800-kilometer (1,100-mile) hydrogen pipeline network by 2027. And it has also joined the ambitious H2 Med project to supply 10% of total EU demand by 2030. Conveniently, the LM2500XPRESS is already capable of burning up to a 35% hydrogen blend.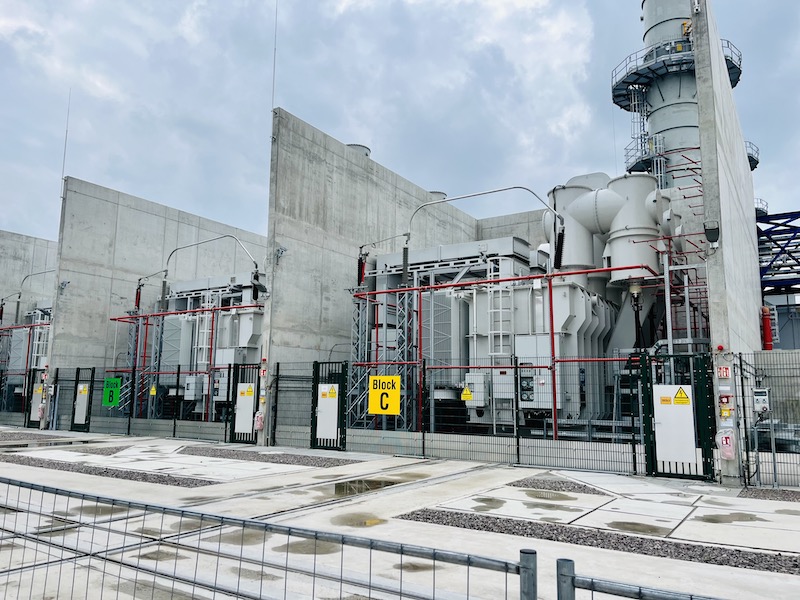 The Biblis project faced a number of hurdles as it passed through COVID and then Europe-wide energy disruptions brought on by Russia's invasion of Ukraine, according to Arman Koklu, project management director for Europe at Gas Power, part of GE Vernova. Another challenge: Like the United States, Germany has both ambitious climate goals and a tough regulatory web for all infrastructure trying to meet those goals.
"In a nutshell, when I look back on this, I can really define the success of the project as the ability to cooperate and harmonize all steps, in alignment with local authorities and service providers, to comply with rules and regulations that are very specific to that part of Germany, and complete this project quickly," Koklu says.
The Biblis Grid Stability Power Plant has come online at the perfect time to test its capabilities: as the sun returns to Europe. Every spring, solar supply soars to incredibly high levels and then crashes hard at day's end. This region of Germany, south of Frankfurt, will see more than 16 hours of sunshine on the longest day in June.
"In mid-April we got a call from the grid operator that they needed at least 286 MW quickly," Koklu recalls. "The plant was called upon remotely to start 10 of the 11 express turbines, and within 10 minutes we had a supply of 300 MW. Our units were able to start up, shut down, and be fast, flexible, and reliable, as expected. And so far, consistent feedback across the board has been excellent." Koklu explained that the 11th turbine is actually a spare: It can create power when another one undergoes maintenance.
Overall, the Biblis plant is just one small piece of Germany's strategy to efficiently manage the nation's long-term energy supply. The aim is to pluck as few of those natural gas strings as possible, while the rest of the grid sings with renewable energy.
Categories
tags