There are about 7,000 GE gas turbines distributed throughout the world. Each one needs regular maintenance — a few weeks every several years in which a power plant is taken offline for service, repairs, and potential upgrades. This involves a great deal of planning to prepare for the outage. It's meticulous in nature, due to the complexity of the technology and the environment. All this work requires an encyclopedic amount of documentation to support the activities, including technical specs, equipment lists, safety protocols, diagrams, data sheets, and quality control forms.
And for Steven Miller, who runs the service operations business in Europe, and Paul Donnelly, who oversees the team that conducts the maintenance, those needs are further complicated by the fact that the 2,000-plus employees who support and execute the outages come from across the continent, the Middle East, and beyond. "It's a pretty big territory, lots of languages, with multiple cultural differences," Miller says.
That's one reason they're excited to be piloting an innovative new digital tool called Live Outage. Live Outage is a digital platform that puts procedures and documents at service workers' fingertips, along with thousands of photos and videos of the machines and materials they'll be working with. Launched successfully in the U.S. last year, where it substantially reduced power-plant outage time while increasing safety and quality outcomes for customers, Live Outage is now rolling out to GE 9F gas turbines in Europe and the Middle East. "Where words fail you, pictures and videos make a lot more sense," says Jeremiah Smedra, an operations director at FieldCore, GE Gas Power's field services unit, who worked on developing Live Outage.
Large touch-screen monitors and tablets loaded with Live Outage are beginning to replace stacks of binders containing thousands of pieces of paper, which need to be printed, collated, and dispersed to dozens of mechanics and field engineers fanned out across the power plant. The platform's capability to deliver specific photos and videos in addition to technical documents is a huge advantage, especially when not everyone shares a native tongue. Where words are necessary, Live Outage offers instructions in simplified terms, broken down into digestible checklists, and, thanks to artificial intelligence–powered translation software, it's easy for workers to toggle between English, Arabic, Spanish, Italian, and other languages.
A Lean Loop
Using lean management and drawing on worker feedback, Smedra's team developed Live Outage as a way to bring the current documentation system into the 21st century. They digitized thousands of pages of instructions and specs and organized them into easy-to-follow, instantly trackable checklists.
Now, standardized procedures and best practices are reproducible at any site in the world. Smedra says the team is already seeing 20% to 25% cycle-time reduction on the core work, not including extra work and emergent tasks. (By year's end, the crew, which has already conducted about 80 outages on GE 7F gas turbines in the Americas, is expected to complete more than 700 major outage jobs in more than 60 countries.) For power plant operators, this means they are able to get back up and running more quickly so they can produce power, deliver electricity, and generate revenue. An outage that used to take six weeks, for instance, may take only four weeks with Live Outage.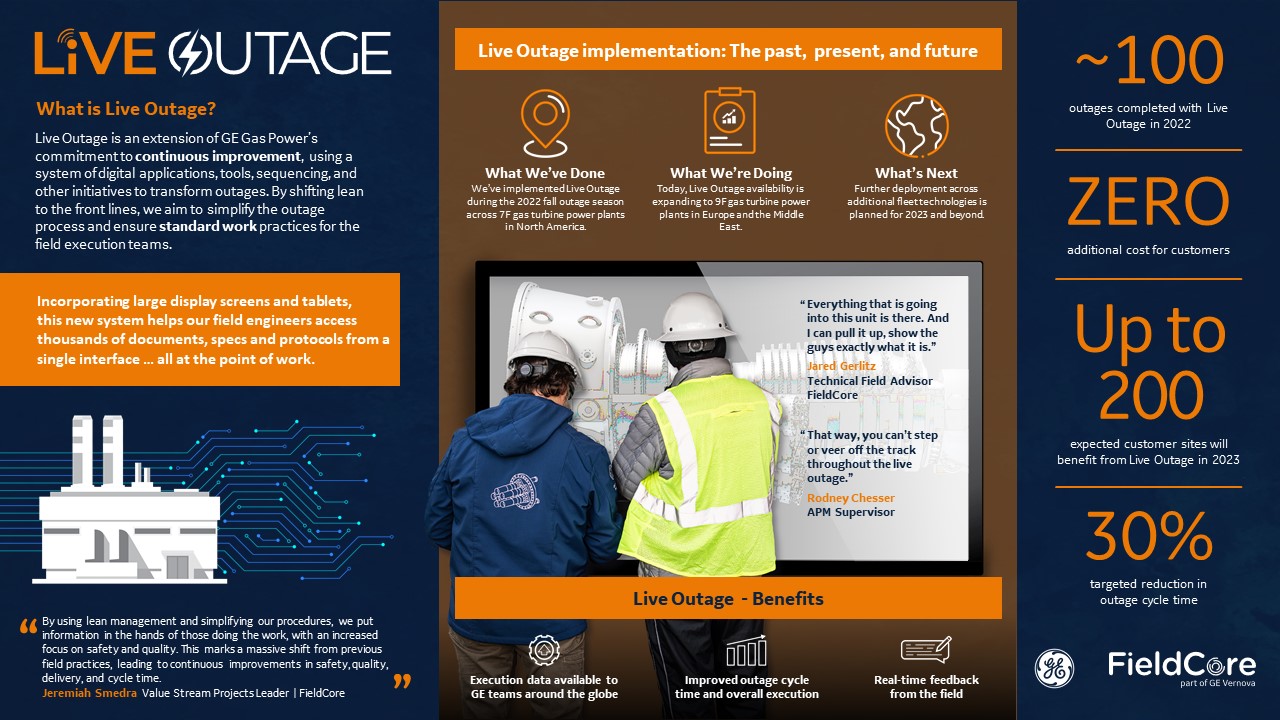 Although it's been a challenge to drive adoption of the new platform, many workers are not only giving it a try, but actively suggesting improvements, Smedra says. One pointed out where a set of instructions missed a tool, requiring an extra trip back to equipment storage. In all, employees have logged more than 2,500 suggestions in the app, and more than 1,000 fixes have been implemented as a result. "For me, lean is all about how you drive a culture where we systematically identify and implement continuous improvement every day," says Miller. "It's a feedback loop that is constantly looking to deliver value for our customers while removing waste."
Better for Workers and Customers
Streamlining instructions and implementing worker feedback don't just improve efficiency — they keep workers safer. Gas turbines can weigh tens of hundreds of tons and are composed of a myriad of parts and fittings. Some components operate in hot and harsh conditions. At the same time, they must fit together like clockwork, with gaps between moving parts measuring less than the width of a human hair. Hundreds of tasks need to be completed while maintaining the integrity of the units and the safety of the field service personnel, Smedra says.
Live Outage also offers power plant operators unprecedented visibility into what's happening down on the turbine deck. "When we do have quality issues, we have the ability to trace how this occurred and support the resolution while also providing feedback that we can learn from across the fleet. Our customers really appreciate the enhanced transparency, and it drives a much richer conversation leading to more successful outcomes for our customers," Miller says.
As GE Gas Power rolls out Live Outage in Europe and across the Middle East, the team is adding and tailoring information for the larger machines that make up GE's second-largest fleet globally, after the 7F. Miller says field crews have completed four 9F pilot outages in Europe so far and expect to do another 15 outages in 2023.
Categories
tags