"Philippines, energy-wise, is at a crossroads as the march of technology is fast and furious with digital, operational, and industrial tech converging rapidly," said Jocot de Dios, CEO, GE Philippines in his welcome remarks at the inaugural "Powering the Philippines" conference in Manila on June 7.
He said the conference was timely, and relevant, as the rise of technology, and factors such as urbanization, the depletion of natural gas resources, and a need to accelerate development of the renewable power sector, presented significant opportunities, and challenges, for Philippines energy players over the next 15-20 years.

[embed]https://youtu.be/1KXQTHVmHvQ[/embed]

Jocot shared his view of where the local power sector is today, and important next steps to build an energy infrastructure that will support the nation's social and economic needs.

More than 250 of the nation's power sector leaders attended the GE-organized event which included 'state of the industry' speeches, and panel discussions in the morning. The pre-lunch session was notable for the in-depth presentations, and robust discussion, and debate, during roundtable sessions. Key take-outs from these included:

 70-20-10 by 2040

Alfonso Cusi, Secretary, Department of Energy (DOE), Philippines provided clarity, and detail on the nation's future energy plans during his "Looking Ahead: The Philippine Energy Plan 2040" keynote speech.

"The DOE is pursing policy to develop technology-neutral energy sources to meet the ideal proportion of 70% baseload, 20% mid-merit, and 10% peaking requirements for power generation. This is the so-called "70-20-10" ideal proportion, which is far from being a boxer's fighting record. Rather, it is the ideal energy mix targeted by the Administration as part of its inclusive growth agenda in the energy sector," said Secretary Cusi.

[embed]https://youtu.be/kT_trQ1D81g[/embed]

Secretary Cusi details the DOE's 70-20-10 fuel mix – a balance the DOE believes will help the Philippines achieve its ambitious target of adding 43 GW of power by 2040.

Other energy goals raised by Secretary Cusi included the "one-grid Philippines" plan, and a drive to make the Philippines the liquefied natural gas (LNG) hub in Southeast Asia.

A Stronger, Fitter, Cleaner, Energy Ecosystem

To support the DOE's roadmap, Rahul Gupta, Growth Leader, GE ASEAN said building a stronger, fitter, cleaner energy ecosystem - utilizing the latest power solutions, technologies, and digital advances to optimize assets – has the potential to deliver transformational outcomes for the Philippines.

"GE research indicates that if the Philippines adopted the latest energy technologies to enhance power generation assets and networks, the nation could potentially achieve $10 billion of potential savings over a 25-year plant lifecycle and an estimated 16 million tons in CO2 reduction annually," said Mr. Gupta.

[embed]https://youtu.be/iatL2wKWB14[/embed]

Rahul said deploying the most efficient gas turbines, ultra-super critical coal technology, as well as upgrading existing plants and transmission and distribution networks can produce transformational productivity and environmental benefits.

[embed]https://youtu.be/bdyGCHWrXoI[/embed]

Chinie Defensor and Rexie Valenciano from the Energy Development Corporation said digital solutions will play a critical role in helping the nation optimize its energy assets.

Digital Solutions to Re-boot Power Plant Permitting Processes

New energy technologies, especially digital-driven innovations, were also promoted heavily by Senator Sherwin Gatchalian, Chairperson, Senate Committee who is the prime mover behind the proposed Energy Virtual One Stop Shop (EVOSS) Act.

The EVOSS Act is a groundbreaking policy initiative supporting the development of an online platform to enhance transparency and speed-up the permitting process for new power projects. Senator Gatchalian cited the example of hydropower project that took 21 years to complete!

[embed]https://youtu.be/tes8X7oaEHw[/embed]

Senator Gatachalian outlines more details about the benefits of the proposed EVOSS act.

He said an online process would also help eliminate corrupt practices and encourage more competition in the power industry, which could lower electricity costs by P1 per kilowatt-hour.

Digital Solutions to Re-boot Power Plant Efficiency and Reliability

Digital was also top of mind for guest panelist, Frank Thiel the managing director of Quezon Power who said digital solutions will revolutionize the coal industry on multiple fronts.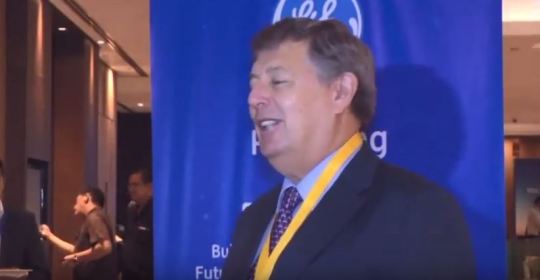 here to watch his full interview. 

Specialist Advice and Insights

Attendees, including many customers, learned more about the latest power generation, transmission, and storage solutions in afternoon breakout sessions hosted by GE energy specialists.

The interactive sessions covered the following topics: Smarter. Cleaner. Steam Power; Gas Power solutions for the Philippines' rapidly changing energy environment; Fueling the Philippines Power Development Plan; Pushing boundaries for Grid modernization, renewable integration and High Voltage Direct Current; and Unleashing limitless greener, sustainable, and affordable energy from wind and hydro.

We'll share more opinions, trends, insights, and thoughts, from other speakers and customers in a second "Powering the Philippines" report coming soon.
tags