When the first C-5 transport plane took off in 1968, it became the world's largest aircraft, capable of lifting 130 tons of cargo. As tall as a six-story building and 80 yards long, the U.S. Air Force called it "a beautiful, useful giant."
GE engineers developed a brand new jet engine, the TF39, for the airborne behemoth. The engine design, called high-bypass turbofan, allowed the plane to carry heavy cargo across the Pacific Ocean. Later, civilian versions of the engine supercharged air travel and still power many passenger jets, including Air Force One.

But not all of the engines made things fly. Their turbines were so sturdy, efficient and powerful that they quickly found applications for ship propulsion and electricity generation on the high seas as well as in the desert. Today, the latest iterations of the technology power the world's fastest ship, the most advanced vessels in major navies, and some of the most envy-inducing private yachts. They also make electricity on the edge of the Sahara.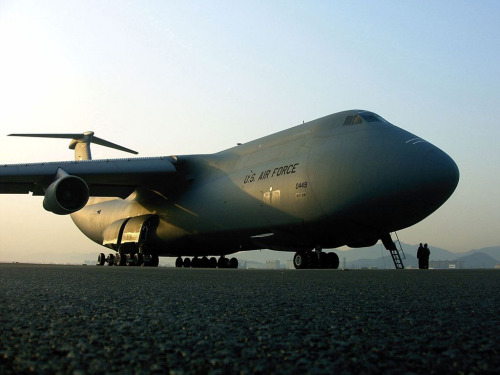 Above: Lockheed C-5A Galaxy powered by four GE TF39 engines. Image credit: U.S. Department of Defense Top image:  The wake behind the Francisco, the world's fastest ship. Image credit: Incat

GE calls the modified earthbound engines LM2500. (L stands for land, M for marine, and 2500 for 25 megawatts.) They are part of an industrial family called "aeroderivatives," because of their aviation heritage. GE calls this concept of sharing ideas and technologies among its businesses the GE Store. "Although there were development costs and issues, they were generally those of ruggedizing and recalibrating to burn various types of fuel, a relatively low cost and technological risk," wrote former GE Aviation CEO Brian H. Rowe in a memoir. "In general, these engines were incredibly reliable. One LM2500 ran for 50,000 hours – nearly six years – before needing an overhaul."

The latest version of the LM2500 can produce up to 34 megawatts each and ramp up from zero to full power in just 10 minutes. Take a look at some of its applications:




A pair of LM2500 turbines generates 59,000 horsepower inside the Francisco, the world's fastest ship. The 325-foot wave-piercing catamaran can travel as fast as 58.1 knots, or 67 miles per hour. It can carry 1,000 passengers and 150 cars.


The vessel, which was made by Australia's Incat shipyards, shuttles passengers across River Plate between Buenos Aires in Argentina and Montevideo.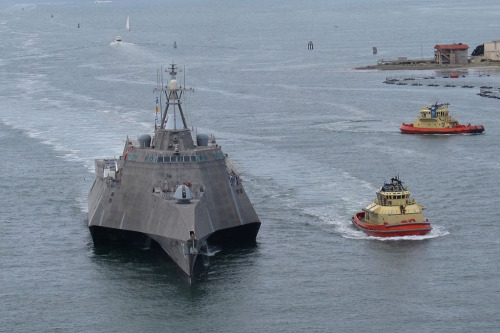 The littoral combat ship USS Independence (LCS 2) completes her maiden voyage with arrival in her homeport of San Diego. Image credit: Lt. Jan Shultis, U.S. Navy

LM2500 turbines power more that 400 ships in 33 navies. They include the U.S. Navy's new, high-speed Independence-class Littoral Combat Ships.


The French Navy's FREMM frigate Acquitaine is also using the technology.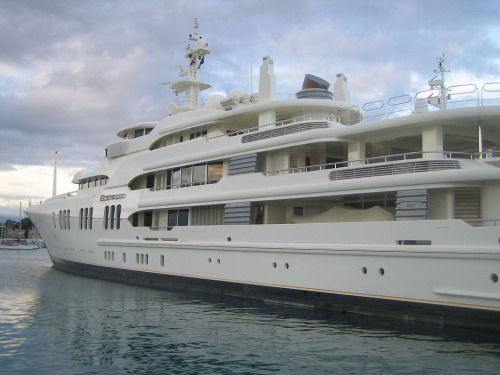 The Ecstasea "mega yacht." Image credit: Axou

LM2500 gas turbines also serve on luxury "mega yachts" like Ecstasea





Image credit: Phrood, Sonnenwind

Two LM2500 turbines also power the Queen Mary 2 luxury ocean liner.




GE also bolted the turbine on a trailer and built what is essentially a power plant on wheels. Egypt is using 20 TM2500 (trailer-mounted) gas turbine generator sets as part of a new project that will add 2.6 gigawatts to the country's grid. The turbines are also working in Mexico, Japan, Nigeria and Algeria (see above).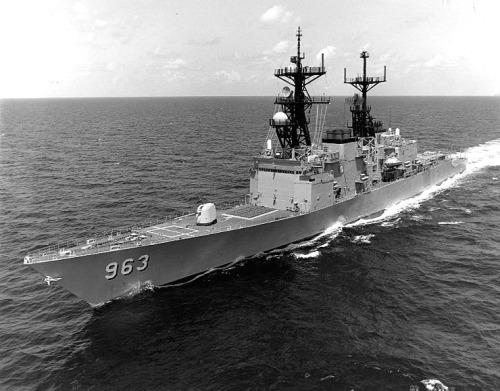 USS Spruance Image credit: U.S. Navy

The U.S. Navy's Spruance-class destroyers were the first vessels powered by the LM2500.
tags