Since they first appeared in the 1960s, mammography machines have come to symbolize the power of medical imaging technology to help combat breast cancer. But for women whose mammograms — X-ray images of the breast — turn up something unusual, the path to diagnosis can be lengthy and full of anxiety, sometimes taking weeks after the initial screening.
One reason is that, until recently, doctors lacked a tool for performing a biopsy, a sampling of abnormal tissue in order to diagnose breast cancer, during contrast-enhanced mammography. Patients would typically have to schedule another appointment for an ultrasound or a magnetic resonance procedure (MRI), where doctors try to find the same abnormality and perform a biopsy. But patients sometimes have to wait for an MRI appointment to become available, potentially adding weeks to a process that's already anxiety-inducing.[1] The process can get longer in some places during the pandemic since MRI machines are being used to image many different organs and involve a lengthy disinfection process.
But things are changing. After years in development with partner hospitals and cancer centers, GE engineers developed Serena Bright*, an imaging technology that aims to make it easier for doctors to conduct a biopsy on a woman's breasts where a mammogram has shown a cause for concern. It may also provide patients a faster, more comfortable way to get a diagnosis sooner.[2],[3] GE announced the technology last year and just made it available commercially for clinicians in the U.S.*
Serena Bright works in tandem with GE's latest Senographe Pristina mammography system, which radiologists use to image the breast. The technology first uses a contrast medium to highlight the area of concern. During this approach, called contrast-enhanced spectral mammography (CESM), doctors inject an iodine-based agent into the breast so that X-rays can illuminate vascularity and show clinicians where a potential tumor might lie.
Next, Serena Bright pairs CESM with advanced software that robotically guides a biopsy needle to a precise point within a patient's breast to remove the suspicious tissue. The process can be faster and less expensive than an MRI-guided biopsy.[4] Doctors can talk to patients throughout the 15-minute procedure because the biopsy takes place in the same environment as a mammogram.[5] For their part, patients are interacting with clinicians they know and in familiar surroundings.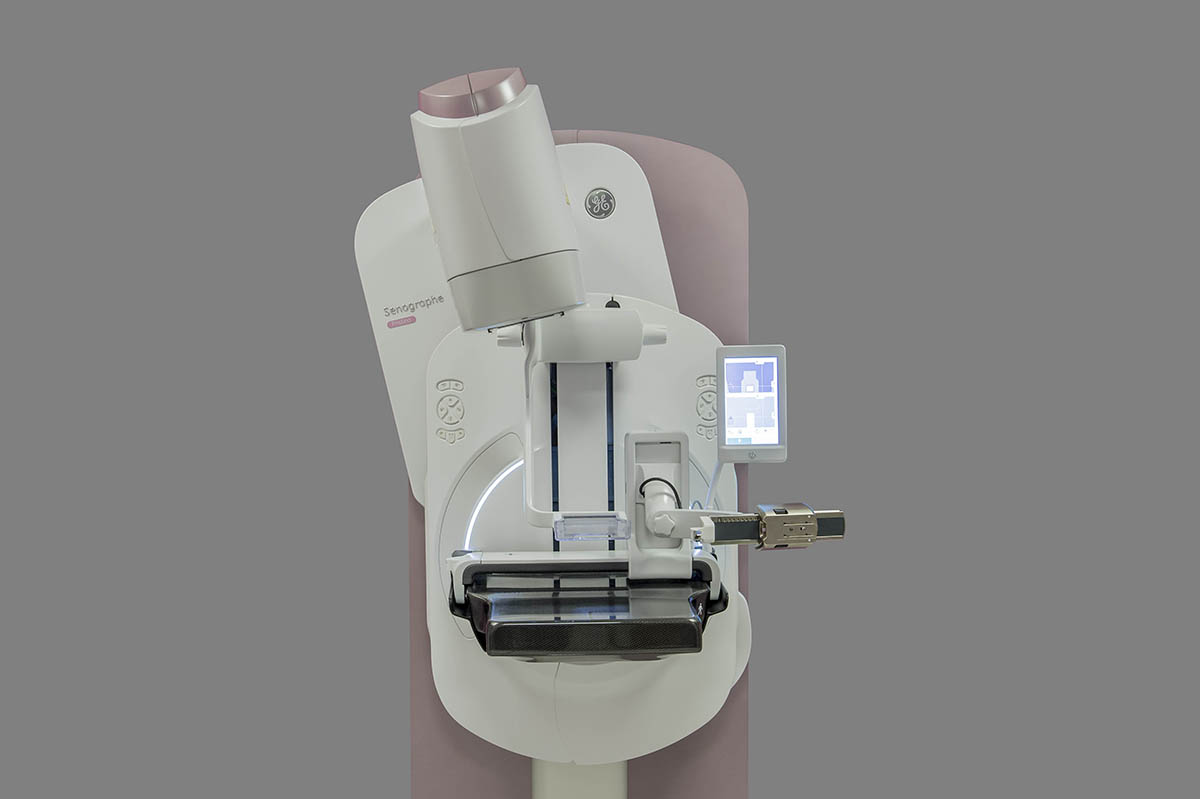 CESM alone is an essential breast cancer diagnosis technology. The first such system on the market, GE's SenoBright, was approved in 2011 in the U.S. But CESM findings still typically lead to several other steps before doctors arrive at a diagnosis. Doctors typically try to replicate the finding with ultrasound and MRI, and only then perform a biopsy to sample the affected tissue and diagnose a disease.
But things don't always proceed smoothly. "The problem starts when we don't see that [abnormality] on ultrasound," says Dr. Anat Kornecki, breast imaging lead for the breast care program at St. Joseph's Health Care London and scientist with Lawson Health Research Institute in London, Ontario. "We know we're prone to have that happen because CESM's ability to detect cancer can potentially be higher than that of ultrasound depending on the case," Kornecki says. "We needed a contrast-enhanced mammography biopsy ability and until recently this technology did not exist." Kornecki is also a research partner who helped GE Healthcare test Serena Bright and gave feedback on its development.
When ultrasound can't replicate the CESM finding, clinicians have typically had to turn to MRI to guide a needle inside the breast and do the biopsy.
Doctors had been asking for a biopsy tool that works with contrast-enhanced mammography for several years, but the technical hurdles were significant, explains Mathias Cisaruk, product manager at GE Healthcare who was part of the team that developed Serena Bright. CESM is a remarkable, but like MRI, time-sensitive imaging technology. Because the iodine agent moves through blood vessels, it will leave the suspicious area after several minutes, so the entire biopsy procedure must be done efficiently, Cisaruk says. For this reason, a lot of design effort was put into the usability, flexibility and ergonomics of the biopsy platform. With CESM biopsy, clinicians can perform the targeting within 5 minutes after the injection of the iodine, he says.
The specific compression of the breast during a biopsy and the presence of metallic objects, such as a needle in the field of view, also led Cisaruk and his team to reconfigure the CESM workflow. The objective was to allow the clinician to always use the optimal needle path during the procedure, Cisaruk says. Now, clinicians can decide to come from above, below or the side of the lesion.
As hospitals implement this technology, they will be able to use the same training and skills they've applied to CESM to Serena Bright, making it easier to adopt, Cisaruk says. Having Serena Bright can help reduce the need for MRIs, making those machines to be applied to situations where they're more needed.
*Product may not be registered/available in all regions.
[1] Jaiswal K, Hull M, Furniss AL, Doyle R, Gayou N, Bayliss E. Delays in Diagnosis and Treatment of Breast Cancer: A Safety-Net Population Profile. Journal of the National Comprehensive Cancer Network : JNCCN. 2018;16(12):1451-1457.
[2] Data on file 2020 GE Healthcare; From first to last image.
[3] Accessed on 10/16/2020: https://www.cedars-sinai.edu/Patients/Programs-and-Services/Imaging-Center/For-Patients/Exams-by-Procedure/MRI/MR-Guided-Breast-Biopsy/MR-Guided-Breast-Needle-Core-Biopsy-Procedure-Information.aspx
[4] Data on file CESM Biopsy vs MR Biopsy Cost Analysis. GE Healthcare
[5] Data on file 2020 GE Healthcare; Time from first to last image.
Categories
tags