With Broadway shows, racetracks, Michelin-star chefs and as many as 9,000 passengers and crew members, cruise ships often live up to their "floating cities" nickname. Unfortunately, they're like cities in another way, too: They're massive producers of greenhouse gases and air pollution from using marine diesel, a heavier version of what powers diesel trucks and cars. A 2017 study found one cruise line's operations in Europe emitted 10 times more air-polluting particulate matter than the continent's 260 million cars did that year.
While the cruise industry has vowed to slash its greenhouse gas emissions in half by 2050, it faces a serious challenge. The industry's 300-plus large ships are meant to operate for at least 30 years, meaning plenty of older, more polluting ships will be sailing for a long time to come.
"To cut maritime emissions by 50% there is simply no alternative but to move in quickly and adopt zero-emissions solutions for a large part of the new built fleet," says Roel Van de Pas, chief commercial officer for Nedstack Fuel Cell Technology, a Netherlands-based manufacturer of fuel cells for industrial and marine uses.
Right now there is no commercially available zero-emissions system for a cruise ship, but that's changing. Nedstack and GE have partnered to develop large-scale fuel cell power plants that will allow cruise ships to operate with no emissions, using a hydrogen-fuel-cell-based system to power everything on a ship, from turning the propellers to heating and cooling rooms to turning the lights on for nightly cabaret shows.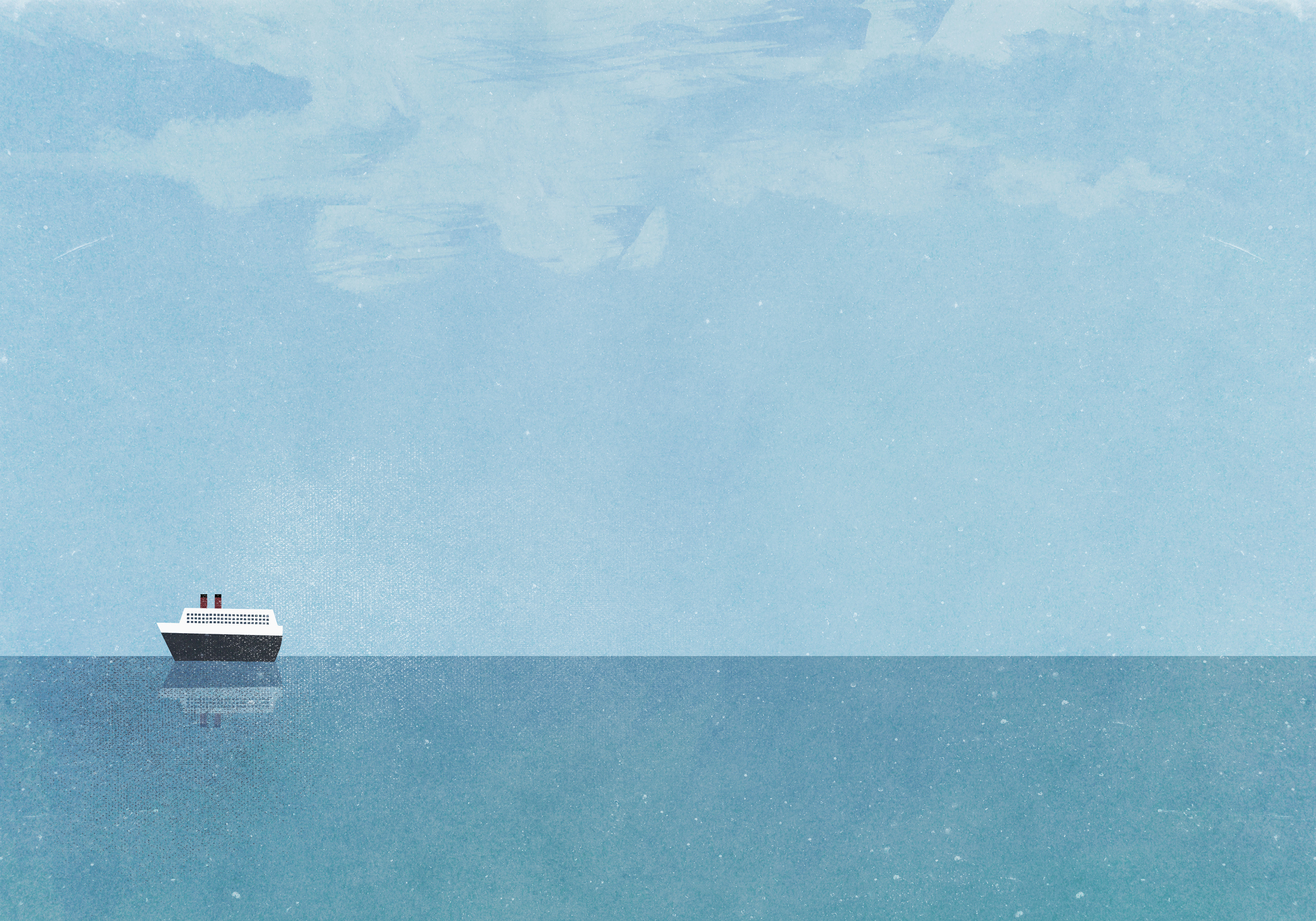 Hydrogen fuel cells work by converting hydrogen to energy through an electrochemical process. What hydrogen is to fuel cells is what heavy fuel oil (HFO) or liquefied natural gas (LNG) are to marine diesel engines. While diesel engines inevitably emit greenhouse gas, fuel cells' byproducts are only water and heat. The fuel cell is composed of an anode, a cathode and an electrolyte membrane. Hydrogen molecules inside the fuel cells are split into electrons and protons by the cell's anode. The protons pass through the membrane, while the electrons are forced through a circuit, generating an electric current and excess heat. On the other side of the membrane at the cathode, the protons, electrons and oxygen are combined to produce water molecules. That's it: no chemicals, no carbon emissions and no moving parts.


The potential for fuel cells has been known for about a century, but only in the past decade has the technology started to gain commercial appeal. Worldwide, the market for fuel cells was about $8.2 billion last year — mostly in the U.S. The chemical industry, for instance, produces 1 ton of hydrogen for every 35 tons of chlorine it produces and uses fuel cells to convert the hydrogen to power. Other industries have embraced fuel cells to meet air quality standards. For example, there are 20,000 hydrogen-fuel-cell-powered forklifts in the U.S., which allow facilities to meet interior air quality requirements.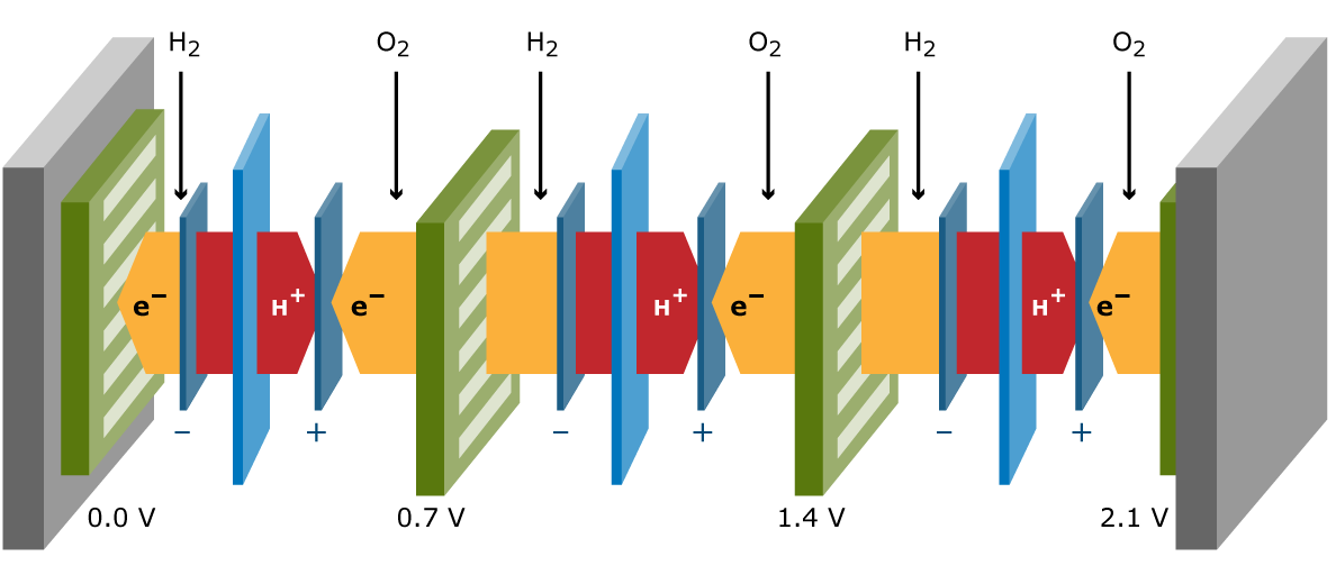 Cruise ships have power plants starting at 5 megawatts (MW) and going as large as 100 MW, according to Renaud Cornu, senior sales for passenger vessels at GE's Power Conversion business. And given the long operating life of ships, fuel cells will need to last for about 20,000 hours — almost three times as long as the ones used in the approximately 7,000 hydrogen-powered automobiles currently on U.S. roads.


Machine longevity is essential. To overcome this, GE's variable drive, fuel cell system architecture and dedicated Power Management System are engineered to limit the switch on-and-off frequency of the fuel cells, a key factor that reduces their life expectancy, when sailing or in port.




Like rechargeable batteries, fuel cells have a limited lifespan for depletions and recharges due to humidity, heat and cold, and other factors that destabilize fuel cell chemicals.




While both size and longevity are near-term technical challenges, Cornu says the combination of GE's electrical and maritime experience with Nedstack's experience producing commercial fuel cells as big as 2 MW should make quick work of those hurdles. The companies already have a workable ship-sized concept in hand, he adds.




The more complex challenge is the infrastructure for getting the hydrogen to the fuel cells. While hydrogen is abundant, it's always found as part of a compound, like water. Splitting hydrogen into a stand-alone molecule is often done using fossil-fuel-powered generators near the fuel cells. Hydrogen must be compressed to a density level usable for fuel cells, which means infrastructure needs to expand to both compress/liquefy hydrogen and get it to users. That includes a larger network of pipelines to move hydrogen from its creation at renewable energy farms to ports. It's similar to the challenge tackled in recent decades to create an infrastructure to compress natural gas into a liquid for export by ship and for use in trucks and cars.




Given that most countries have committed to slashing greenhouse gases to combat worsening climate change, the GE and Nedstack partnership could expand beyond cruise ships to vessels such as ferries, dredging boats and other merchant vessels, adds Van de Pas.




But the cruise industry has an incentive today to pursue fuel cells. Most ports now require ships to use a less polluting energy source while docked. While newer ships have small LNG power plants for powering systems in port, they won't cut greenhouse emissions enough to meet the 2050 target. Cruise line operators also need to adjust to continue visiting attractions that will eventually be off-limits to carbon-emitters. Norway's fjords, which attract nearly 1 million cruise passengers a year, for instance, will be closed to carbon-emitting ships by 2026.




"The future needs to be greenhouse gas-free," adds GE's Cornu, "so hydrogen fuel cells, as I see it, are the only solution that will work in the future. There are no others."
Categories
tags