CT scans are one of the most valuable tools to rapidly and accurately diagnose COVID-19 infection and help triage patients for treatment. But because the virus is new, few specialist radiologists have experience in identifying early signs of COVID-19 on CT scans. Equally important as the pandemic escalates globally, a wider set of medical professionals may be called on to interpret CT scans.
University of Sydney startup DetectED-X has worked with Australian and international specialists to build a virtual clinical environment to enable clinicians to rapidly learn how to diagnose COVID-19 cases from CT scans. It is now available to clinicians globally, free of charge.
The launch of CovED is in collaboration with the University of Sydney and industry partners including GE Healthcare, Volpara and World Continuing Education Alliance, to help ensure wide awareness and offer distribution of the online training in more than 50 countries.
Having worked together on the deployment of their breast cancer education tool, DetectED-X reached out to GE Healthcare in Australia. "Our clinical education division responded instantly and moved fast to arrange to get it on our GECares platform, where we can share it with clinical experts worldwide," says Matt Tucker, President and CEO of GE Healthcare Australia and New Zealand.
Tucker adds that it's a "proud moment for our team to be able to come together with these Australian innovators and help share this critical educational tool with a global audience. Working together we've been able to accelerate well beyond our expectations, which is exactly what we need in times of crisis."
Renowned medical radiation scientist Professor Patrick Brennan and his DetectED-X co-founders Professor Mary Rickard, a pioneer of breast-cancer screening in Australia, and medical-image optimisation expert Dr Moayyad Sulieman, helped to fund the tool's development from their own pockets. Thomas Davies, director of operations for DetectED-X, has also driven forward the development.
GE Reports spoke to Professor Brennan to understand why CT diagnosis can be so critical to COVID-19 treatment and how the training module works.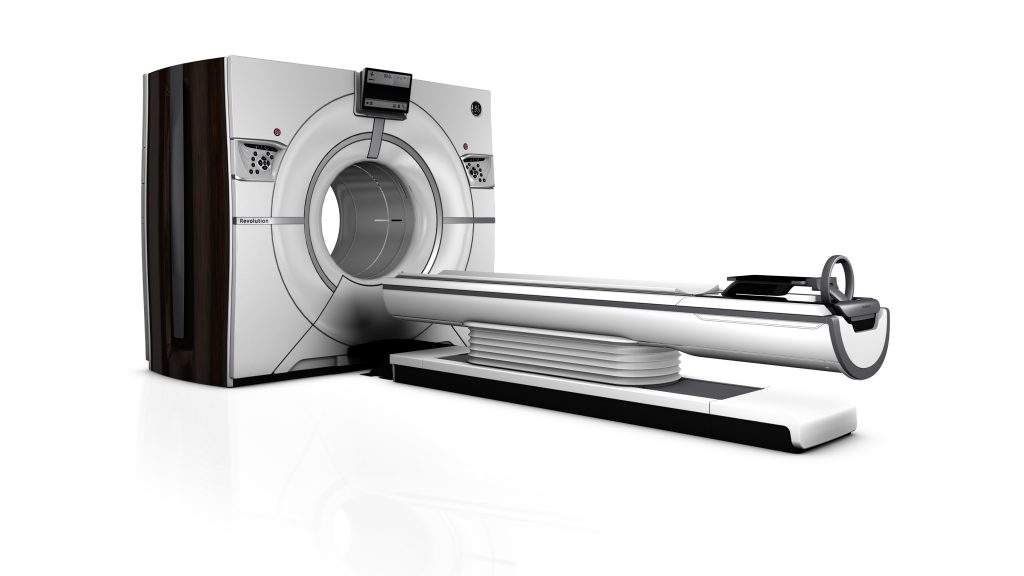 How is CT being used in fighting COVID-19?
A high-resolution CT scan allows respiratory specialists to rapidly triage and manage patients, potentially saving lives. CT scans allow us to see the early changes in the lungs caused by COVID-19. We now know that with COVID-19 you get 'ground-glass' opacity in the lungs, with more developed disease you can get consolidation, and you can get a crazy paving appearance. Seeing those sorts of lesions on both sides of the lungs makes it suspicious of COVID-19.
Are there enough CT scanners available to be used in COVID-19 diagnosis?
We don't see CT as a primary diagnostic tool, but it is vital when people start showing significant symptoms. Scans enable us to identify the lesions, where they are and how significant they are, and then monitor the progression of the disease.
This is an unprecedented situation – my son is a young doctor at the forefront of this in Cambridge, and he's seeing tremendous changes as ICU wards are transformed. Normally we'd say there should be enough CT scanners, but until we know exactly the extent of the disease and how many people are affected, we cannot say with certainty that there are.
But I think the biggest bottleneck is having enough people who are qualified and competent to look at these images, because we're going to have lots of images.
There are only a few specialist respiratory radiologists. Both they and general radiologists will be able to train up very quickly with our tool, but other doctors with no experience in radiology will also need the skills to diagnose. If the numbers of infected people continue to rise, particularly in developing countries, I think we will see non-doctors having to interpret CT scans, too.
How does CovED work to upskill such a broad range of people?
We're not trying to fast track the specialist qualifications required for detailed diagnosis, but our tool is structured so that anyone can go through the modules and start to develop some skills about recognizing COVID-19. We've developed the questions and test sets of images in such a way that it will help health professionals to start recognizing COVID-19 lung changes quite easily.
Respiratory radiologists probably don't need our tool as much, although the more exposure they have to images of COVID-19 cases, the better. General radiologists will appreciate it because not all of them look at many lung diseases, and then you move to the general doctors and – if the numbers start coming in that we anticipate – even beyond healthcare professionals, and it will be essential training for them.
Can you explain how the training module works?
Specialists from around Australia and the world are collecting cases for us, because the system needs a good supply of images. We are launching our first test set with a robust group of images but that's just the beginning – we will keep putting out new test sets every week. We will continue to add test sets that show different types of disease but also that cater to different clinicians' level of competence. We need to give radiologists tough cases, but non-specialists will need easy cases to get them started. There's a hierarchy of cases to suit different levels.
A clinician logs on from anywhere in the world and they'll get an explanation as to how the tool works, and we'll collect details of their level of expertise, and where they are, so that as a research university we can start working out what types of errors are being made by which groups, by level of training or geography or whatever, and learn from that.
There's no preparatory reading, they go straight to the first case, look at the image and make a diagnosis. Some of the images will be completely normal, some will have COVID-19 signs and it's up to the individual to recognize those signs in every case and say where and what the signs are. Halfway through, they get an appraisal of their skills, and they get ranked with everyone else who's done that test set, then we have algorithms to allocate the next series. At the end of the program, they go through every case they looked at again, now with the expert opinion available to them. They can then apply the knowledge they've gained immediately and go onto another test set if they want to.
Through our work in building these online training tools for breast cancer radiology, we've found that this reflective rapid model has immediate benefits. As I am part of the University of Sydney as well as DetectED-X, we have published quite a few articles demonstrating significant improvements with clinicians who use this type of approach.
We will keep adding test sets indefinitely until we need them no more, so the sooner that occurs, the better.
Categories
tags