Powerful new tremors rattled Nepal again on Tuesday, adding to the devastation caused by a 7.8 earthquake that killed at least 8,000 people three weeks ago in April.
The world has quickly mobilized to help the Himalayan country, but aid workers have been dealing with unique challenges such as mountainous valleys walled off with landslides, roads severed by rock avalanches and collapsed bridges.

Even surviving infrastructure is causing bottlenecks for help that's streaming in. A single runway at the Tribhuwan International Airport in the capital Kathmandu made it through the first temblor, but the stream of large aircraft delivering aid damaged it, prompting the government to impose weight limits on arriving planes. Officials have also periodically closed the airport due to aftershocks.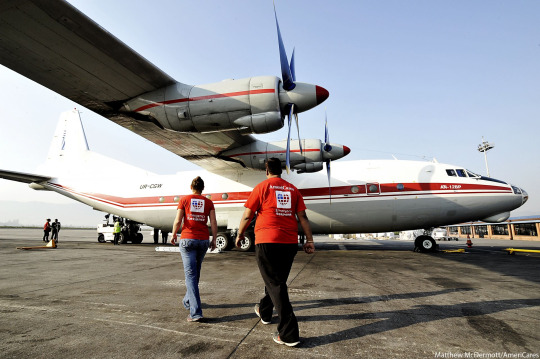 The AN-12 that delivered medicine from AmeriCares at Nepal's only international airport in Kathmandu.

One of the planes that managed to land was an Antonov AN-12 (above and below) carrying 14 tons of antibiotics, bandages, sutures, IV fluids, crutches and other medical supplies valued at nearly $1 million from AmeriCares.

The Connecticut-based non-profit chartered the Soviet-era turboprop because of its sturdy design and ability to carry a lot of cargo despite its moderate size. "We've seen a similar situation in Haiti," says Peter Tokarczyk, the non-profit's director of logistics. "We were able to come in almost fully loaded despite the maximum weight restriction."

Local officials then airlifted and distributed much of the aid from the airport with helicopters.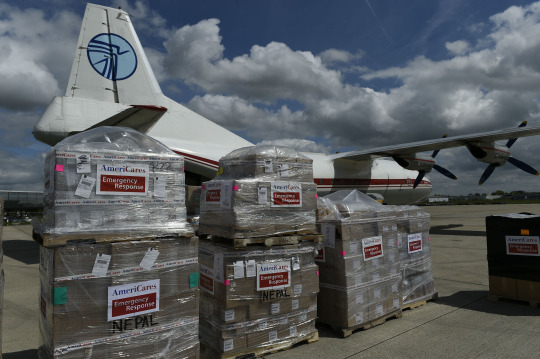 Image credit: Joop Plaisier

AmeriCares sent in a team of relief workers from India within 48 hours of the first earthquake. The team traveled up to eight hours to provide medical care in areas cut off by landslides. "We needed to bring in medicine and supplies fast," says Dr. E. Anne Peterson, AmeriCares' senior vice president of global programs.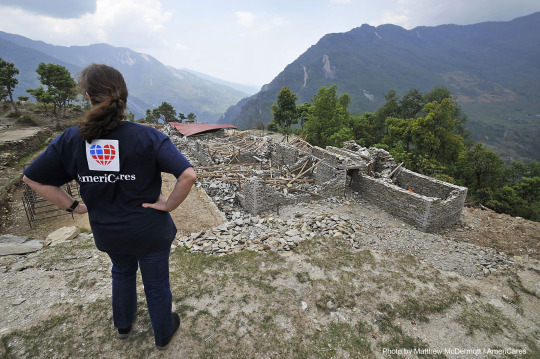 Dr. Peterson (top and above), who flew to Kathmandu a few days after the first quake, says help is urgently needed in the most affected areas, where up to 90 percent of hospitals and treatment centers have been severely damaged.

Over the last three weeks, AmeriCares workers have been treating survivors at mobile clinics in Kathmandu and in heavily damaged rural villages. "Our medical teams are treating an average of 120 patients a day," she says. "We are seeing children with trauma injuries, diarrhea, fever and respiratory illnesses who haven't had access to a doctor."


The AmeriCares team is now dealing with the effects of the new quake. Judging by the latest news from Nepal, their work is far from done.

The GE Foundation donated $500,000 to AmeriCares to support the relief effort in Nepal, and some of the money paid for the charter flight. (The non-profit is now sending aid in cargo bays of commercial planes allowed to fly in from India and Singapore.) Baxter, GSK, Johnson & Johnson, Purdue Pharma and others donated the medical supplies.
tags