Oil and gas operators have endured two years of a petroleum glut that shows no signs of abating. In fact, last week, the Organization of Petroleum Exporting Countries (OPEC) agreed to cut production for the first time since 2014 to stem the flood of cheap oil.
Slowing production is the most obvious way to boost margins in a soft market. But GE researchers, together with the company's Oil & Gas unit—which sells equipment to energy companies all over the world—are betting on science. "Oil and gas producers are looking for immediate solutions to work through the tough low-price oil market today," said Lorenzo Simonelli, president and CEO of GE Oil & Gas. GE's global research has the means not only to help customers through this tough cycle but also to become more efficient in the future, he said.

Simonelli was speaking from Oklahoma City, where GE just opened its new Oil & Technology Center. The facility is part of GE's global research network—which already includes 10 centers stretching from Rio de Janeiro to Shanghai—and will serve as a central pipeline for delivering new technologies to the industry.

Vic Abate, GE's chief technology officer and head of GE Global Research, says the center will draw on expertise from other GE businesses to accelerate innovation. Take special thermal barrier coatings that GE originally developed for jet engines. These can be used to build more durable parts for special pumps that work deep inside oil wells, allow them to handle the harsher conditions and make the sites more productive. GE calls this cross-pollination of technologies the GE store. "We can use the store to stretch every research dollar we spend to get the most out of the technology we create," Abate said.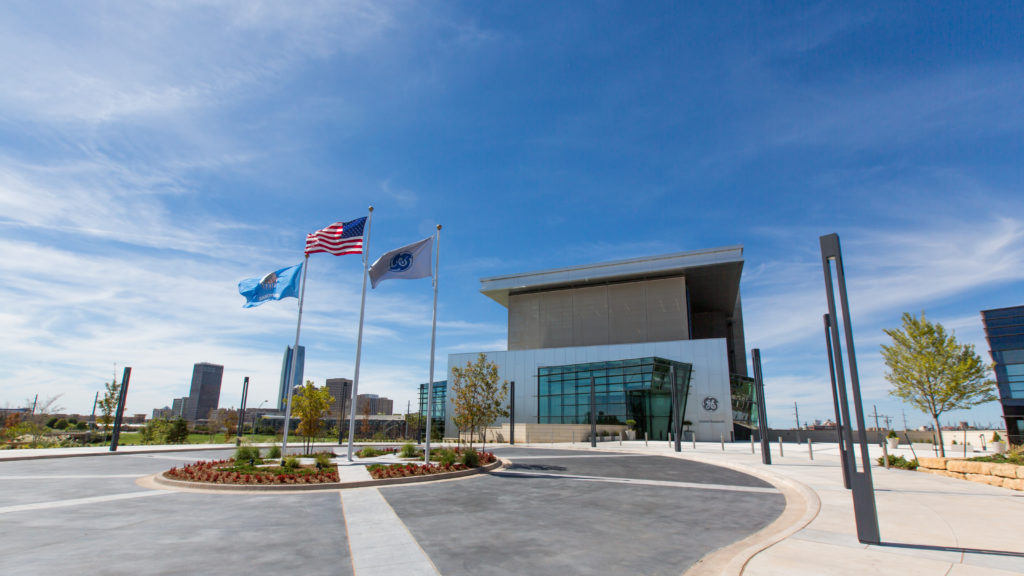 Top and above: The new GE Oil & Technology Center is part of the company's global research network, which already includes 10 centers stretching from Rio de Janeiro to Shanghai. It will serve as a central pipeline for delivering new technologies to the industry. Image credit: GE Oil & Gas

The facility has two underground test wells—one more than 400 feet deep and the other 60 feet deep—for testing technologies such as the new pumps with the jet engine coatings. The center also has a "flow loop" where engineers can simulate oil and gas production environments and test how newly designed parts can handle them. The place also has 3D printing machines that can quickly print new part designs to speed up prototyping and testing.

Abate's and Simonelli's teams are also using software to connect energy sites to Predix, GE's cloud-based operating system for the Industrial Internet, and gather and analyze data to make them more efficient. For example, one group of engineers is developing drones that can inspect rigs and pipelines located hundreds of miles away.

Today, field engineers carry out inspections manually by driving to a site and using a camera to capture an image to, say, assess emissions. They need to return to the office to document the findings. The process can take hours, if not days. GE's prototype drone operates differently. It can see, analyze and autogenerate a report in the field all at once by using Predix application programming interfaces (APIs). "The drone technology we are piloting is a great example of how physical is meeting digital in oil field environments," Abate said. "With the cloud-connected drone, we can remotely inspect well sites or emissions more quickly, accurately and cheaply."

Abate says the new center has been designed to foster open innovation and allow engineers to work closely with customers. "What you have is a facility built for collaboration and equipped with tools and resources to rapidly develop, iterate and test new technologies and concepts," says Mike Ming, general manager of the new center.

"We have planted innovation roots here in Oklahoma to be closer to our customers and to work side by side with them in delivering new technology solutions to the marketplace faster," Ming said. "We're excited about the work ahead and the potential of what can be accomplished."
Categories
tags