When GE moved its headquarters to Boston in 2016, it made a commitment to the state's leaders and citizens. In a show of allegiance to its new community, the company pledged to donate, over several years, a total of $50 million in support of local schools, job training programs, and healthcare initiatives. That promise was fulfilled with flying colors this past November, when the GE Foundation announced a $1.5 million grant to the Massachusetts Maritime Academy (MMA) to launch the new GE Fellows Program.
The GE Fellows Program will offer scholarships to Massachusetts students and workers preparing for careers in the state's burgeoning wind power and renewable energy industries, with a focus on women, people of color, and residents in underserved communities. Backed by a $3 million permanently endowed scholarship fund seeded with GE's grant and a matching grant from the Massachusetts Maritime Academy Foundation, the program aims to create a stronger, more diverse renewable energy workforce.
"This program will have an immediate impact on the southeast [Boston] community," says Rear Adm. Francis X. McDonald, USMS, president of the Massachusetts Maritime Academy. "Through the GE Fellows Program, we look to plant the seed and inspire both future generations and current adult learners to pursue a career track in offshore wind and clean energy."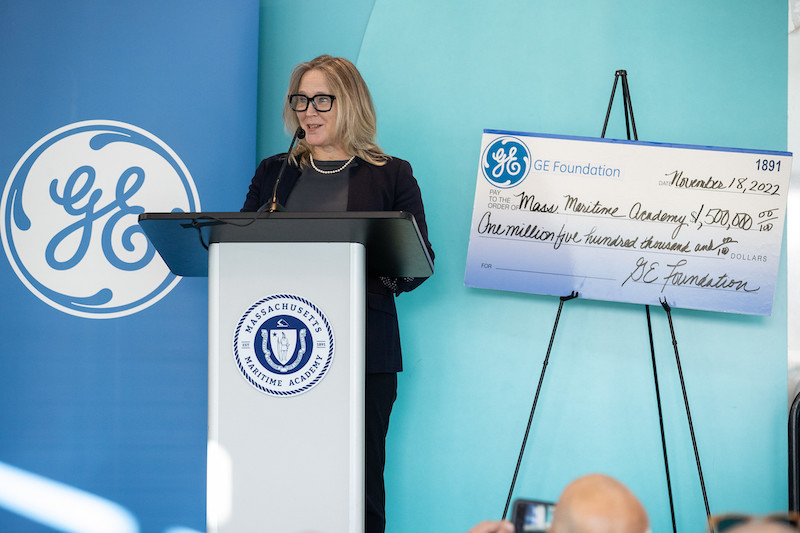 Starting in 2023, the GE Fellows Program will award $150,000 in annual scholarships to 47 Massachusetts residents. Twenty-two awards will go to undergraduate and grad students at MMA, a public, four-year university that educates students interested in sea-related careers, including naval engineering and energy facilities management. Five will go to workers seeking new skills or technical certifications. And 20 scholarships will benefit middle school and high school students attending summer programs at MMA, where they'll learn leadership skills while exploring education and career options. To help build a more inclusive workforce, it will prioritize first-generation gateway city students — those from small to midsize cities in Massachusetts with below-average household incomes — and those who are underrepresented in the STEM fields.
"We are hitting the entire continuum, starting with youth," says Jennifer Edwards, director of global programs at the GE Foundation, the independent charitable organization funded by GE. "Providing young people with firsthand experiences on campus allows them to see themselves as attending Mass Maritime — and some of them will go on to study engineering there. They will be the ones developing and innovating new technologies around clean energy and offshore wind in the future."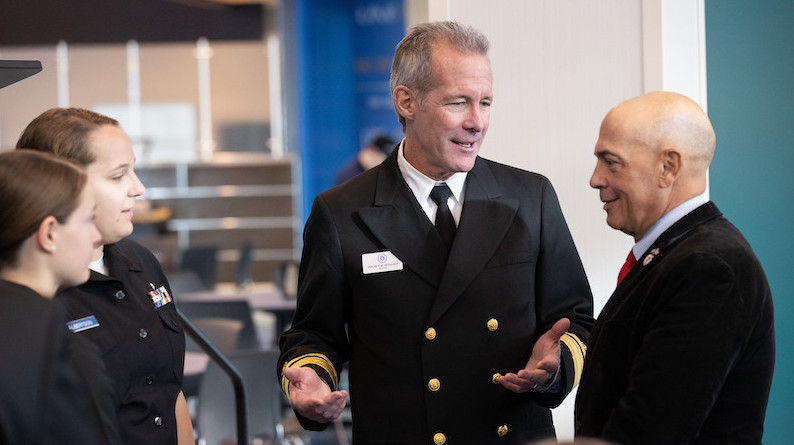 "Mass Maritime is the perfect partner for the GE Fellows Program," she adds. "They have been educating students for more than 100 years, and they are growing their curriculum in renewable and clean energy areas." Located in Buzzards Bay, on Cape Cod, MMA incorporates a regimented, military-style lifestyle. Its 1,600 students, known as cadets, benefit from at-sea training aboard a university-owned ship, the USTS Kennedy, gaining hands-on skills that will assist them in building careers at coastal energy facilities and in other lucrative fields.
"Clean and renewable energy is top of mind for everyone today, as it touches each of our lives and everything we do," says McDonald. "Expanding the opportunities to underrepresented students has the potential to provide unmatched social mobility to them and their families."
As an endowed initiative, the GE Fellows Program will continue to benefit students for generations to come. That's because the initial $3 million has been invested, and scholarships will be funded by interest dividends alone, with the original endowment left intact. "It's a unique way to fund a scholarship," says Edwards. "We are creating a GE legacy on the South Coast for years to come."
Sowing Seeds of the Future Through a $50 Million Commitment
The GE Foundation's now complete $50 million philanthropic contribution includes grants totaling $25 million for programs that increase access to STEM education in Boston's public schools and $15 million to support community health initiatives in Massachusetts, particularly those that address opioid addiction. Another $10 million, including the grant made to Mass Maritime, has promoted workforce diversity and economic opportunity throughout the state.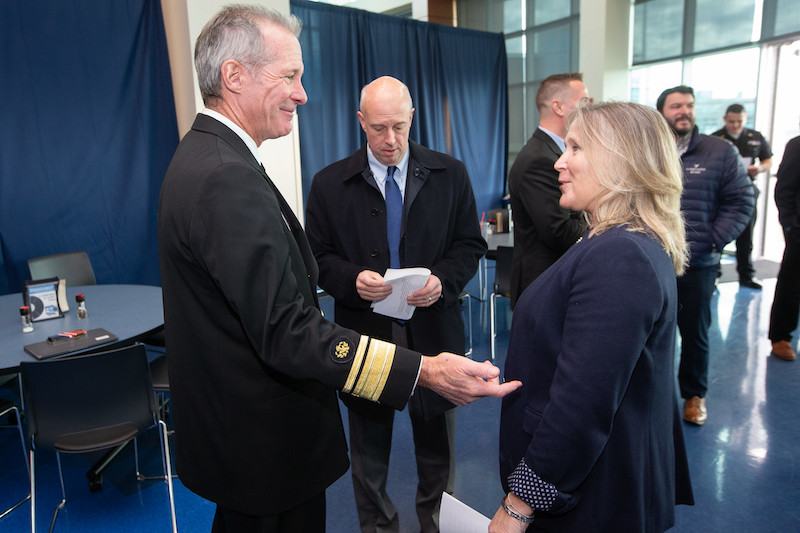 For example, in 2019, in partnership with Gov. Charlie Baker, Lt. Gov. Karyn Polito, and members of their administration, the GE Foundation established the Advanced Manufacturing Training Expansion Program on Boston's North Shore. To date, it has provided advanced-manufacturing skills training for more than 300 high school students and adult learners, well on its way of reaching 900 people.
"We built a robust pipeline that's getting more people into an industry that provides competitive wages, without the need for a college degree," says Edwards. "The GE Fellows Program on the South Coast builds on the commitment and success we've had on the North Shore … GE is very committed to this community, and we are making an impact."
Learn more about the GE Foundation's impact in Boston and Massachusetts here:
tags