Deep expertise. Diversity of perspective. Experience guiding people and organizations to success. These qualities are in abundance among the leaders who will come to the table — two tables, more precisely — in 2024 as members of the boards of directors for GE Vernova and GE Aerospace.
Announcement of the boards, made earlier today, is the latest milestone on GE's historic journey to spin off into three industry-leading, global public companies focused on the growth sectors of healthcare, energy, and aviation. In early 2023, GE HealthCare separated from its parent company of more than 100 years to become a standalone company devoted to "creating a world where healthcare has no limits." The transition will be completed early in the second quarter of 2023, when GE Vernova spins off from GE, which will then become known as GE Aerospace.
"We've assembled two extraordinary boards to bring the best of GE forward with compelling new thinking," said Larry Culp, GE chairman and CEO and GE Aerospace CEO. "They will help GE Vernova and GE Aerospace rise to their sharper, more focused missions as independent companies."
Following the last phase of the spin-off, Culp will continue as CEO of GE Aerospace, while Scott Strazik, who's served as CEO at the GE Vernova business since 2021, will remain in that position.
GE Vernova brings together GE's portfolio of energy businesses, with the mission to electrify the world while simultaneously working to decarbonize it. The company will be headquartered in Cambridge, Massachusetts, where it opened its doors last week.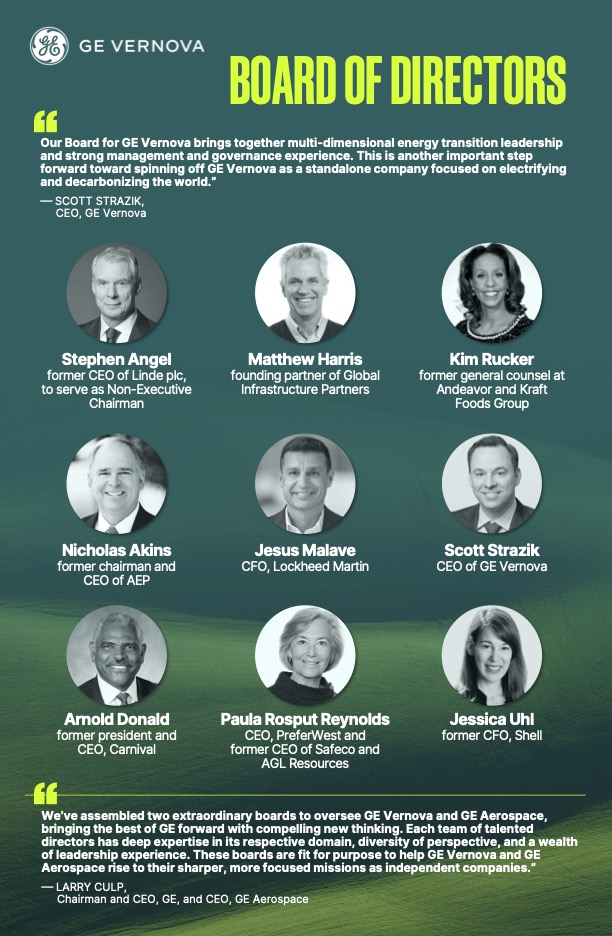 "Our Board for GE Vernova brings together multi-dimensional energy transition leadership and strong management and governance experience," said Strazik, who has more than 20 years of finance, operations, and leadership experience at GE.
Strazik notes that the new directors have executive experience at globally successful public companies involved in the energy transition — such as Shell PLC and the American Electric Power Company — and beyond. Electrifying and decarbonizing the world will remain GE Vernova's focus, but directors also have expertise in areas such as finance, legal affairs, and customer service. Stephen Angel, former chairman and CEO at Linde PLC, a leading global industrial gases and engineering company, will serve as non-executive chairman.
Joining Strazik and Angel on the nine-member board will be Nicholas Akins, former chairman and CEO of AEP; Arnold Donald, former president and CEO of Carnival; Matthew Harris, founding partner of Global Infrastructure Partners; Jesus Malave, CFO of Lockheed Martin; Paula Rosput Reynolds, CEO of PreferWest and former CEO of Safeco and AGL Resources; Kim Rucker, former general counsel at Andeavor and Kraft Foods Group; and Jessica Uhl, former CFO of Shell.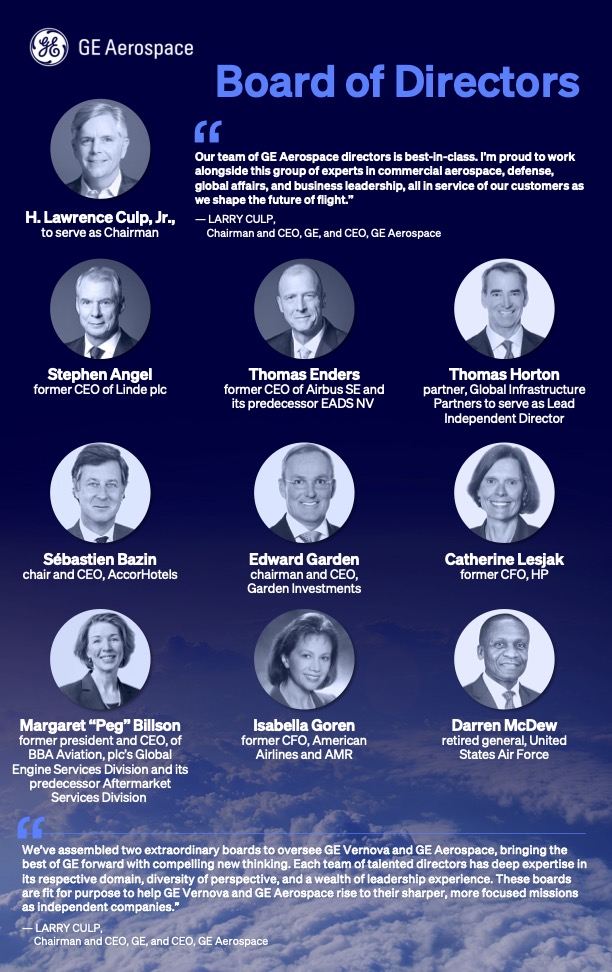 GE Aerospace will retain its headquarters in Evendale, Ohio, a suburb of Cincinnati. Culp will continue as chairman of the board, with Thomas Horton, partner of Global Infrastructure Partners, remaining as lead independent director. Many of GE's current board members will continue to serve once the company launches as GE Aerospace, including Stephen Angel of Linde PLC; Sébastien Bazin, chair and CEO of AccorHotels; Edward Garden, chairman and CEO of Garden Investments; Isabella Goren, former CFO of American Airlines and AMR; Catherine Lesjak, former CFO of HP; and Darren McDew, retired general, United States Air Force. New additions include Margaret Billson, former president and CEO of BBA Aviation PLC's Global Engine Services Division and its predecessor Aftermarket Services Division; and Thomas Enders, former CEO of Airbus SE and its predecessor EADS NV.
"I'm proud to work alongside this group of experts in commercial aerospace, defense, global affairs, and business leadership," Culp says, "all in service of our customers as we shape the future of flight."
Categories
tags