Two months ago, one of GE Gas Power's ingenious TM2500 aeroderivative trailer-mounted gas turbines rolled into war-torn Ukraine with a mission to keep the lights on at the epicenter of Europe's security emergency. Now the nifty "power on wheels" solution is helping the continent manage one of the ripple effects of the conflict: the potential need for additional reserve power.
A temporary reserve power plant consisting of eight TM2500s parked in GE's Manufacturing Center in Birr, Switzerland, is now ready to generate up to 250 megawatts (MW) of power for the Alpine country. In the case of an emergency, the power plant can step into the breach and supply the amount of energy required by the equivalent of approximately 250,000 Swiss households. It's an essential insurance policy for Switzerland, which relies on energy imports to meet demand, but whose neighbors may face their own energy-related challenges.
The reserve plant has materialized in about six months. Switzerland saw its energy security situation deteriorate in 2022 as a result of natural gas supply in Europe, lower hydropower production, and increased domestic consumption, leading its government to issue an urgent call for power grid backup. GE Gas Power answered the call, reaching a deal with the state-run Swiss Federal Office of Energy (SFOE) in September 2022.
In fact, just 26 weeks have passed between the signing of that contract and Birr's commercial startup. "We're probably the only original equipment manufacturer (OEM) in the world that can deliver such a large power plant from scratch in such a short time," says Aman Joshi, the general manager of GE's aeroderivatives business at GE Gas Power. "Six months ago, this site in Birr was just a parking lot."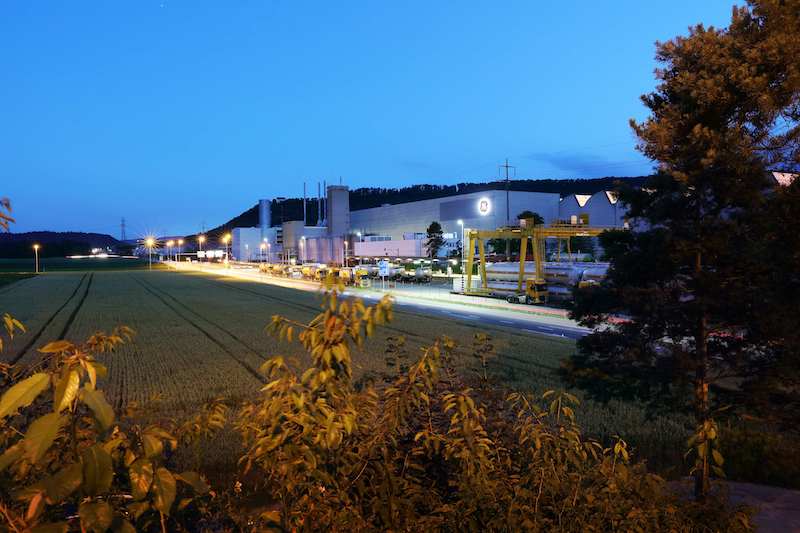 Switzerland simply cannot run the risk of blackouts, since the cold is a permanent feature of the climate in its higher-altitude regions. Neither can the mighty Swiss economy, including its banking sector, afford any blips in the power supply. The Swiss government is extra vigilant during the winter months, when freezing temperatures cause a spike in regional power demand. With market turmoil caused by the war in Ukraine and uncertainty surrounding its power imports, Switzerland's federal government took decisive action in the summer of 2022.
Hefty Backup
Under the terms of the contract, GE will make its generation available to the Swiss power grid until 2026. "This plant won't be dispatching power every hour or every week," says Joshi. "It is genuinely a reserve power plant that gets brought online if there is a need." Switzerland may have come through the most recent winter unscathed, but authorities remain concerned about heating-related power load during cold snaps.
GE's manufacturing center in Birr was a logical location for the backup generators, since the site is near a natural gas pipeline, a railroad connection, and an electric substation. An initial team of about 20 engineers, technicians, and support staff prepared the ground for the trailer-mounted beasts of burden. They laid foundations, brought in water tanks, fuel tanks, and transformers, and built high-voltage connections to the grid. GE then shipped in eight of the TM2500 units, which can each generate around 32 MW.
"Soon we went up to 70 people, then 200, and at our peak we had 500 people on the project," says Ulrich Weber, project director of the TRPP in Birr. During the work, the site resembled a busy shipping container port, with cranes, trailers, and forklift trucks scurrying around the giant parking lot. Since the site is situated close to a residential area, GE engineers implemented a robust noise reduction system to meet the stringent local requirements.
One major job was increasing the height of the site's perimeter wall from 8 to 20 meters (20 to 65 feet), which has reduced noise levels down to "library-level" decibels, says Joshi. In fact, the noise from the site is almost imperceptible, explains Weber. "Before Christmas, locals were wondering when we'd begin testing our turbines," he says. "But we'd actually started already, and nobody had noticed."
Derived from the technology behind GE's CF6 jet engine — which powers the Boeing 747 and 767 and the Airbus A310 — the TM2500 can be transported quickly and installed in a matter of days, says Joshi. Once it's in place, it can be powered up or down in only five minutes, which reduces wasted fuel. And if natural gas remains scarce, it can operate on a number of different fuel types, including liquid fuels such as diesel as well as blends of hydrogen and other sustainable aviation fuel blends when they start to become more available. "This will fit into their [the Swiss government's] strategy," says Joshi.
The GE Gas Power manager was impressed by the resolve of the Swiss authorities, given that it's one of the first times the country has built a major emergency power plant. "Kudos to SFOE and the Swiss federal and local government," says Aman. "We knew we could get this thing done, but it also required fast regulatory approvals and coordination at every level," he adds. "They did all of that very swiftly."
Categories
tags