Few people know more about 3D printing than Greg Morris. The entrepreneur bought his first stereolithography machine back in 1994, when 3D printers were still largely confined to university labs and research centers. That machine allowed Morris to print polymer parts layer by layer directly from a drawing inside a computer.
After his first taste for this emerging technology, Morris wanted more. He acquired an early 3D printer for metals that used a laser beam to fuse together fine layers of metal powder. The machine was useful for rapid prototyping, but he also saw the technology's potential for mass production. He would go on to launch what we now call additive manufacturing.

His company, Morris Technologies, was based in Cincinnati, and by 2003, word about his project had spread around town. This was propitious timing for engineers at GE Aviation, which is based in Cincinnati's northern suburb of Evendale. At the time, they were developing an efficient fuel nozzle for a new jet engine, but the design was so complex they had trouble producing it. It had more than 20 parts that had to be welded and brazed together. "We tried to cast it eight times, and we failed every time," recalls Mohammad Ehteshami, who now runs GE Additive, a new GE business dedicated to supplying 3D printers, materials and engineering consulting services.

When Morris agreed to help, the GE engineers sent him a secret computer file with the drawing of the intricate nozzle tip. He printed it from a nickel alloy and invited the team over a few days later. "I remember that day like today," Ehteshami told GE Reports. "I was excited but also disturbed. I knew that we found a solution, but I also saw that this technology could eliminate what we've done for years and years and put a lot of pressure on our financial model."

[embed width="800"]https://www.youtube.com/watch?v=08_s6tcmPhY[/embed]

We caught up with Morris at the GE Additive pavilion at the Paris Air Show in June. Take a look.

Morris combined all 20 parts into a single unit that weighed 25 percent less than its predecessors and was more than five times as durable. "In the design of jet engines, complexity used to be expensive," Ehteshami says. "But additive allows you to get sophisticated and reduces costs at the same time. This is an engineer's dream. I never imagined that this would be possible."

But to make this dream a reality requires more than new machines, says Morris, who sold his business to GE and now works with Ehteshami. "You also need a new design mindset," Morris says. "There's an epiphany that happens after working with the technology for a little while. You start to realize you have this design freedom available to you that allows you to think about your designs with much more freedom than the traditional constraints of manufacturing, such a machining or casting. When that happens, then you become very creative."

That's why GE Additive is opening "centers of excellence" where customers can take the technology for a spin. "When we pull engineers and designers into the courses, we first spend a week deprogramming what they are used to in traditional design," Morris says. "Then we start to build the foundation of thinking about additive and designing in an entirely new way."

That way can include cribbing ideas from nature, an approach called bionic design. "We take the basic mechanical function of a component or, ideally, of a system or a product, and then incorporate some of these, what you would say, bionic designs or some of these very nature-inspired lattice structures," Morris says. "What you end up with is something that looks very organic many times, but not always. It gives you a performance of a part that's better, maybe it gives you light weight — it certainly will drive cost down in many instances."

The nozzle that Morris first printed certainly did the trick. It now serves inside the LEAP jet engine developed by CFM International, a 50-50 joint venture between GE Aviation and Safran Aircraft Engines. Planes powered by the LEAP already have carried more than 5 million passengers, and the CFM has received orders for more than 14,500 LEAPs valued at $210 billion. The 3D-printed nozzle helped contribute to the 15 percent improved fuel efficiency of the LEAP engine, compared with the previous CFM engine.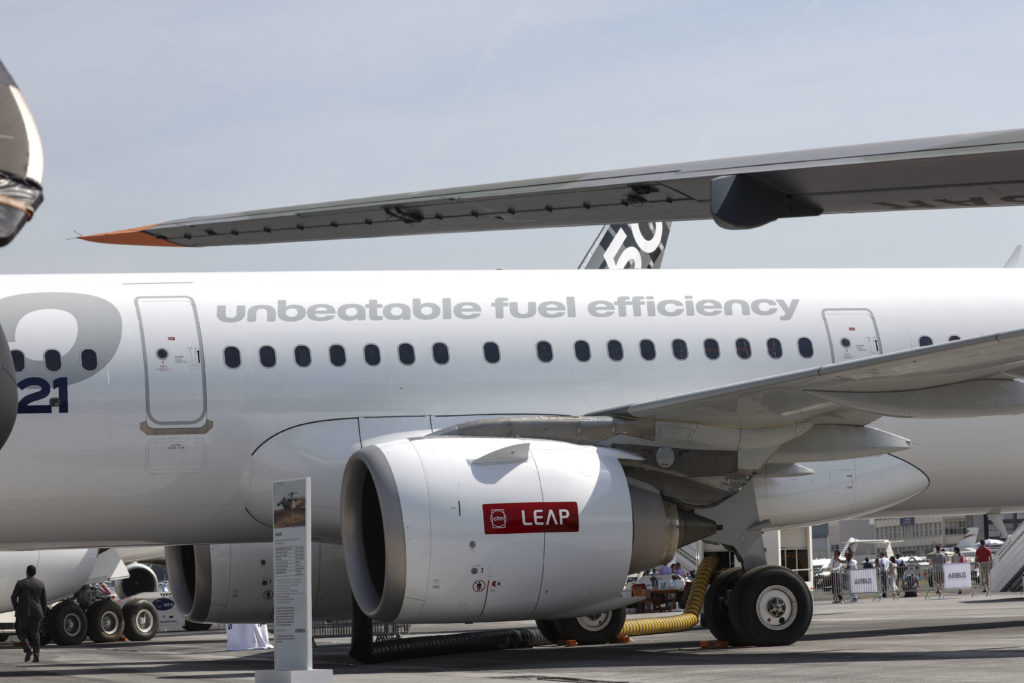 2017 Paris Air Show. Image credit: Rob Butler for GE Reports. Top image: The tip of the 3D printed fuel nozzle weighs  25 percent less than its predecessors and is more than five times as durable. Image credit: CFM International.
Categories
tags