From a luxury liner crossing the cold waters of the north Atlantic, Brave Tern may look like an uncharted island rising from the sea. But sail closer, and you will see an unusual ship making history. The boxy, 132-meter-long, 39-meter-wide wind turbine installation vessel framed by four soaring steel columns is carrying five massive nacelles for Deepwater Wind's Block Island Wind Farm, America's first offshore wind farm. The wind farm will be located off the coast of Block Island, Rhode Island, which is also Brave Tern's destination. Owned and operated by the Norwegian company Fred. Olsen Windcarrier, the ship left the port of Saint-Nazaire in France last week.
A nacelle is the box that houses the wind turbine's power-generating components. The nacelles aboard the Brave Tern were manufactured by GE Renewable Energy in Saint-Nazaire and can produce 6 megawatts each. They are as large as a school bus and weigh as much as 400 tons. They will sit some 330 feet (100 meters) above the waves—as high as the Statue of Liberty—when they are installed atop the wind turbine towers.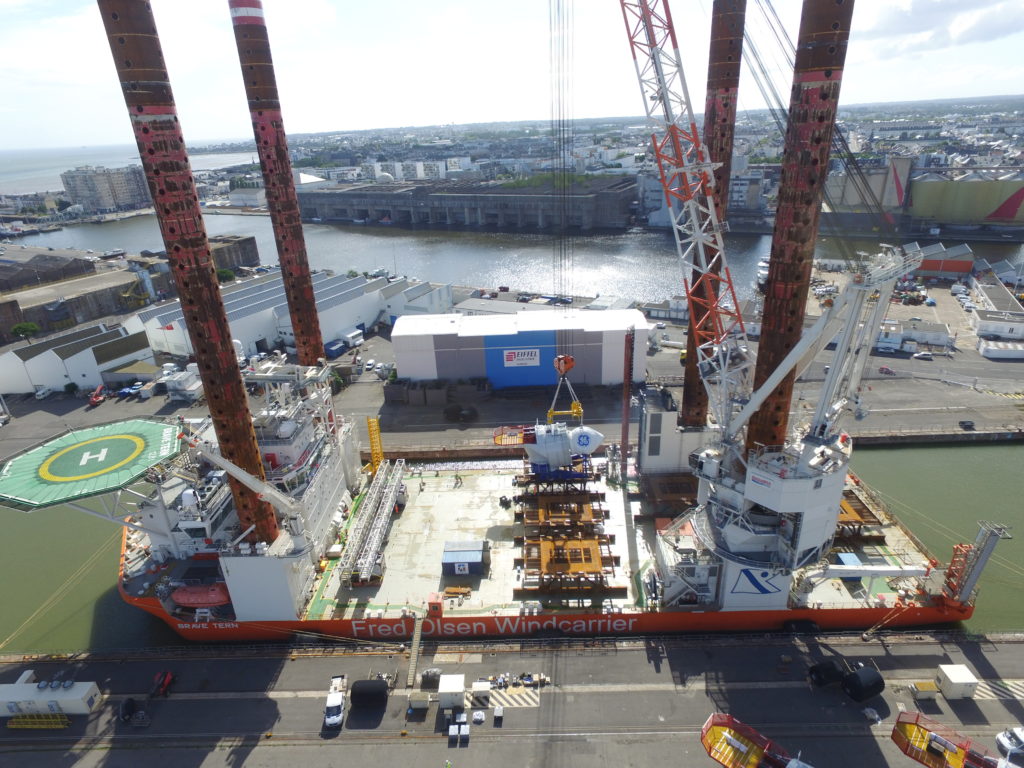 Top and above: The Brave Tern in Saint-Nazaire harbor last week.  Images credit: GE Renewable Energy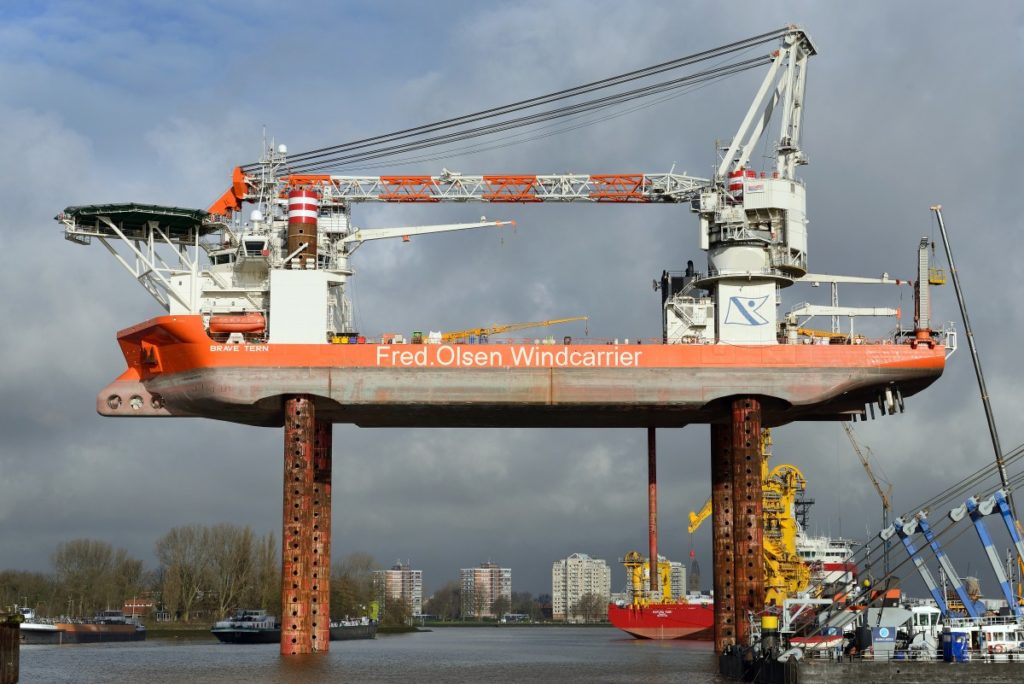 Once in Block Island, the four massive legs will drop down to the seabed, jacking up the ship high over the water for turbine installation. Image credit: Fred. Olsen Windcarrier

How the nacelles get up there is another engineering marvel. That's because once on Block Island, the Brave Tern will become a real-life Transformer robot, changing from a ship into an at-sea construction platform. The four massive legs will drop down through its deck to the seabed, jacking up the entire ship high over the waves. Then, an 800-ton crane will position the generating equipment on the towers and fasten the blades onto the structure over several intense weeks of installation.

If everything goes as planned, the project will be in service by the end of the year, generating 125,000 megawatt-hours of electricity. That's enough to meet 90 percent of Block Island's power needs and even supply surplus electricity to the mainland via undersea cable.

It will take the Brave Tern about two weeks to sail the roughly 3,300 miles to reach its destination. The exact length of the voyage depends on the weather. Even in the summer, the Atlantic can produce 18-foot waves.

Our photographers caught up with the ship just before it left the port and in the Bay of Biscay during its voyage. Take a look.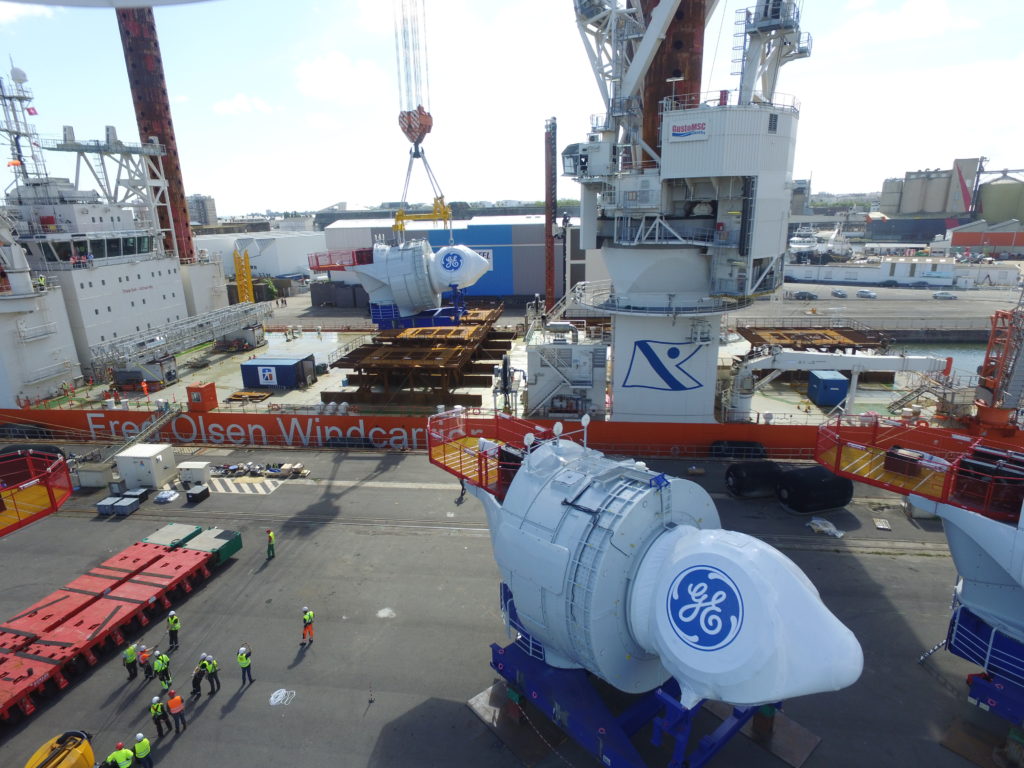 The nacelles will ride on specially manufactured platforms that will protect them from high waves. Image credit: GE Renewable Energy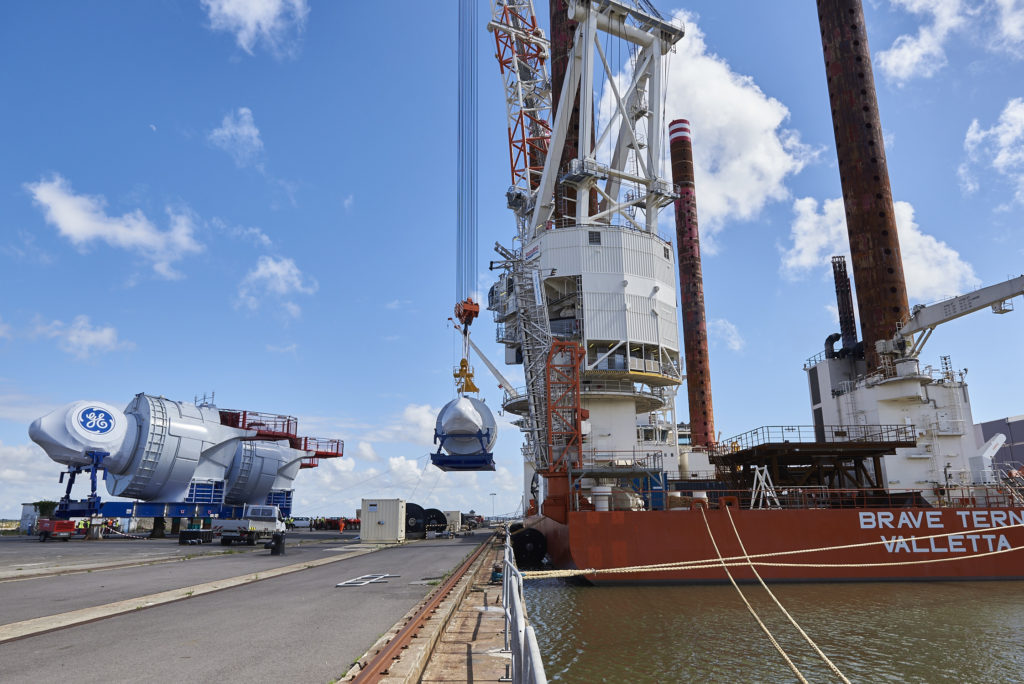 On Block Island, roughly 40 additional workers will join the 30-person crew to help with installing the turbines. They will live on board in the Brave Tern's 56 cabins. Image credit: GE Renewable Energy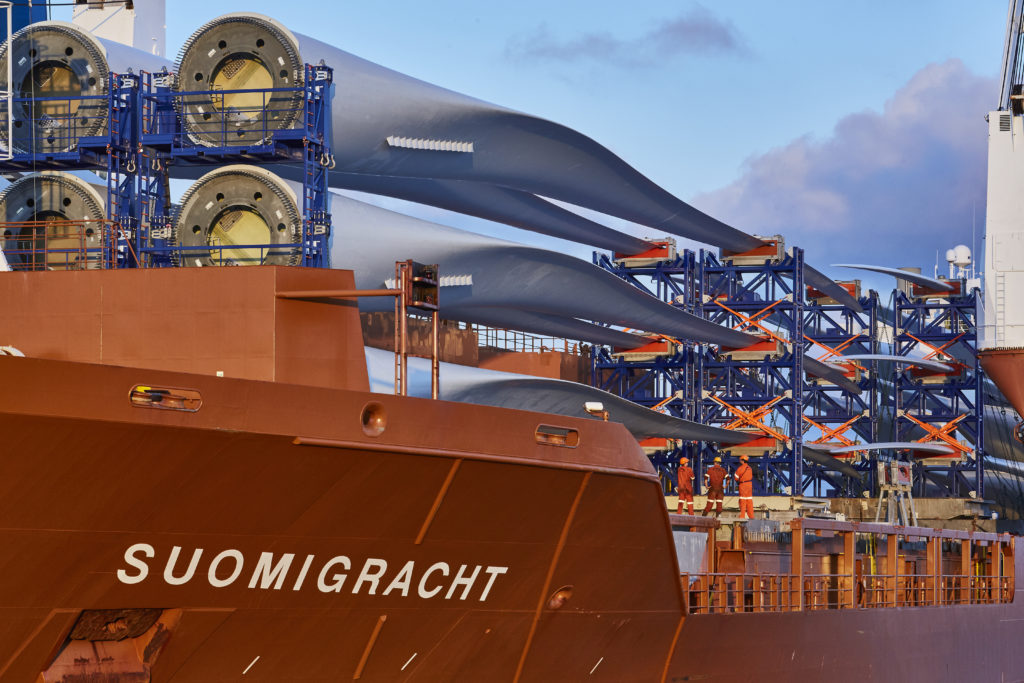 The turbine blades arrived in Rhode Island last month. After they are attached to the nacelles, the tips of the blades will tower 560 feet above the sea at the highest point, twice the height of the Statue of Liberty. Image credit: LM Wind Power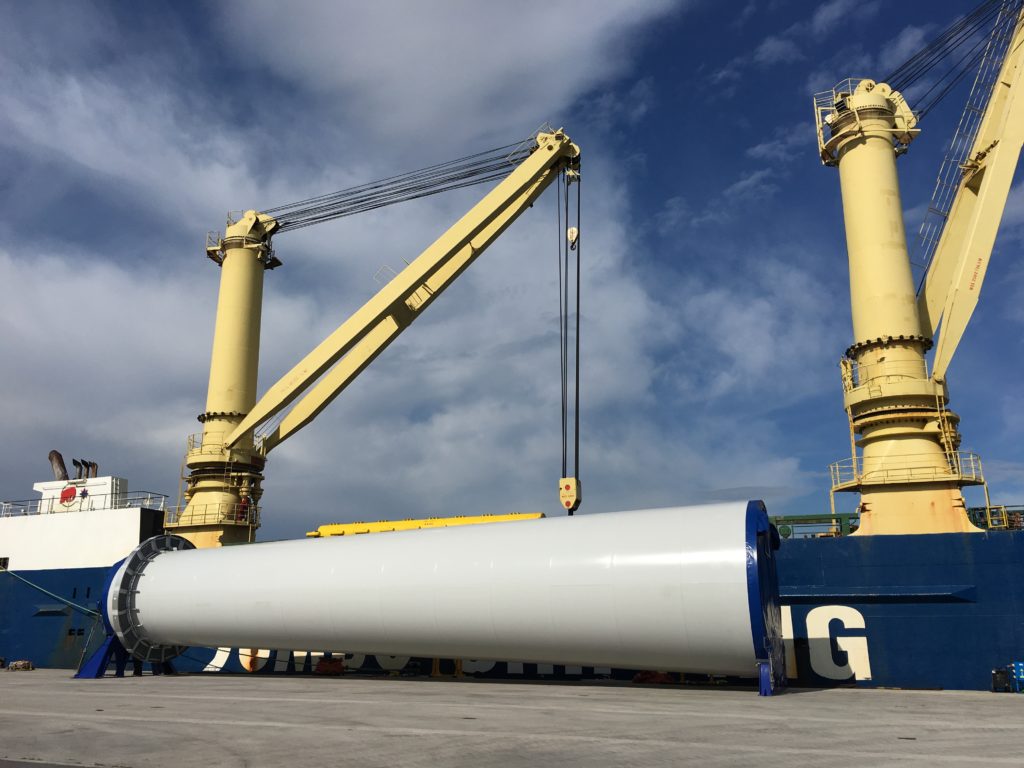 The turbine towers caught a ride on a separate ship from Spain. Image credit: GE Renewable Energy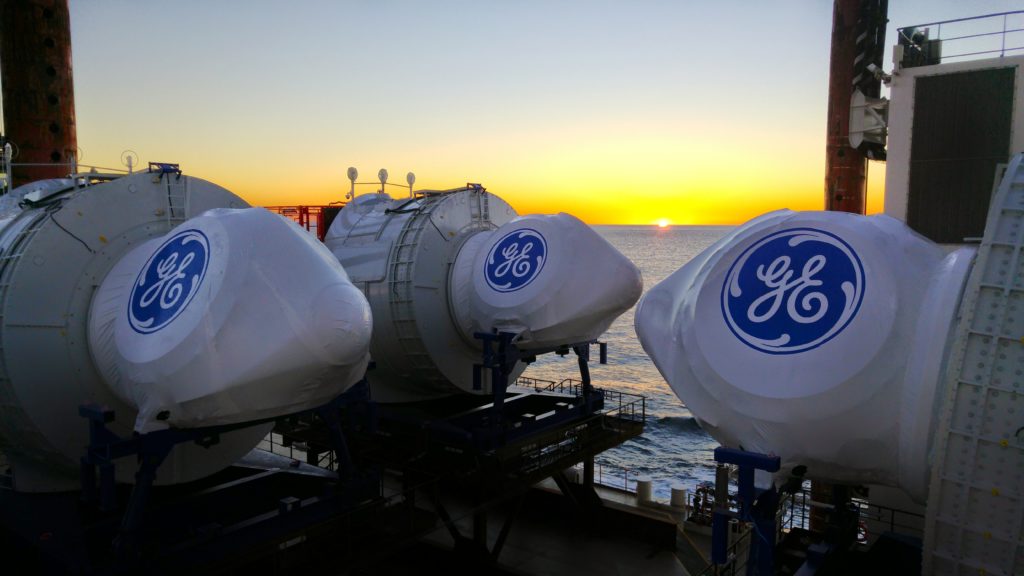 A sunset in the Bay of Biscay. Image credit: Fred. Olsen Windcarrier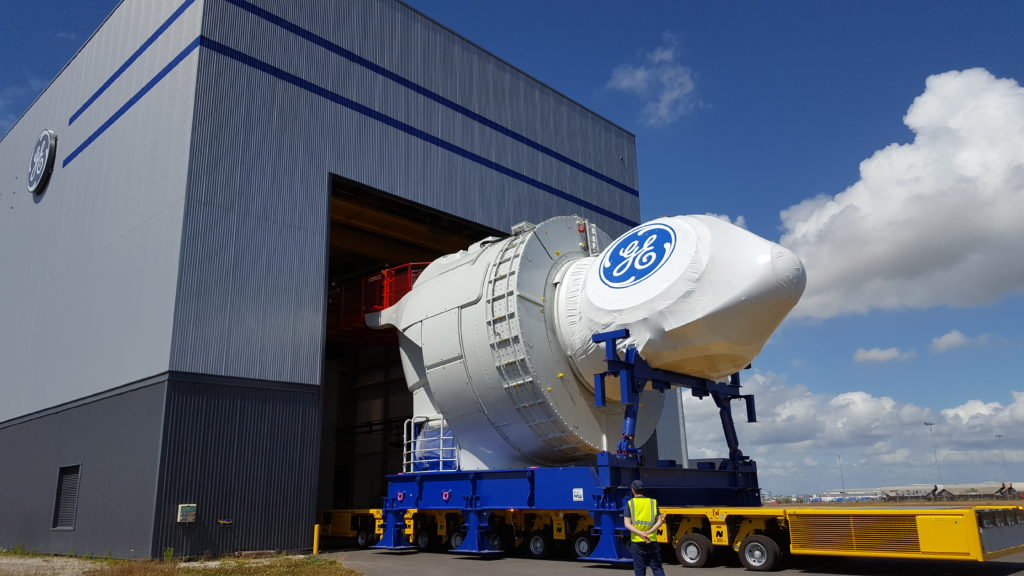 One of the Block Island nacelles is leaving GE's "temple of turbine" in Saint-Nazaire. Image credit: GE Renewable Energy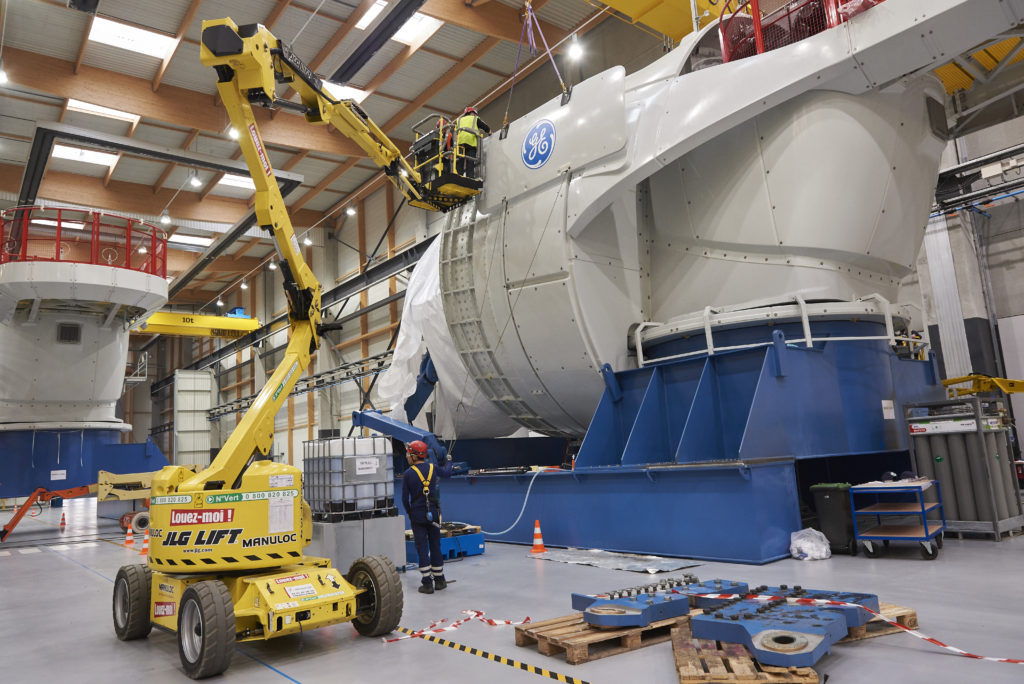 The nacelles during production in the Saint-Nazaire factory. Image credit: GE Renewable Energy
Categories
tags