Mary Reynolds stood on the train platform and waved her parents goodbye. It was 1946, and the 20-year-old was trading the red dirt of Oklahoma for the frigid winters of Schenectady, New York, and an engineering job at GE.
But Reynolds liked it cold. Having suffered through Stillwater, Oklahoma's sweltering summers, she was obsessed with the idea of air conditioning — so much so that it inspired her to study mechanical engineering in college. In 1943, female peers at Oklahoma Agricultural and Mechanical College were few and far between. "It was war time," said Reynolds, 90, last March from her home in St. Louis. "So a lot of them didn't finish."

But she did. She also helped her husband finish college and ended up educating a generation of young engineers decades later. In many ways, Reynolds, who died in April, was a pioneer for GE's plan to employ more in science, technology and engineering jobs and in manufacturing.

Born Mary Eager in 1926, the daughter of a physics professor blazed through her coursework, graduating in just three years at age 20 thanks to having taken college classes in high school and committing to a grueling year-round schedule. A strict family rule may also have helped. "Studying came first," said Reynolds. "So no radio could be on if anyone was studying at home." She was the second woman to graduate with a mechanical engineering degree at what was then Oklahoma A&M (now Oklahoma State University).
The bright scholar caught the eye of General Electric, which selected her for an internship at Fort Wayne, Indiana, during her junior year in 1945 and then recruited her directly from college for a full-time job. "They offered me a job in March of that year, and I didn't graduate until August," she said. "So I finished that college year and got my degree, and headed for Schenectady," said Reynolds.
She told her son Scott Reynolds that her mother cried all night after dropping her off at the train station. But Mary Reynolds' eyes were dry. "It went very smoothly," she said of her solo move to the Northeast. "I wasn't worried at all. I wasn't scared at all to go up there alone."
She didn't know a soul in New York, but with GE's help she rented a room from an elderly woman who had an apartment that sat over a drugstore. "Every morning I would walk two blocks and take a bus to work at the plant at GE," she recalls.
There, she did three-month rotations working on industrial turbines and control panels and within the research department. For her fourth rotation, she transferred to a New Jersey factory, where she worked on air conditioners as an application engineer performing load calculations. "We didn't have calculators, so you used a slide rule for all of your multiplications."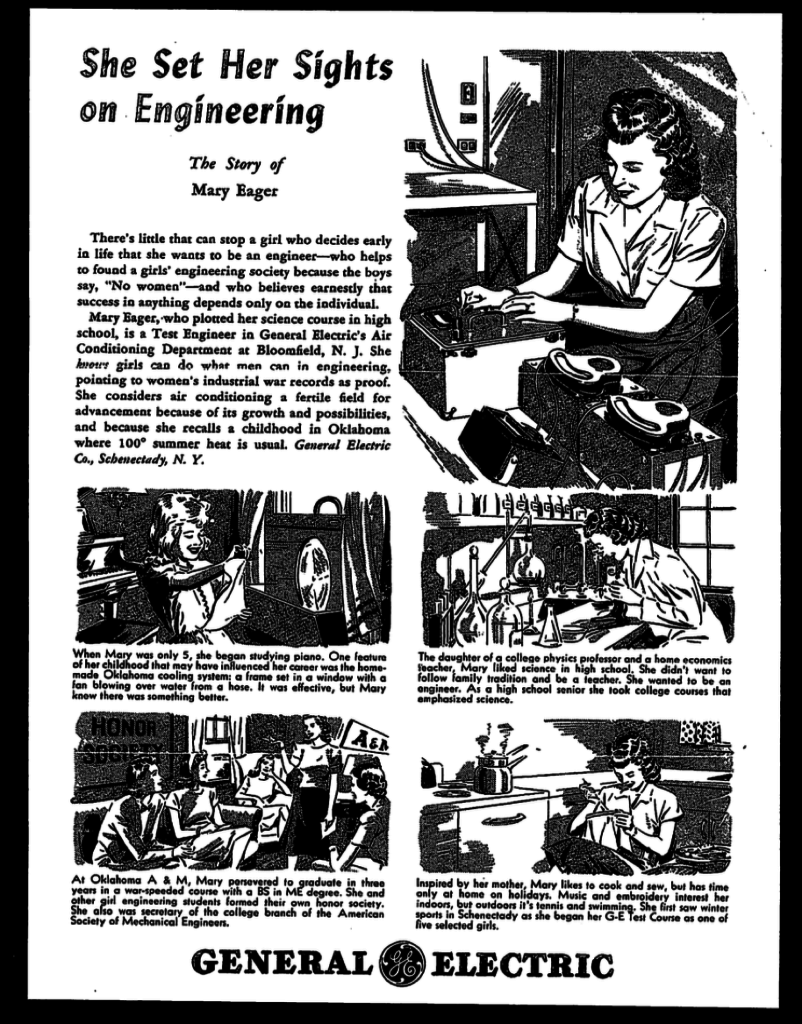 While they were designing ACs, her team labored without any air conditioning themselves, a fact Reynolds wryly pointed out, adding that she seemed better equipped to deal with the heat than some of her peers. "One day they let us out of work because it was 90 degrees. "I said, 'In Oklahoma we kept on working at 90 degrees!' "
Reynolds recalls being the sole woman at the center of the factory, literally surrounded by men — not that that mattered much to her. "Everyone was very nice to me there," she said. "I never heard anybody say any cuss words. The men were very respectful, and it was a good experience."
Reynolds took full advantage of her time in New York, attending plays, visiting the Statue of Liberty and touring West Point with a friend she'd met while volunteering for a local Girl Scouts troop. "She worked in New York at some food magazine," Reynolds said.
Reynolds spent two years at GE before the GIs started heading back to their jobs. With positions drying up, Mary moved home to Stillwater.
Though her career as an applications engineer may have ended, her work in the STEM field didn't. After marrying her husband, whom she'd met on a blind date and to whom she was married 58 years, and having children, she eventually went back to work, this time teaching engineering, mechanical drawing and kinematics at her alma mater. At the time, all of her students were male. "There were no girls in the classes," she said.
In time, Reynolds became a supervisor at the school's Engineering Extension technology program and then was promoted to associate director of the engineering curriculum, where she oversaw instruction in subjects such as radiation certification and fire protection. "We had classes mostly in cities around Oklahoma, but we drew a national audience because of some of the topics."
Reynolds' passion for technology and academics is part of her legacy. By securing that first job at OSU, she enabled her husband to finish his college degree, which he'd postponed to serve in the Army, and then earn a master's degree. He later worked as a technical editor in the school's engineering department. Her son Brett earned degrees in mechanical engineering and fire protection, daughter Valerie Hyde works with her husband in an industrial-safety consultancy whose clients have included GE, and Scott works in information technology for American Airlines.
The Hydes' oldest daughter is an IT business analyst, their son is a computer engineer, and their youngest daughter will be studying art and psychology. Scott Reynolds' daughters, both of whom were at the top of their classes in high school and college, now work in education, one as a teacher and the other as an operations manager for a national charter school network. When they were young, their father showed them a profile American Girl magazine had written about their grandmother's career at GE.
Said Scott: "I think that helped reinforce for them that girls can excel as much as they're allowed to."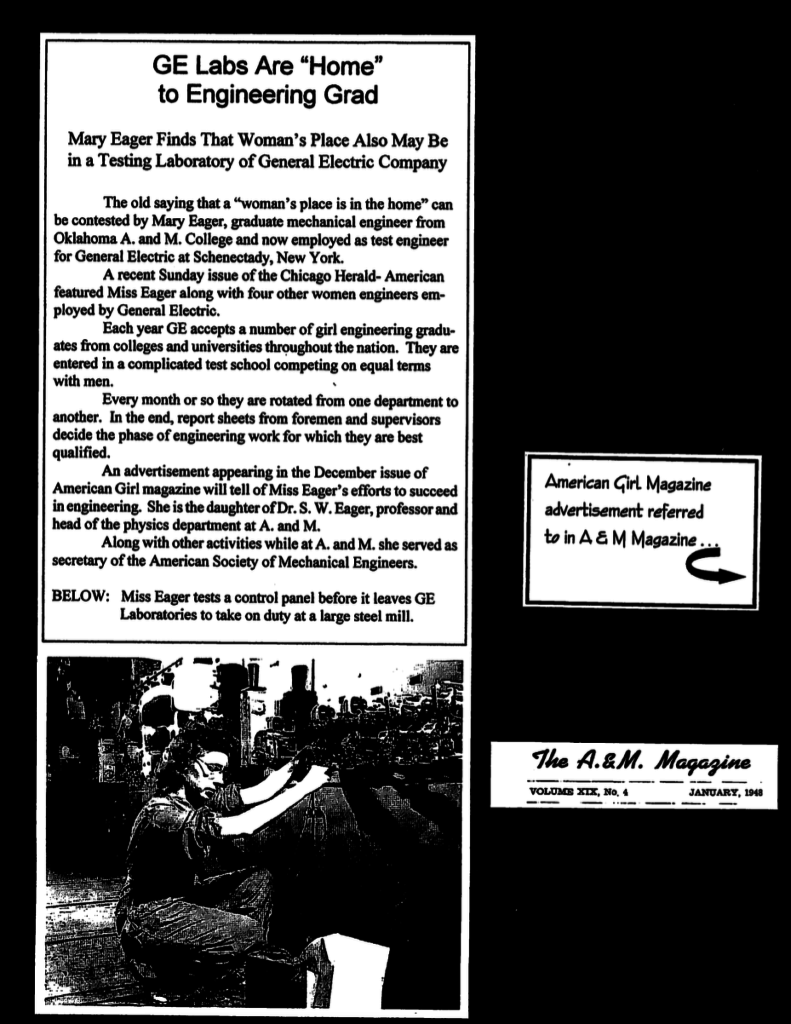 Categories
tags