A review of the impact of U.S. trade deals since NAFTA shows they have improved U.S. trade balances and boosted exports, getting U.S.-made goods on the shelves of its trading partners.


Today's presidential candidates aren't using dial-up internet connections or arguing about whether O.J. Simpson is guilty. So why are we still stuck in the '90s when it comes to trade? President Obama has said that past trade deals like NAFTA haven't delivered as promised, but we can't keep comparing our future trade policy to a trade deal that's old enough to buy alcohol.

Since NAFTA's implementation in January 1994, the United States has concluded trade deals with 17 countries. Just as the quality of automobiles and computers has vastly improved over that time, so have our trade deals. To measure this, one can look at labor rules, environmental provisions and market access, to name just a few. Another way is by asking a simple question: Are we selling more stuff overseas? Looking at modern deals, all concluded post-2000, the answer overall is yes.

How do we know?

We studied all of these 17 modern trade deals to see if they put more Made in the USA goods on foreign shelves. Specifically, our analysis focused on how these free trade agreements (FTAs) affected the blue-collar goods sector, as the trade discussion has centered on its impact on U.S. manufacturing. For each of these 17 countries, we compared the U.S. trade balance in goods with each country over two different time periods: the three years immediately preceding the agreement and the latest three years (2013 through 2015, all post-agreement). The reason for these periods is two-fold: We now have at least three years of trade data for every post-NAFTA deal, and three-year periods show a deeper picture than a single year, which can skew, for various reasons, the results.

So do modern trade deals deliver? The answer is a resounding yes. Nearly all U.S. trade deals have been beneficial and, overall, the gains have been substantial.



Our trade balance in goods improved in 14 of the 17 countries after the trade deal took effect. Following the FTA, trade balances in goods improved for the United States with Jordan, Chile, Singapore, Australia, Morocco, El Salvador, Honduras, Guatemala, Bahrain, Dominican Republic, Oman, Peru, Colombia and Panama. Trade balances worsened with only Nicaragua, Costa Rica and South Korea.


After FTAs, our trade balance in goods in these 17 countries totaled an $85.5 billion surplus, compared to a $3.7 billion deficit before the FTA, an improvement of nearly $90 billion. Comparing the pre- and post-FTA numbers, the trade balance in goods improved by an average of nearly $5 billion per country, with the best performance in Singapore ($30.1 billion) and the worst in South Korea (-$38 billion).


Post-FTA, U.S. exports grew by 42 percent, double the growth rate of imports, which grew by only 21 percent. U.S. goods exports increased from $400 billion to $574 billion in 2015 dollars, while imports only grew from $404 billion to $488 billion in 2015 dollars.


The United States previously had trade deficits with nine countries before FTA implementation. Now, the United States has deficits with only three. Before FTA implementation, the U.S. had a trade deficit in goods with Chile, El Salvador, Honduras, Nicaragua, Guatemala, Bahrain, Peru, South Korea and Colombia. Following the FTA implementation, the U.S. has trade deficits with Nicaragua, Costa Rica and South Korea.


U.S. trade balances from these modern FTAs remain positive despite a strong dollar. The U.S. dollar has strengthened by about 20 percent since the summer of 2014. This means that U.S. goods are 20 percent more expensive overseas. U.S. exports in 2015 decreased 7 percent compared to 2014, which is, in part, because of the appreciation of the greenback.



Many interest groups oppose new trade deals based on antiquated or incorrect ideas about trade in a globalized world. Ultimately, the only path to middle-class prosperity includes expanding our exports to Asia. If we are going to judge future trade deals on the performance of past trade deals, we should look at all of them, not just one deal from more than 20 years ago. We have learned lessons from the past. That's why, since NAFTA, U.S. trade deals have included better terms: more market access, higher standards for workers and stronger enforcement.

By 2030, about two-thirds of the world's middle class will live in Asia. Will those people buy American goods? Modern free trade deals are the answer.

(Top Image: A finished 3D-printed sample from GE's Center for Additive Technology Advancement in Findlay Township, Pennsylvania. Courtesy GE Reports/Chris New)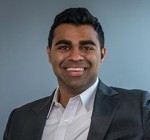 Jay Chittooran is an Economic Program Policy Advisor at Third Way.





All views expressed are those of the author.
tags