Few of us think of how a refrigerator works when we reach inside for a can of cold soda. When we do, our memory might bring up compressors pumping chemical coolants. But Venkat Venkatakrishnan and his team are thinking about magnets. Their new magnetic cooling technology could soon upend the very foundation of modern refrigeration.
Such feats of innovation don't happen by accident. Venkatakrishnan's advice? First learn a lot of physics and then find a group of like-minded tinkerers and scientific explorers.
These days, many of them hang out at Maker Faire gatherings. The most recent of these nomadic manufacturing workshops took place outside the White House on June 18, the newly proclaimed National Day of Making.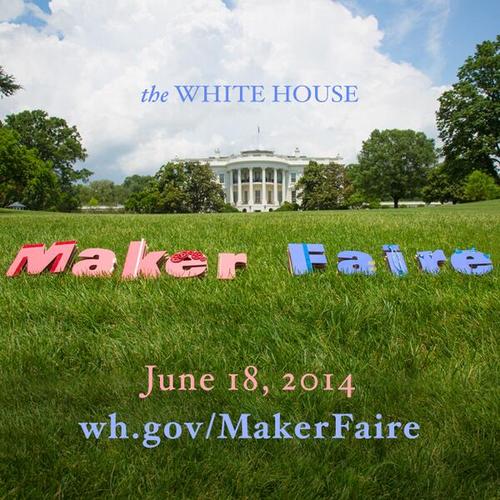 Top Image: President Barack Obama looks at Lindsay Lawlor's 17-foot-tall, 2,200-lb robotic giraffe on the South Lawn of the White House during the first White House Maker Faire. Photo: Pete Souza
Venkatakrishnan, who works as a director of research and development at GE Appliances, was there. He followed President Obama's call "upon all Americans to observe this day with programs, ceremonies, and activities that encourage a new generation of makers and manufacturers to share their talents and hone their skills."
The White House held the event to celebrate the Maker Movement and and its impact on innovation. "Today, more and more Americans are gaining access to 21st century tools, from 3D printers and scanners to design software and laser cutters," the President said in his proclamation. "Thanks to the democratization of technology, it is easier than ever for inventors to create just about anything."
The President said that American manufacturers have never stopped chasing the next breakthrough, and the Maker Movement has already moved inside factories. GE has recently partnered with Local Motors, a design innovator that built the world's first open-source car, to bring co-creation and "microfactory" production to the appliances business. Their platform, called FirstBuild, will prototype new designs and sell them in small quantities. "This is going to be a brand new community of engineers, fabricators, designers and enthusiasts," says Jay Rogers, CEO of Local Motors. "GE is already full of experts and they will meet the community half way.
GE and Local Motors used the White House gathering to bring the 3D printer manufacturer MakerBot inside FirstBuild. Its 3-D printing technology will help build parts for the microfactory's products. TechShop, a creative community of makers and hackers, will join FirstBuild and launch a challenge to co-create appliances of the future.
Maybe one day, FirstBuild will make Venkatakrishnan's magnetic fridge.That would make the Maker Movement even cooler.
Categories
tags