One of the biggest headlines coming out of this week's 2015 Detroit Auto Show was GM's Chevrolet Bolt, a long-range, all-electric concept car that can travel 200 miles on a single charge and will reportedly cost around $30,000, after rebates. That range is nipping at the wheels of Tesla's Model S sedans, but at half the price. (Though Tesla's more affordable Model 3 could cost less.) GM says the Bolt's lithium-ion battery could reach 80 percent charge in less than 45 minutes with DC fast-charging technology.
The car also echoes one of the big themes of last week's International Consumer Electronics Show in Las Vegas, where seemingly every device was connected to the Internet of Things. The Bolt Connect app will allow drivers to tell their Bolts to park themselves and then summon them to their location when they are done running errands, Batmobile-style.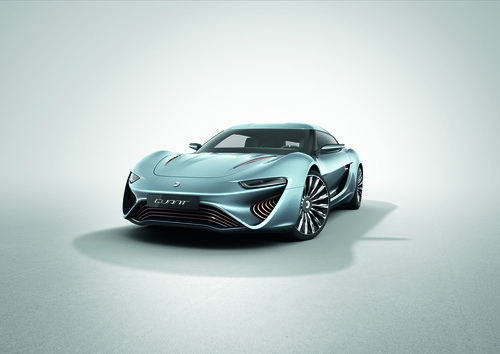 Top image: Chevrolet Bolt concept car. Image credit: GM Above: QUANT e-sportlimousine. Image credit: nanoFlowcell
If the Bolt represents the new affordable end of the EV spectrum, nanoFlowcell's QUANT e-Sportlimousine stands for the electric car industry's luxury future. The company will bring the latest version of the car, the QUANT F, to the 2015 Geneva Motor Show, which starts in March. The QUANT's projected range is between 250 and 370 miles, and the car can go as fast as 236 mph.
Rather than using lithium-ion batteries, the vehicle carries energy-dense electrolytic fluids that course through an innovative flow cell. The cell converts the charge stored in the electrolytes into electricity that powers the car. One benefit of such "flow battery" design is that it allows drivers to quickly recharge by replacing spent electrolytes in the holding tanks, like pumping gasoline at a filling station.
GE is also working on a version of the flow battery. "The QUANT's driving range certainly turns heads," said Grigorii Soloveichik, a chemist who has been developing water-based flow batteries at GE Global Research. Dr. Soloveichik, who published a piece on flow batteries in the journal Nature last year, said the technology excels in safety and reusability, among other things. The positively and negatively charged electrolytes are stored in separate tanks in the car and come into close proximity only during power generation. This reduces the chance of fire.
GE scientists also have their eyes on the big picture. Dr. Soloveichik told GE Reports that flow batteries could hold "tens of kilowatt-hours and up" of energy, since it is the size of the tank that determines how much power the batteries can store. Besides cars, flow batteries could be used as backup power for commercial and residential systems, store electricity from renewable sources of energy, and also support the power grid. "They can store energy from wind, for example, so power companies can use it when they need it," Dr. Soloveichik said.
tags