Helsinki in early December can be a dark and chilly place, but Timo Heikkinen had a bounce in his step walking through Slush, Europe's largest startup gathering, earlier this month. The conclave, named for the Finnish capital's ubiquitous winter feature, was started in 2011 by a group of entrepreneurial engineering students keen on finding kindred spirits. "Our whole point was not to play pretty, but focus on content," a former organizer said. When Heikkinen first attended, seven years ago, the nascent event fit inside a closed-down factory on the edge of town.
"I remember walking inside the first time and feeling amazed," Heikkinen recalls. "I never thought about starting a business."
A lot has changed since, for both Slush and Heikkinen. Inspired by the event's creative ferment, he quit his job as a marketing manager at a local company, co-founded a machine-learning business that helps doctors track disease and subsequently sold it to a large Japanese software company.
Slush now fills out Finland's largest convention hall, attracting 20,000 people annually. Those who make the trek include students and entrepreneurs such as Heikkinen, but also Silicon Valley venture capitalists such as Vinod Khosla and former U.S. Vice President Al Gore, who spoke last year, and engineers and executives from Microsoft, Google, GE, Amazon Web Services and other tech juggernauts seeking new ideas and talent. The event has since expanded from the Finnish capital to Singapore, Tokyo, and Shanghai.
"I like coming here because I meet people I don't normally meet," says Matti Lehtonen, who runs GE Healthcare's global Anesthesia and Respiratory business. "I feel the buzz, and I see people whose ideas are seemingly totally crazy. But the truth is that some of these crazy people may be running a unicorn one day."
The vibe is so infectious that GE Healthcare has created a year-round mini version of the event inside its headquarters here: a startup incubator called Health Innovation Village. The space is filled with rows of cubicles, whiteboards and colorful meeting rooms, but it also includes a basketball court and an artisanal coffee shop stimulating budding entrepreneurs with espresso and electronic music.
"In a company like ours, we tend to take things for granted. We play it safe and we get a little bit stale," Lehtonen says. "Sometimes, you just have to go by your gut. You have to have the courage to do something that isn't incremental but is actually a quantum leap. That's the kind of inspiration I'm looking for."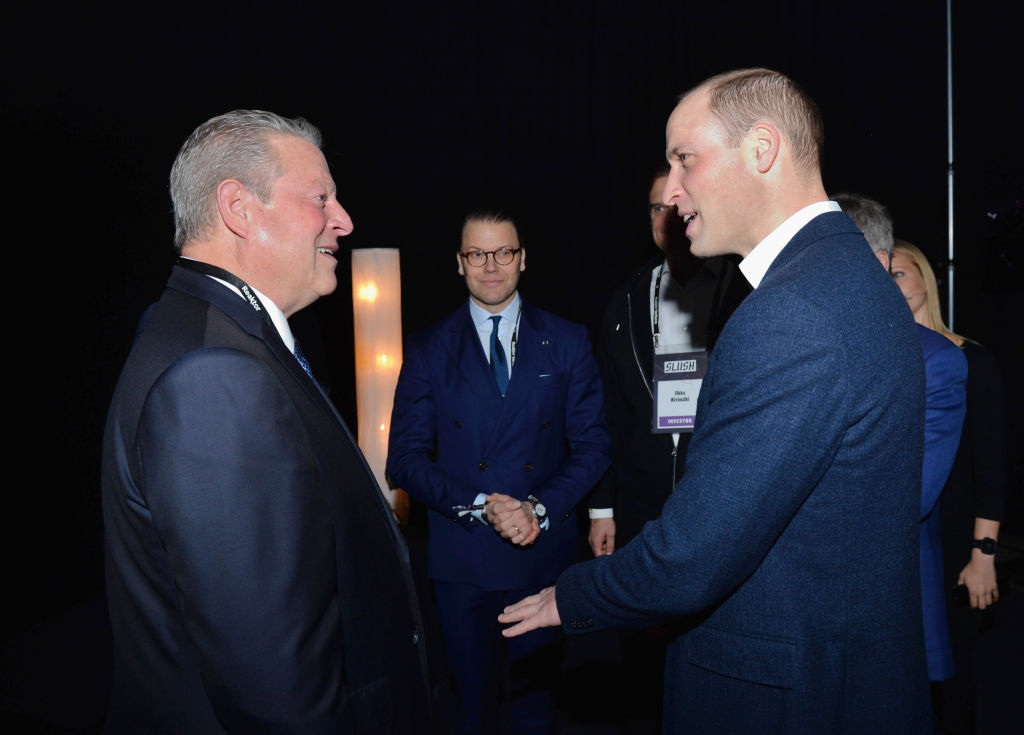 Above: Prince William, the Duke of Cambridge and former US vice president Al Gore attending Slush in Helsinki last year. Image credit: Dominic Lipinski/PA Images via Getty Images. Top: Slush now fills out Finland's largest convention hall, attracting 20,000 people annually. Image credit: Slush 2018/Jussi Ratilainen.
The Health Innovation Village, which launched in 2014, has delivered. Today it holds about 40 businesses, including several like Heikkinen's startup, called Top Data Science, that are working with GE. The companies here are developing smart hypodermic needles that could help doctors analyze tissue in real time during surgery, devices that bring relief to cancer patients suffering from radiation side effects, clothing for premature babies and other technology. "This is our 5th Slush now as Health Innovation Village so we're starting to be the veterans around here," says Mikko Kauppinen, who has led the incubator since it opened. "We created the Health Innovation Village at GE as a sustainable, win-win ecosystem where digital health startups can connect with a large, global corporate companies like GE Healthcare. It is harder than it seems, but I think we've succeeded and gained a strong presence in the startup ecosystem."
Take Top Data Science. Inspired by others at Slush, Heikkinen and his two co-founders, Turkish computer science PhD candidate Oguzhan Gencoglu and Vietnamese math prodigy Hung Ta, started the company in 2016. They sought to analyze the oodles of patient data generated by medical scanners and other healthcare technology.
From their desks at the incubator, the men were looking for a problem to crack when Erno Muuranto, the engineering director for mobile digital devices at GE Healthcare in Finland, introduced them to a doctor at the Helsinki University Hospital who was interested in deploying AI applications inside the hospital.
"The hospital had a lot of data, and they wanted to know if doctors could use it to solve some of their problems," Muuranto says. "We had these guys in-house. We thought, 'Let's put them together and see what comes out of it.' "
The proposal also made business sense. A typical U.S. hospital now generates an estimated 50 petabytes of data per year on average — enough to fill 20 million four-drawer filing cabinets with standard pages of text. But 97 percent of the information never gets used.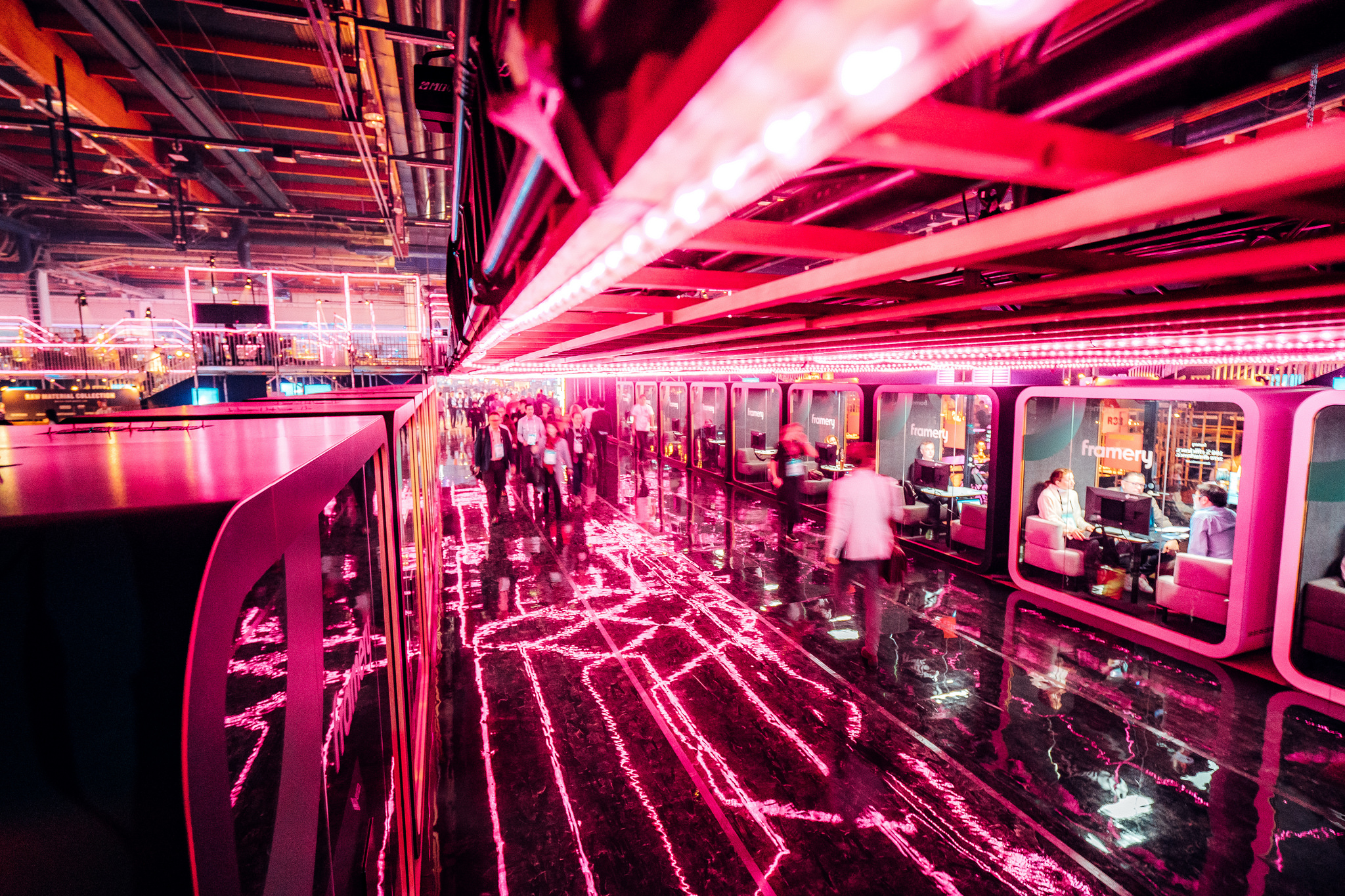 VCs and large companies like GE, Google or Amazon meet with startups at Slush. Image credit: Slush 2018/Jussi Hellsten.
Top Data Science is now testing two algorithms at the hospital. One is helping doctors identify high-risk cases inside intensive care units, looking for patients who may take a turn for the worse and those who are progressing well and could be released to standard hospital care. Another solution is sifting through computed tomography and magnetic resonance images of the prostate, helping radiologists spot cancer.
The software was promising enough that the Japanese image-processing and AI company Morpho started working with Top Data Science in the spring and acquired a majority stake in the company for about $5 million in October. "This has been a great journey," Heikkinen says. "When you are part of the village, you get visibility in the industry even though no one knows who you are. GE helps you make new connections."
The benefits cut both ways. GE medical scanners and other technology, after all, are giant data-gathering devices, collecting gigabytes of information about the state of our bodies. Apps such as those developed by Heikkinen could help make sense of it.
In Finland, for example, Muuranto is leading a team developing a new generation of wireless devices that monitor vital patient functions and stream it to the cloud for analysis. He says data and analytics could help doctors run hospitals like smart factories, speed up diagnosis, predict treatment outcomes, discharge patients from hospitals faster, monitor them remotely from home and reduce costs along the way.
"Weather is a good analogy," he says. "You have a thermometer at home in your window and you see that it's 3 degrees Celsius today. But you can't use it to ask: Is it going to be raining later? Should I bring an umbrella? For those answers, you need to build computer models that analyze information from thousands of weather stations all around the continent. It's the same in healthcare. The right model can help you answer questions like: Should I start antibiotics and other treatment? Is there a risk of septic shock? What is the likelihood that the patient will remain stable?"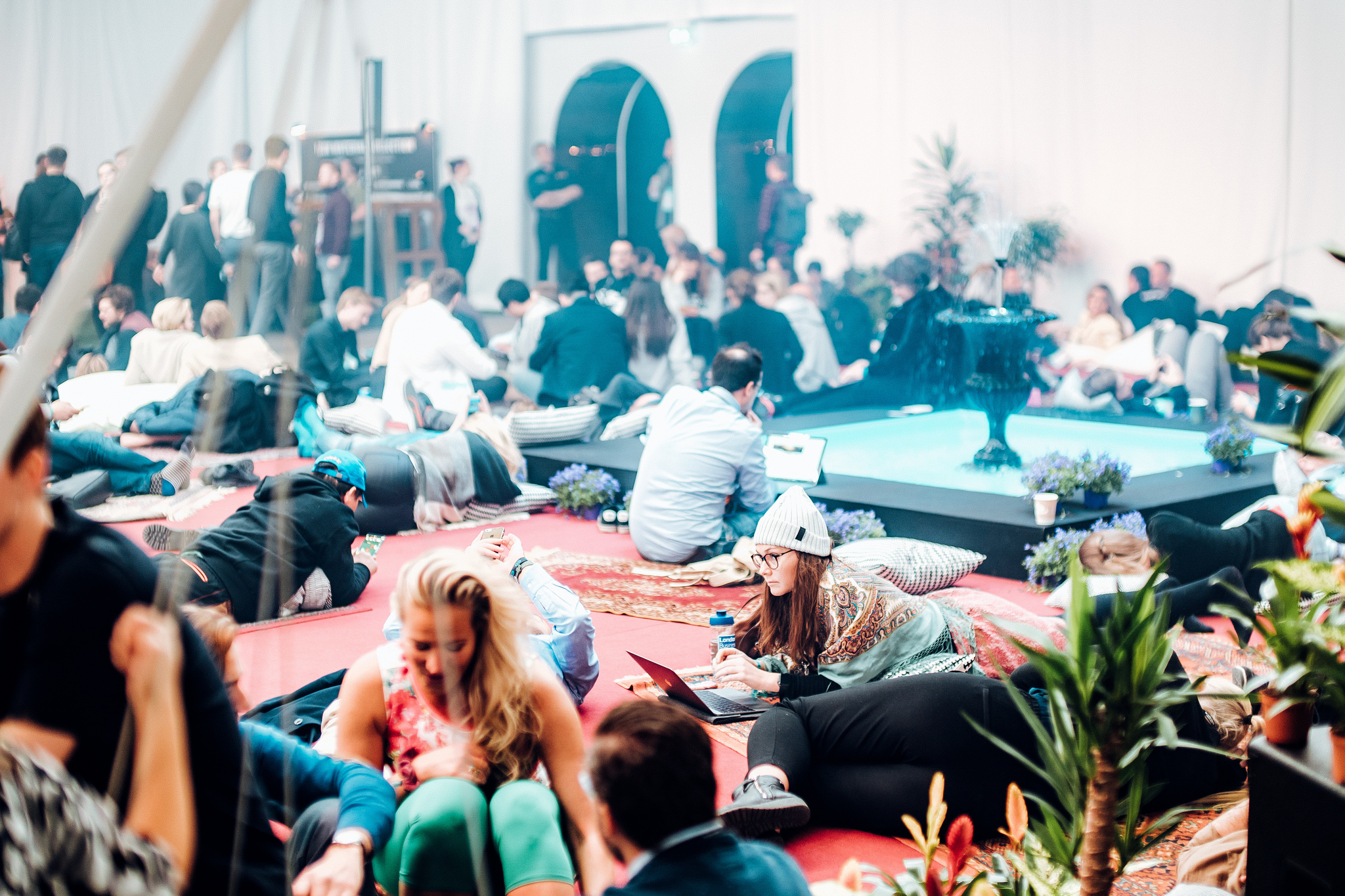 Visitors can take a break in the Oasis room. Image credit: Slush 2018/Jussi Ratilainen.
GE is building some of this software in-house. Just in November, for example, GE Healthcare unveiled a series of new AI apps, running on its Edison software platform. One sifts through digital X-rays and help doctors spot conditions such as pneumothorax, or collapsed lung, by the bedside in real time. GE Healthcare still needs to obtain Food and Drug Administration clearance before the algorithms can be used in U.S. hospitals. The submission, known as 510(k), is pending, and the tech is not yet available for sale.
But outfits like the Health Innovation Village, and partnerships with companies like Top Data Science, allow GE to innovate even faster. "We know how to integrate our own new product into our existing product," Lehtonen says. "But the process sometime takes time and resources, which we don't have. If there is someone outside who has focused their company on making this new piece of the puzzle, why not just take that? It's a win-win proposal given that it's very hard for a new business with a niche product and no product and market footprint to scale fast enough."
One such example is Jussi Määttä, founder and CEO of Buddy Healthcare and Heikkinen's neighbor in the Health Innovation Village. A few years ago, Määttä's 8-month-old daughter needed routine surgery, and he was overwhelmed by the amount of prep and paperwork involved. When he poked around, he was astounded to find that between 10 percent and 17 percent of surgeries get cancelled because patients fail to jump through all the hoops. "The hospitals lose money," he says. "The doctor is there, the nurse is there, but the OR is empty."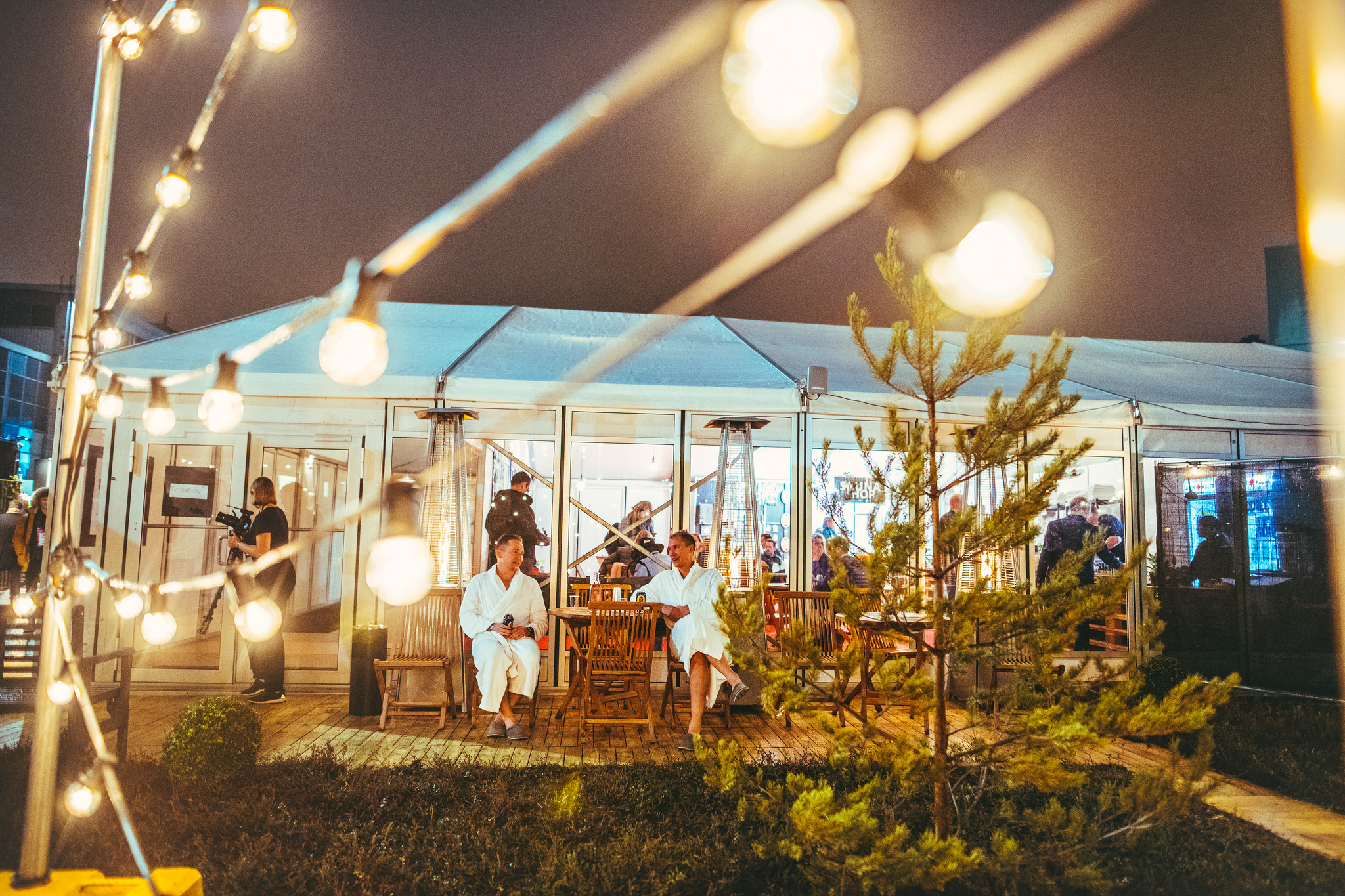 Since the even takes place in Finland, Slush visitors can also let new ideas percolate in a sauna. Image credit: Slush 2018/Julius Konttinen.
Määttä founded Buddy Healthcare to develop a smartphone app that syncs hospital requirements with patients to make sure that when they show up for a procedure, everything goes according to plan. Doctors can send patients or parents reminders to keep everyone on schedule. The company is already working with several hospitals in Finland and the U.S. It's also collaborating with GE and Lehtonen, whose anesthesia team is looking at using it to connect with patients outside the hospital.
"We are arguably the best in the area of acute care, but today everyone wants a total solution for the entire system," Lehtonen says. "I've always strongly believed that we don't need to do everything ourselves. We need to find the right people and help them integrate their solution. Buddy Healthcare is one of them. As for Slush and Health Innovation Village, it's easier for us to talk to companies here, get them to join the incubator and develop a piece for our systems that doesn't exist yet."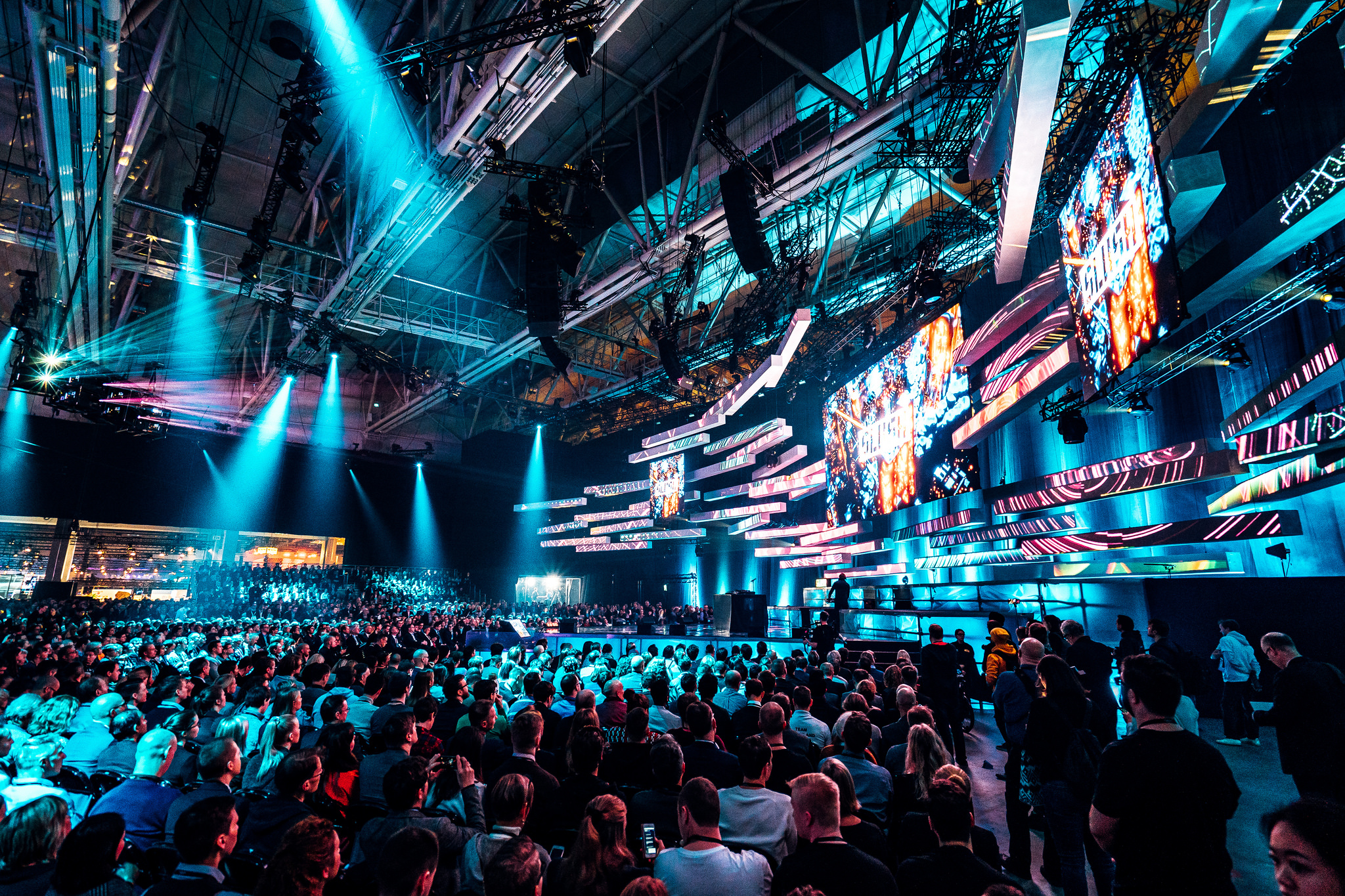 "I like coming here because I meet people I don't normally meet," says Matti Lehtonen, who runs GE Healthcare's global Anesthesia and Respiratory business. "I feel the buzz, and I see people whose ideas are seemingly totally crazy. But the truth is that some of these crazy people may be running a unicorn one day." Image credit: Slush 2018/Jussi Hellsten.
Categories
tags