Like the light, bright, undulating structure of the University of Technology's Vicki Sara building in which it is housed, the University's new $11.5 million Biologics Innovation Facility (BIF) is a future-focused, flexible response to student and industry needs.
Launched this week by UTS Vice Chancellor Attila Brungs, the BIF will populate and upscale a budding Australian biotech industry, training technicians in new processes that accelerate the delivery of medicines to market and giving Australian biotech businesses access to a clean-room and laboratory environment that supports the in-country development of their innovations.

"This facility will be key to addressing local skills shortages and ensuring the brightest and most talented scientists and engineers stay here, allowing Australia to capture a multibillion-dollar share of a rapidly expanding biologics market," Brungs told the gathering of educators, scientists and biopharma players.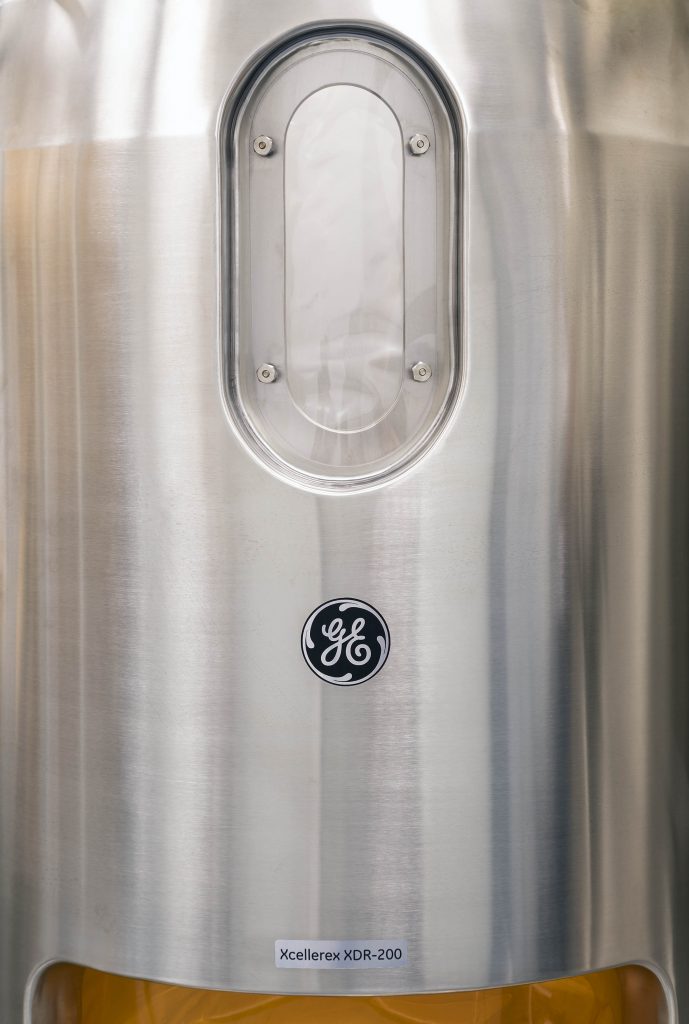 GE Healthcare Life Sciences equipment at the new Biologics Innovation Facility at the University of Technology Sydney include a 200-litre bioreactor capacity and purification train to support pilot development of therapies and neutraceuticals.
Out of the sandbox and into the bioreactor

The first facility of its kind in a university, the BIF has at its heart a GE Healthcare FlexFactory equipped to facilitate good manufacturing process (GMP Lite) in an environment designed for rapid cycling and iteration of projects. It's single-use processes, and 200-litre bioreactor capacity and purification train support pilot development of therapies and neutraceuticals produced by living cells.

"The cells — they might be mammalian cells or algal cells — are engineered to produce something, typically a protein or an antibody, that has some sort of therapeutic effect," explains Jon Ince, sales leader for Australian and New Zealand in GE Healthcare Life Sciences.

Australia is known for scientific discovery, and health care is no exception, but clinical manufacturing of biological medicines is typically conducted overseas, with patents sold to pharmaceutical companies in the US or in Europe which have established industries for commercialising medicines.

"There isn't an ecosystem in Australia yet to keep those small startups here long enough to become enterprises in their own right," says Ince, who has shepherded this GE-UTS collaboration over several years to the point of an operational BIF.

He says, "What we're trying to do here with the sandbox approach, is allow those biotechs to generate more data locally, and get further down the clinical pathway, retain some of that value longer. Key to that is developing the talent necessary for biotech that's going to emerge."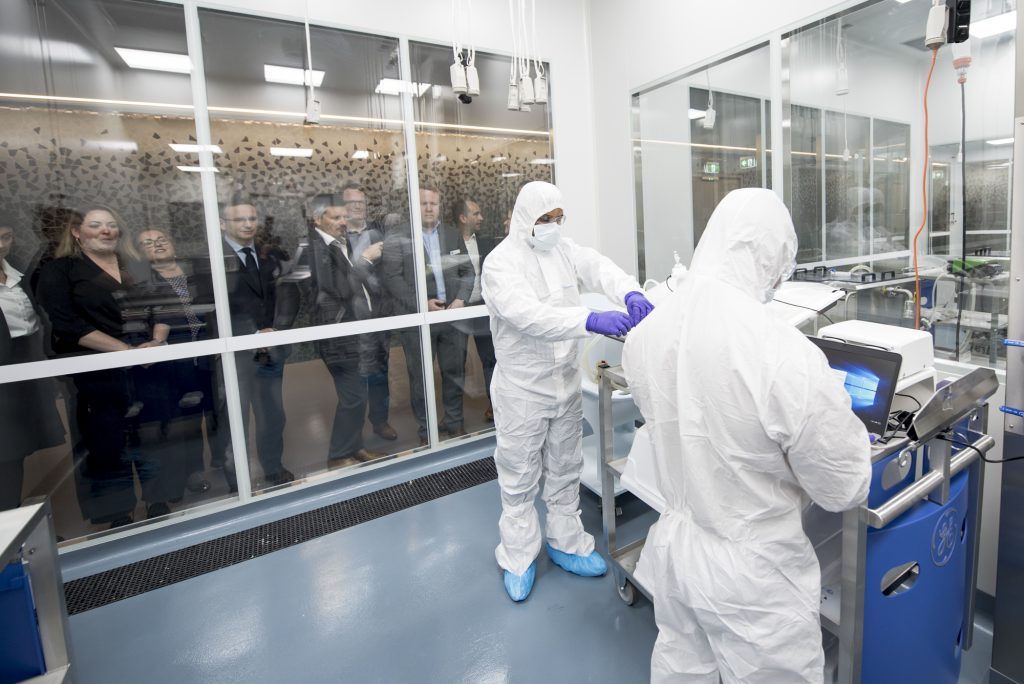 A future workforce with health-boosting impact

Around 50 percent of BIF capacity will be dedicated to training graduates, post grads and other biologics-minded career seekers in GMP methods. UTS has partnered with the Dublin-based National Institute for Bioprocessing Research and Training (NIBRT) to deliver a curriculum designed for regional industry needs.

"The Biologics Innovation Facility is the only facility in the south-east Asian node to deliver programs from NIBRT, a global centre of excellence and world leader in the field of pharmaceutical training," said Professor Dianne Jolley, UTS Dean of Science, at the launch.

A survey conducted in 2018 by The Medicine Maker magazine and NIBRT found that 86 percent of industry respondents had difficulty filling one or more biopharma positions, with bioprocess engineers in the greatest demand.

A roundtable conducted in Australia by UTS with biotech-industry participants found that "Australian companies are recruiting all over the world to try to fill that gap," says Jolley, who adds, "It's critical that we support our upcoming industries in this space."

The NSW Government agrees, having contributed $750,000 in seed funding for the facility from the NSW Boosting Business Innovation Program. A further $1.2 million was secured from the National Collaborative Research Infrastructure Strategy.

Bringing home the biotech

Proof of the need for BIF services in education and R&D comes from attendees at the launch event. Brad Walsh, CEO of GlyTherix, which specialises in therapeutics that target various underserved cancer types including tumors of the bladder, prostate and pancreas, is excited by the prospect of further developing treatments in Australia.

GlyTherix currently conducts a large proportion of its GMP production runs in facilities on the east coast of America. "To have the opportunity of face-to-face interaction with technicians in Australia, to able to monitor production here and bring in other capability from places like UTS, UNSW or Macquarie University … It builds a local ecosystem," says Walsh.

And he says having a trained workforce to call on will greatly ease issues caused by staff poaching in an undersupplied sector: "When you lose a well-trained staff member, you don't just lose a pair of hands, you lose a brain and company history and problem-solving know-how." Having a stream of well-trained technicians will enable more businesses without crippling others.


Members of the GE Healthcare Life Sciences and UTS teams at the opening of the new Biologics Innovation Facility.
Driving speed of medicines to market

Global CEO and president of GE Healthcare Life Sciences, Emannuel Ligner had flown from the UK to attend the landmark opening of this first FlexFactory in Australia. "Disposable manufacturing is quite new in the industry, probably only 10 years old, which is a very short time in the development of drugs," he says, "and there is a worldwide need for technicians trained in these processes."

Single-use technology is capable of supporting a far greater capacity of projects than similar stainless-steel laboratories, which require rigorous chemical cleaning of all equipment and revalidation of sterility between batches.

"In a FlexFactory, you can start your processing upstream, and before you've finished downstream, you can start another process at the beginning, because nothing is linked. The bags are new, and rooms are separated, so you can overlap projects," says Ligner.

Facilities equipped with stainless steel are also often limited to one kind of process. With a FlexFactory, explains Ligner, "you can have different bag designs for different processes, and you can roll in new equipment — like centrifuges or filtration at different stages — as you need it."

Enticing prospects and a culture of equality

Alexandra Thomson, lecturer in the UTS School of Life Sciences and Manager of the Deep Green Biotech Hub which specialises in development of algal-based biotechnologies to produce not only pharmaceuticals but raw materials for agriculture and energy production, shows off the new facility with pride and excitement.

She looks forward to supporting startups in utilising the new opportunity it presents "to work on their products and move forward in this innovative scientific space".

As one of the 60 women selected for the 2019 Superstars of STEM program, Thomson also looks forward to championing women and people at all levels of scientific experience in the learning environment provided by the BIF.

Superstars of STEM is a program designed by Science and Technology Australia (and also supported by GE) to smash society's gender assumptions about scientists and increase the public visibility of women in the field. Thomson is passionate about encouraging young women into science and breaking down hierarchies in the profession.

Critical mass was building right there in the Protospace above the Biologics Innovation Facility — a seed planted in the basement of the Vicki Sara building to nurture an ecosystem of satisfying jobs, cutting-edge science and a life-enhancing industry for Australia.


tags