Angie Norman is comfortable with uncertainty. As one of GE's experts in lean management, it's her specialty to crack complex problems in urgent need of a solution. So, when GE Healthcare needed to set up and attach accessories to thousands of medical monitors in record time to serve patients during the pandemic, she was exactly the right person for the job.
Norman routinely coaches GE teams through tasks like reducing waste and improving business processes. Now, the pressure was intense, and the need was critical. Demand for monitors — clinical devices that track heart rate, blood pressure and other vital signs — was high due to an anticipated surge of COVID-19 patients.
Norman works for GE's Integrated Systems business, which is part of GE Aviation and based in Cheltenham, U.K. The versatility and power of the lean methodology — it has helped companies like Toyota and Danaher to fine-tune their production and it also sits at the heart of GE's turnaround — allow her to set up efficient processes.
Back in March, right after she learned about the need, Norman sat down to do some math. She calculated the "takt time," a lean concept describing the time needed to complete the process you want to do; in this case, attach the requested accessories (such as roll stands for mobility) to the monitors and get them fully setup and ready to use. Once the line was running, it would need to complete configuration of one monitor every 13 minutes. "It was a large volume in a short period of time," she says. "At that point, I didn't know whether it was a good number or a bad number, but I knew I needed 40 people to create a system to produce the output."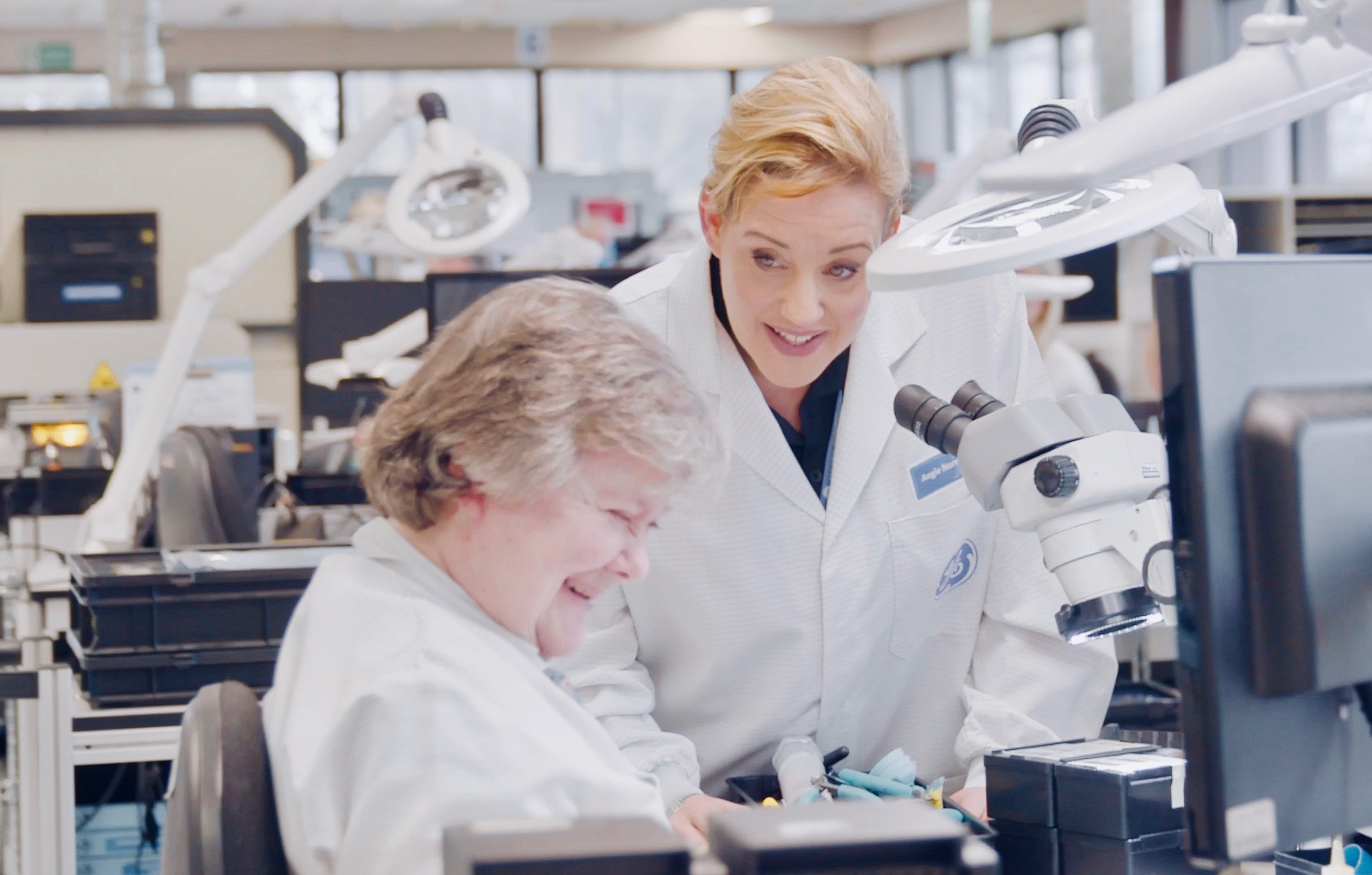 At the time, the Cheltenham factory had workers volunteering to help as well as spare capacity, which made it an ideal spot for configuration and setup of accessories with the monitors — a final step that normally occurs at the hospital, but COVID-19 restrictions made that challenging.
Norman, who had just joined the plant for a manufacturing building consolidation project, was preparing to work in this facility that typically makes power systems for aircraft, such as the F-35 and Boeing 777. In this new scenario, with production expertise, quality training and direct oversight provided by GE Healthcare, the aviation engineers and production teams got to work learning how to configure and attach accessories to a patient monitor.
Still, Norman was confident that it could be done. "Once you finish one," she says, "it's just a volume equation."
Inspiring teams to share that confidence has helped Norman facilitate demanding projects. She is a believer in the power of a positive, can-do attitude. She encourages team members to break down barriers that prevent collaboration and to cut through layers of stifling hierarchy. It's the goal that matters, she says, and everyone should focus on that goal and on taking the next step forward together.
Norman has more than 20 years of experience working with lean. As a process engineer by training, she learned early in her career to solve problems through lowering costs and improving performance. She is a longtime student of the Toyota Production System, a precursor to lean management that focuses on reducing waste and maximizing efficiency by standardizing work. Before joining the Cheltenham plant, Norman served as GE's European lean leader. "I do not know any other way than lean operating systems," Norman says.
Lean might sound like it's all about numbers but Norman stresses that it's actually all about people: Getting them organized, empowering them and moving in the same direction. In Cheltenham, under the direction of GE Healthcare, the team immediately began drafting a production workflow for how the accessories might be assembled with the monitor by two shifts of trained volunteers — from administrative assistants to engineers to technician operators.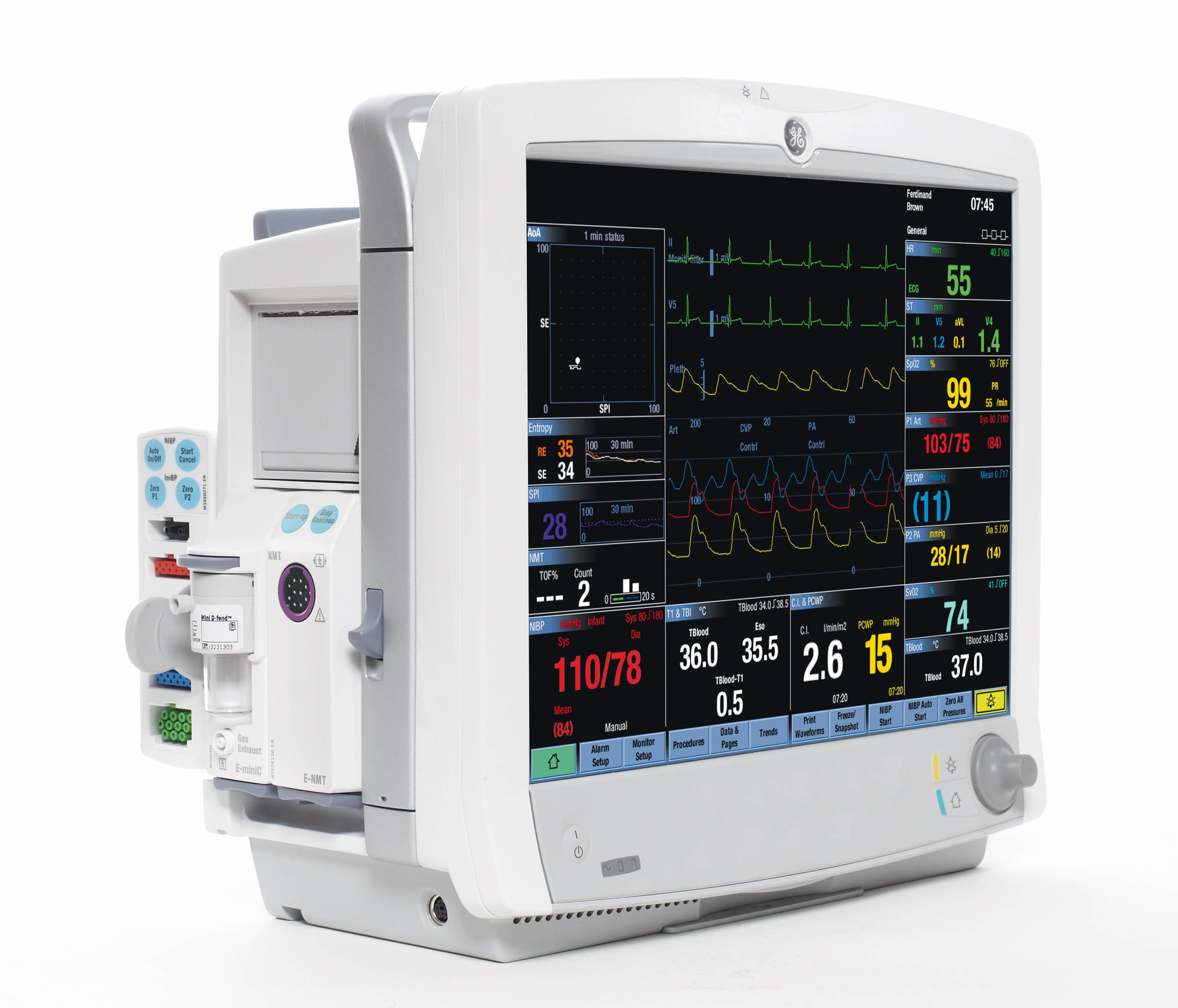 They all were motivated by the shared goal of helping to assist with providing monitors, which could aid in the care of COVID-19 patients. "A lot of my job in the normal world is overcoming hurdles between teams," Norman says. "But in this case, I wrote a plan, and everybody agreed to the plan. It really was that tremendous, in terms of allowing us to execute with such speed."
COVID-19 created many challenges. New social-distancing rules required workers to stand six feet apart from one another. Workers couldn't share tools, and tools and workstations had to be sanitized between shifts.
With the U.K. going into lockdown, the plant also couldn't go out and buy all the new equipment needed. So, it repurposed equipment and found tooling to set up the line with minimal spending. "Every time I went down for the first month or so, the whole layout could change because the team found it could do something quicker," says Steve Smith, regional executive manager for life care solutions of GE Healthcare in the U.K. "Leaving our preconceptions behind and being willing to embrace something totally different has been immensely powerful. That evolution of their model came through lean, and that's what Angie brought to the table."
The process was being further refined through "trystorming," as Norman puts it, a constant cycle of problem-solving and learning from feedback. Think of it as brainstorming, but with a focus on action.
The team created jigs and fixtures — devices that hold work in place and guide tools — for a product it only recently learned about. Engineers on-site created prototype versions of them that were adapted as the team learned more about the monitors. This process of rapid prototyping and iteration is sometimes referred to as "moonshining," in a nod to the homemade stills used to make alcohol during Prohibition in the United States.
The team also set up a visual scheduling system called kanban, an element of lean management that indicates how many parts have been used, simplifying inventory management. Securing the right parts was complicated since COVID-19 had put an unprecedented demand on global supply chains. As the GE Aviation group was setting up its assembly line, Smith's team from GE Healthcare was racing to secure more than 100,000 parts, including the many accessories that ship with each monitor.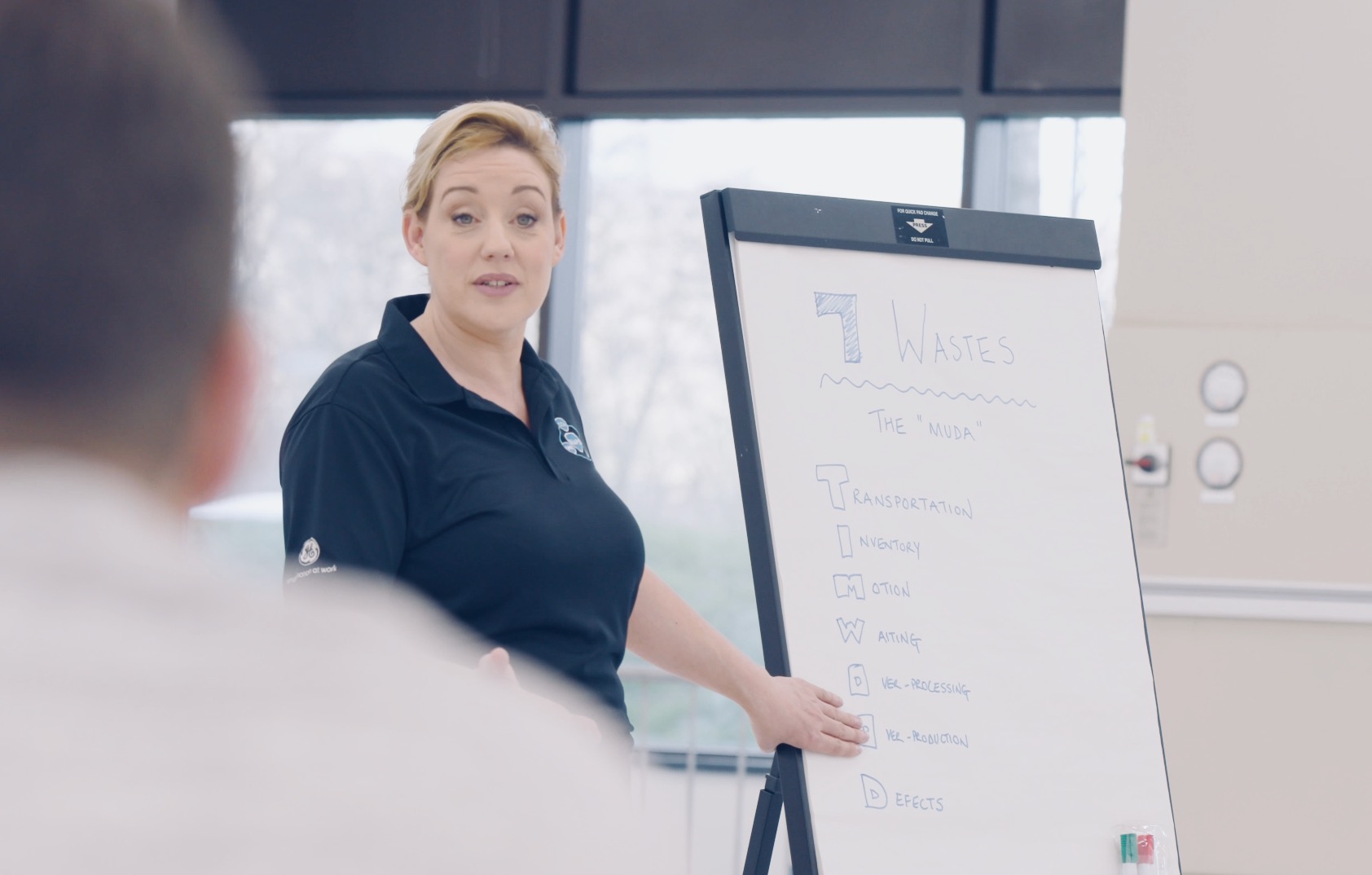 Before production began, the team received a demonstration monitor to use as a model. The product was heavier than expected, so the team had to design a small lift for safe handling.
Will Nottidge, a member of GE's Operations Management Leadership program, focused on standardizing the assembly process — setting up the monitors with all the accessories needed to use them right away in a hospital. He set up flow markings on the factory floor that use tape to show where a workspace begins and ends and how parts flow through an area. He then trained the workers to carefully observe them, so that when he led a shift, he could easily spot any problems.
"Lean works very well, but you also have to create a culture that gets people bought in to using its tools," says Nottidge, who attended a lean training with lean Norman. "As a leader, you have people looking to you for the answer. But with so many unknowns, quite often I had to admit that I didn't know the answer. I would have to say, 'Let's work it out together.'"
Only six weeks after the team began, the first batch of monitors configured with their accessories was ready to ship. Now, the team has assembled many, many hundreds — and the assembly time is down to just four minutes from the 13 that Norman initially calculated.. "When COVID-19 hit us, we had to do everything differently," Smith says. "We didn't know how it was going to go, but, in the end, the collaboration between the two GE businesses was seamless for hospitals to be able to receive the product, unwrap it and turn it on — that has been very, very warmly received. It shows how powerful a common goal can be."
For Norman, the outcome is a validation of the lean methodology that has been her life's work — and she celebrates all the people who helped put those principles into action.
"You will never be perfect at solving any problem," she says. "In a crisis, you build a plan based on what you know today. It's a cycle of try, fail, try again, fail, try again, succeed."
Categories
tags