It's not an easy time for the global workforce. Companies are contending with an unsettled macroeconomic environment defined by high interest rates, persistent inflation, and stubbornly low consumer confidence. The sheer speed of AI technological evolution is disconcerting for employees. Meanwhile, many firms are struggling to adjust to the new era of hybrid work, with the task of enhancing collaboration between on-site and remote teams a particular challenge.
The various uncertainties require not just clear leadership, but leadership by example. But a new nationwide study by GE and Ipsos has found that while both C-suite leaders and entry-level employees agree on the importance of communicating and defining leadership, many entry-level employees believe that their leaders are failing to walk the walk.
A total of 95% of the C-suite and 81% of entry-level employees believe that it's important to communicate a leadership mindset to all staff, the survey revealed, with 72% of survey respondents saying their organizations have clearly defined this mindset. Both groups identified quality, reliability, integrity, and innovation among the hallmarks of a successful company.
But the survey also reveals a gulf between senior managers and their entry-level colleagues. Almost 90% of C-suite respondents say their executive teams embody their leadership mindset, while fewer than 60% of entry-level staff feel the same way. There's also a disconnect on the nurturing of leadership, with 90% of C-suite respondents feeling supported by their organizations in their development as leaders but only 68% of entry-level employees feeling the same way.
This study revealed a clear opportunity to improve leadership development and distinguish an organization's leadership mindset, which in this case was defined as the characteristics companies foster among employees to develop strong leaders who can achieve business goals and ensure long-term success. Trustworthiness, intelligence, and vision were identified as top traits of effective leaders. Eight in ten entry-level employees said leadership training was a meaningful benefit, and identified employee trainings, handbooks, corporate websites, and internal webinars and meetings as the most effective channels for communicating a leadership mindset. Companies that get it right stand to benefit in the long run, with 56% of entry-level employees who understand their company's mindset becoming net promoters of their firms.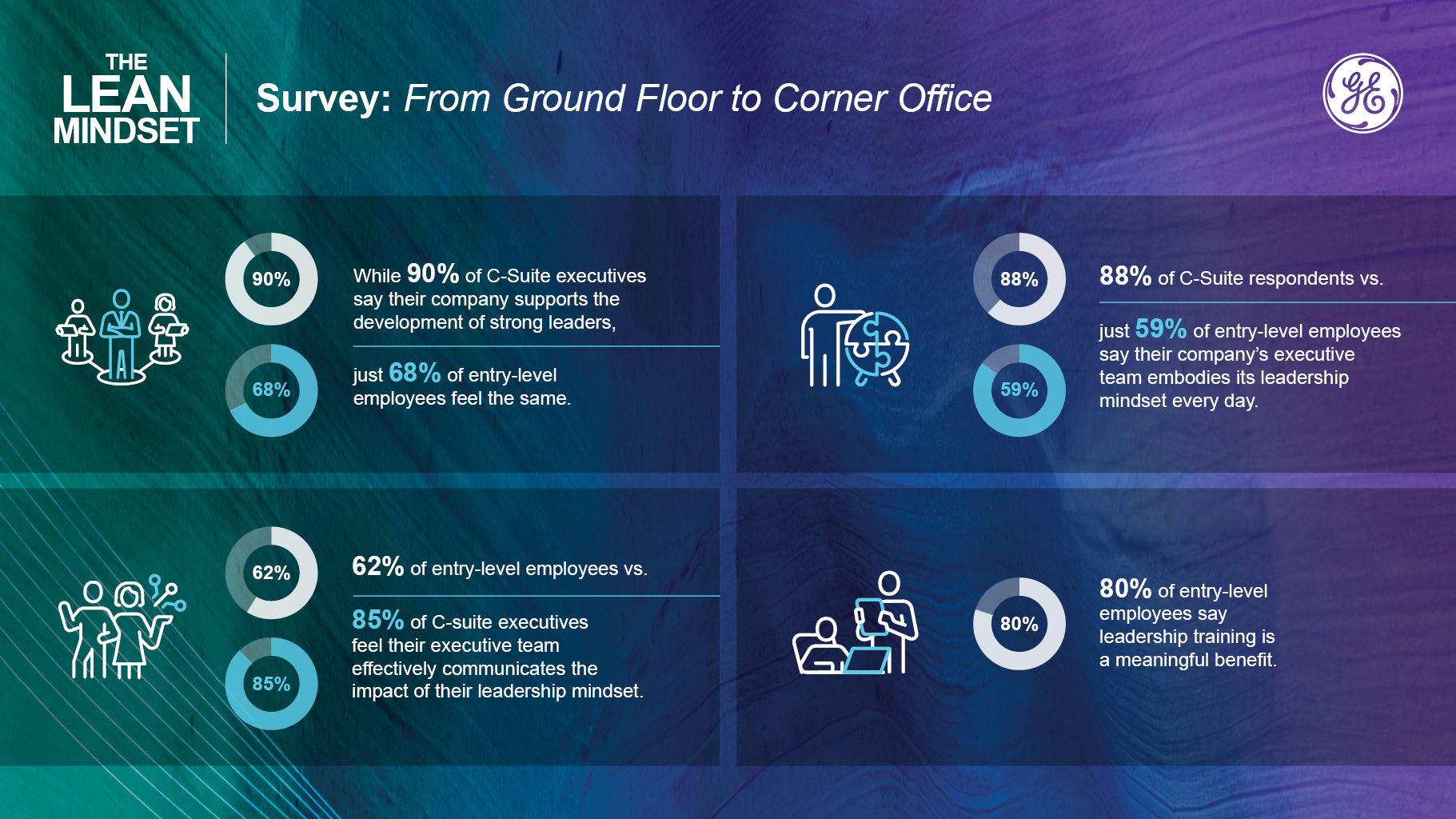 "The workplace revolution is reshaping how employees develop as leaders, just as it has reinvented where they work and how they work," says Linda Boff, GE's chief marketing officer and vice president for learning and culture and president of the GE Foundation.
GE will share these findings and additional insights on lean leadership and workplace culture at an event called "The Lean Mindset: The Pursuit of Progress," taking place today in New York City. The CEOs of Ford, Uber, and PG&E, renowned psychologist and author Carol Dweck, and NBA legend Giannis Antetokounmpo are among the speakers who will explain how their competitive advantage derives from a mindset of continuous improvement.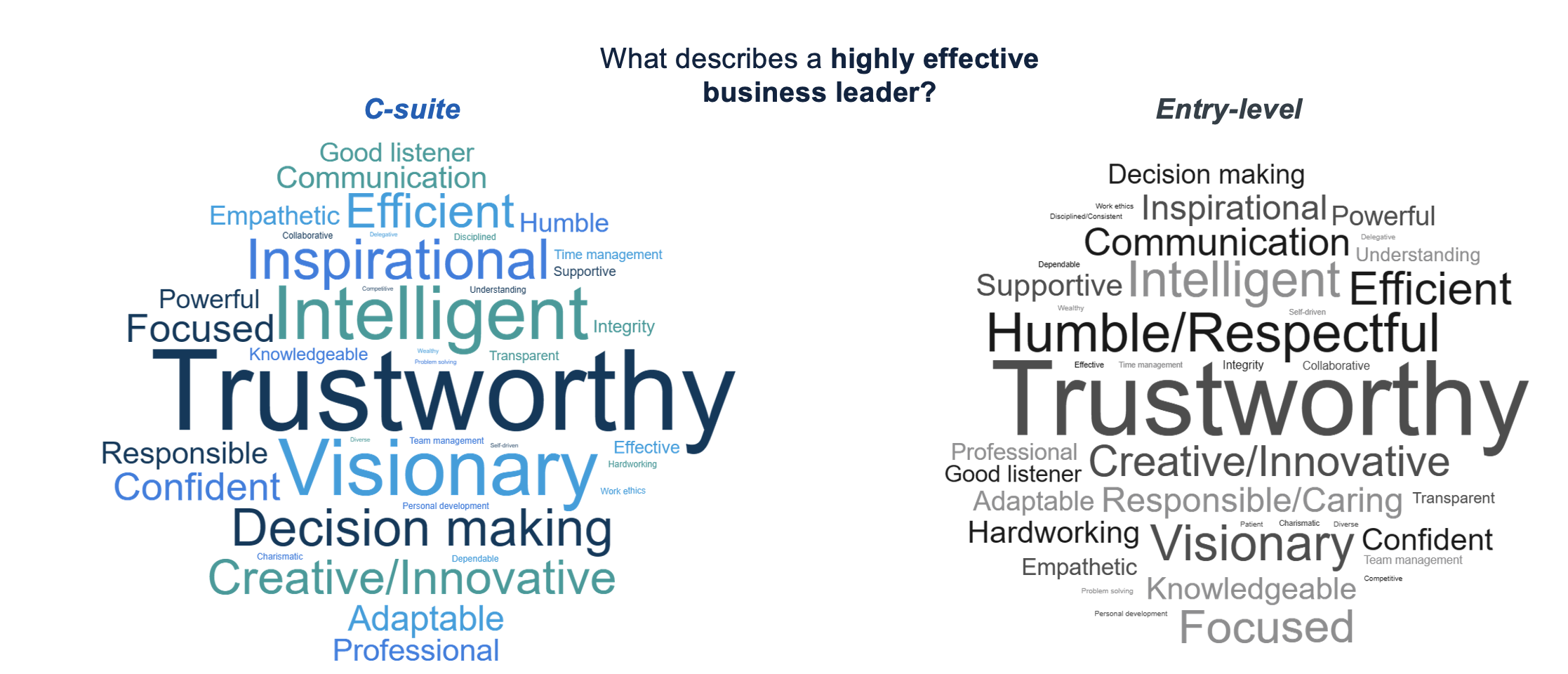 Over the past five years, GE has deeply embraced a lean mindset, which Chief Executive Larry Culp has defined as a problem-solving culture where issues are "embraced, owned, analyzed, and fixed." The approach provides GE employees with the tools to shave thousands of hours from their workload and better deliver for their customers. "GE's relentless pursuit of lean has helped propel us forward as an organization, and has played a pivotal role in our portfolio transformation and journey to form three independent publicly traded companies," says Culp. Quoting from the musical Hamilton in a recent LinkedIn post, Culp said that GE's lean journey is "not a moment, it is a movement." But, reflecting the spirit of continuous improvement, he recognized that GE still has more to do to fully unlock the lean mindset potential.
GE will broadcast the event via Bloomberg livestream on Wednesday, September 6, starting at 8:45 a.m. ET. The livestream can be accessed at Bloomberg Originals. Archived event content will be available here.
tags