There was something unusual about a bicycle parked near the entrance to GE's first Industry in 3D summit, which took place Thursday in New York's historic West Village neighborhood. Developed by the German designer Ralf Holleis, the bike had ornate lugs that harkened back to an era when artisanal handicraft ruled, but the way they were made — printed by a laser from fine layers of titanium powder, making the bike lighter than a regulation Tour de France model — pointed to the future.
The bike was the perfect reference point for the 300-odd attendees of the sold-out event. Jet engine designers, automotive engineers, physicians and even a contingent of bone fide rocket scientists came here to take stock of the latest developments in 3D printing, also known as additive manufacturing, and its exponential potential. The technology allows engineers and designers to print complex metal parts directly from a computer file. "The expected future always arrives late and in unexpected ways," said Singularity University futurist Paul Saffo, who opened the summit.

Judging by the presentations onstage and the exhibits downstairs in the "Tech Hall," the 3D-printed future is already here for many companies. Kim Smith, additive manufacturing leader at Boeing, said that her company has printed and delivered 60,000 additively manufactured parts, including components for passenger and military aircraft as well as the International Space Station. Dominik Rietzel, head of non-metal additive manufacturing at BMW, said his company's customers can use an app to customize their cars with 3D-printed features. The entire BMW Group already prints more than 140,000 components per year, including parts for an original BMW 507 from the late 1950s — once owned by Elvis Presley — plus customized dashboards for the all-new Rolls-Royce Phantom and parts for the new BMW i8 Roadster.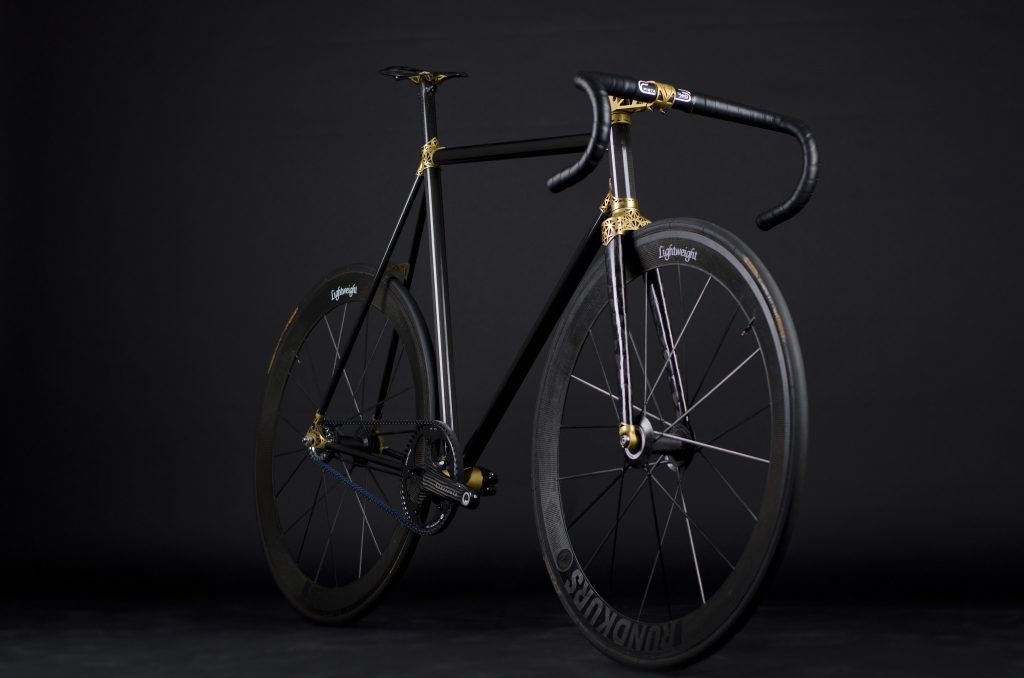 GE9X, the world's largest jet engine, includes 3D printed turbine blades and fuel nozzles. Image credit: GE Aviation. Above and below: Ralf Holleis 3D printed titanium lugs for his bespoke bike on a Concept Laser machine. Images credit: Ralf Holleis.
Greg Morris, a 3D-printing pioneer based in Cincinnati, not far from GE Aviation's headquarters, and asked him to print the part. When the finished part came back, "I remember that day like today," Ehteshami said. "I was excited but also disturbed. I knew that we found a solution, but I also saw that this technology could eliminate what we've done for years and years and put a lot of pressure on our financial model."

Today, GE Aviation operates an Additive Technology Center the size of three football fields, filled with 90 3D printers and 300 employees. GE Healthcare is testing printed parts for medical scanners, GE Power is applying the technology to turbines and GE Transportation is using it for locomotives. GE has shipped more than 25,000 3D-printed parts for machines like the best-selling LEAP jet engine, which uses the nozzle that started it all. The engine has brought in more than $200 billion in orders. "We are a big manufacturing company that makes large and complex machines," John Flannery, GE chairman and CEO, said at the event. "Additive manufacturing is at the heart of a whole new way of how we design and manufacture things and manage the supply chain. We think it's going to be transformational. We are very bullish on additive."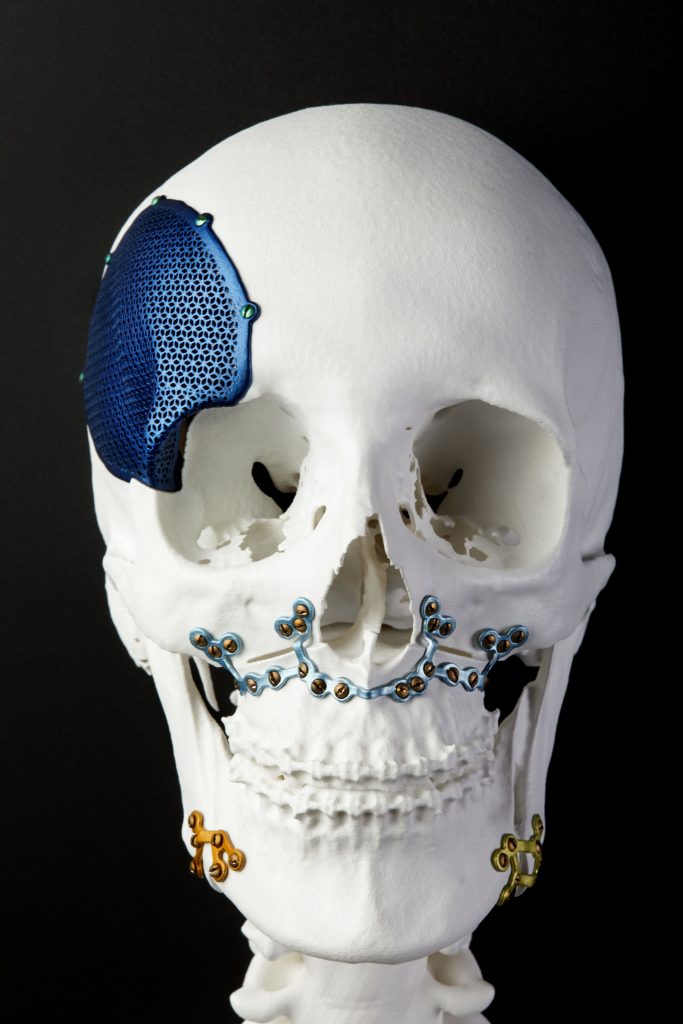 print patient-specific implants to replace damaged bones. Images credit: Materialise.

Engineers designing one of the company's latest products, the GE Catalyst turboprop engine, have been able to combine 855 parts into just 12, making a quarter of the machine 3D-printed. 3D printing helped the designers reduce the weight of the engine by 5 percent and fuel burn by 20 percent. And the technology will also dramatically affect the supply chain. If the company were to source the 855 parts individually, Oliver said, they would have to travel a combined 60,000 miles to the assembly shop. "Now they travel across the parking lot," he told the standing-room-only crowd.

If 3D printing gives large companies a competitive advantage, startups find it downright crucial. "For us, additive is not a choice, it's a matter of existence," said Max Haot, founder and CEO of Launcher, an aerospace company developing 3D-printed engines for rockets that could lift 300-kilogram satellites into orbit. Rocket engines are complex machines that traditionally have many components. But 3D printing allowed Haot to build and test his from just three parts in less than nine months. 3D printing "allows entrepreneurs and VCs to enter this market previously open only to governments and large companies," he says.

Judging additive manufacturing by the numbers, it indeed seems that the sky is the limit. The research firm A.T. Kearney recently published a study saying that "3D printing is used to create less than one percent of the world's manufactured parts." But the firm expects 3D printing to "triple its market value from today's $8.8 billion to more than $26 billion by 2021." SmartTech Markets, another research firm, estimated that companies spent $13.3 billion on 3D printers, print materials, print software and print services over the last four years. "But over the next 10 years, more than $280 billion are projected to be invested in these solutions alone," the firm reported.

https://www.facebook.com/GE/videos/vl.150609412315911/1618551528213135/?type=1



Some of the money today is already going into education. Even a decade ago, very few engineering colleges taught 3D printing. "When I was getting my engineering degree, there was not a single additive course," said Massimo Giambra, who designed 3D-printed parts for the GE Catalyst. "We are all learning on the job."

Since 3D printing allows designers like Giambra to build their parts from the ground up from a computer file, layer by layer, they aren't shackled by some tried-and-true approach. That freedom can be exhilarating. "With additive, we are starting from scratch; we are building from a blank slate," said GE's Oliver. "What becomes possible when we free our imagination? We can make things faster, cheaper, lighter, with supertiny square holes."

To spread the gospel, GE Additive has opened Customer Experience Centers in the U.S. and in Europe, and donated 3D printers to schools like Auburn University in Alabama. "You can teach kids in the classroom, but it's not until they get hands-on training that they really begin to learn," said Bart Prorok, a professor of materials engineering at Auburn.

GE's Flannery said it was important to get a new generation of workers ready. The company is investing in the training and education of current employees and "very heavily" supporting programs like Prorok's. "Ultimately you want people who grew up on the iPhone, if you will, never thinking, 'I have manufacturing limitations,'" he said. "They just think digitally."


Categories
tags