Loren Finnerty manages more than 300 shop floor workers and engineers at GE Aerospace's giant Asheville plant in North Carolina, where thousands of advanced composite components are produced every year for GE jet engines, such as the GE9X, as well as the LEAP engine manufactured by CFM International — a 50/50 joint company between GE and Safran Aircraft Engines of France. A manufacturing site leader, she starts work at 6 a.m. and doesn't leave until late afternoon, a schedule that allows her to see something of all three shifts at the factory.
"It's all about purpose," she explains, "which is why I try to make people feel like what they're doing matters." She continues: "They're not just pushing a button, but making a crucial part that goes into an engine that allows air travel to be more affordable and more sustainable."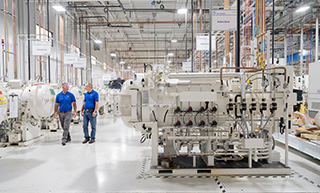 Finnerty's ability to grasp fine detail and never lose sight of the bigger picture has earned her a reputation as one of GE's shop floor gurus. She's chalked off nearly 20 years at GE businesses, using her engineering, people, and project management skills to enhance safety, motivate teams, and boost production and efficiency everywhere she goes. "I love my job," she says. "There's a huge sense of satisfaction in learning how to make these parts in high volumes while using the least amount of resources."
Lightbulb Moment
Finnerty's story begins back in 2003, when she started an internship at GE Lighting in Cleveland, working in regulatory packaging, while studying mechanical engineering at Case Western Reserve University. Although she shone as bright as a bulb, she felt a little out of her element. "Packaging was kind of random for me," she remembers. "I felt that I was probably much better at the engineering side of things."
Her bosses agreed. Two years later, after graduating from college, Finnerty won a place with GE Lighting on the Edison Engineering Development Program, a fast track for entry-level engineers. She felt more at home, ticking off nearly seven years as a design engineer at the iconic lighting unit. While she was interested in halogen and incandescent technology, she was also developing a fascination for the production lines that the bulbs rolled off.
She started coming to grips with the orchestra of equipment, people, and processes required for the manufacturing symphony. She learned about process development, high-speed automation, project management, and factory ramp-ups. She unearthed a particular talent: harnessing her design skills to eke out additional manufacturing capability from shop floor equipment.
It wasn't long before she transitioned from engineer to manager, overseeing capacity programs for halogen production lines and leading teams of engineers who squeezed extra output from the shop floor via conversions and refurbishments of manufacturing machines. She mastered the art of managing a program budget, organizing schedules, and integrating her production line with the factory's other shop floors.
Her people skills came to the fore. "I was good at getting others on board, listening to them, and communicating what my team needs to run effectively," Finnerty says. She learned that effective communication in a giant factory was a two-way street of deft talking and deep listening, and required a dash of empathy. "Why should the rest of the factory care what it is my team is working on? What might they need from us to be able to run effectively for years and years?"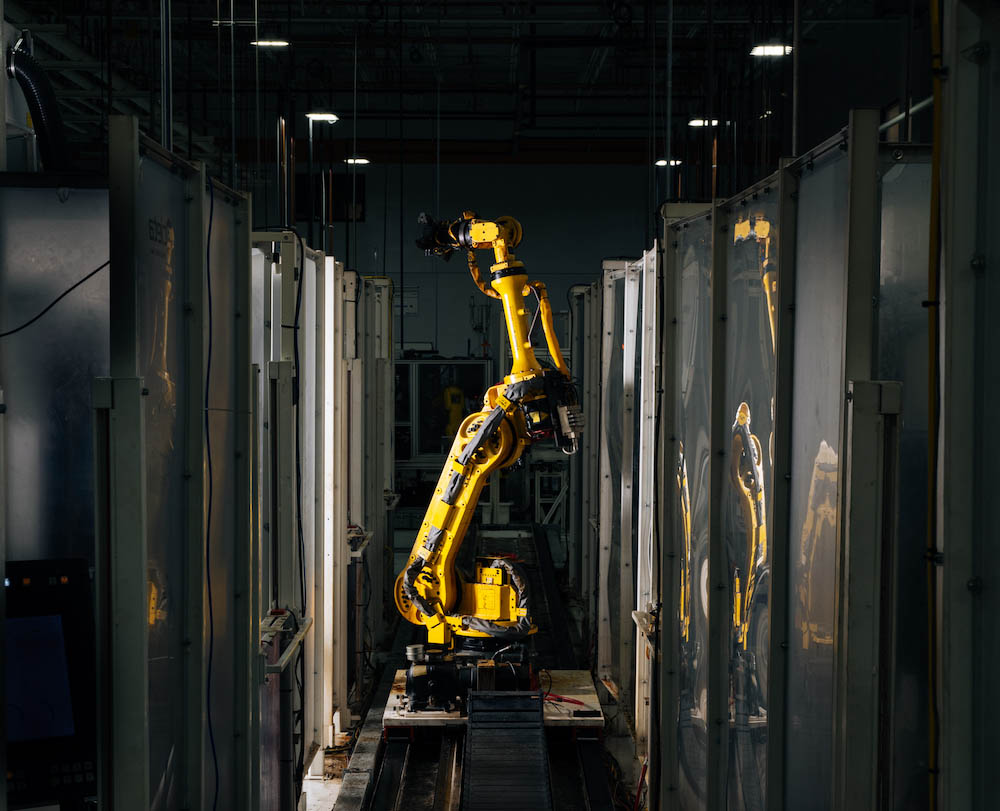 Finnerty also became something of a workplace polyglot. "I'm always translating," she says. "I might take strategy from senior leaders and put that into language that people working in that area can easily understand," she adds. "I think: What is it that they actually care about? How's it going to affect them six months from now?"
Taking Wing
Finnerty was keen to spread her shop floor savvy beyond GE Lighting. In 2015, she took a role as a manufacturing engineering manager at GE Aviation in Dayton, Ohio, heading teams of engineers who were scaling up production on advanced manufacturing of turbine blades. Her work now played to all her strengths: people, cutting-edge technology, and rapidly growing shop floors.
She quickly settled in, and has performed roles as an operations manager, service manager, and plant manager at GE Aerospace over the past seven years. This included a stint at the business's venerable Lynn facility, which was home to the first U.S. jet engine in 1942 and is now a key U.S. Department of Defense hub. Not to mention her time on the overhaul lines in Texas, overseeing the repair of used parts for the GE90, which for several years held the mantle of world's largest and most powerful jet engine. Along the way, Finnerty has also completed no fewer than three accelerated leadership programs.
It's been a fast track, but the experience is standing her in good stead in her current role, where she oversees output of one of the most promising technologies in the aviation industry, materials called ceramic matrix composites (CMCs). These "super ceramics" are as tough as metals, but they are also one-third as heavy and can operate at 2,400 degrees Fahrenheit — 500 degrees higher than the most advanced alloys. This combination allows engineers to design lighter components for engines that don't need as much cooling air, generate more power, and burn less fuel. "That's something we can all get behind," remarks Finnerty.
Ramping Up
The 170,000-square-foot Asheville facility was purpose-built in 2014 for CMC manufacturing, and as demand for the cutting-edge technology has soared, she has witnessed the factory floors filling up. She estimates that equipment and workstations occupied around 30% of its shop floor space in 2017. "The rest was clean white floor space with enough room for a basketball hoop," she remembers. "Now it looks full."
Purpose might be Finnerty's management mantra, but her day-to-day work requires problem-solving. She employs continuous improvement, the business philosophy incorporated into lean management that is at the core of GE's culture. "At 6 a.m. I'll be asking how it went last night, who's stuck, what machines are down?" she explains. "Lean is now ingrained into every aspect of the way that we work."
But she also encourages sensible risk-taking among her team of engineers, such as trying out new production tools and techniques. "I love the fact that people feel free to come up with ideas, no matter where they work," she says. "It's a very curious workforce." Nurturing an open, innovative culture on her shop floor is crucial, given the relative youth of CMC technology. "We don't have the luxury of 30 or 40 years of experience to say, 'Well, we did this or that before.'"
One priority is boosting the manufacturing speed of components such as shrouds to keep pace with the production ramp-up of the LEAP engine. "It's not just volume, but variety," she says. "We're also getting ready for the new [families of] engines, and trialing more intricate component designs."
There's another big item on her list of responsibilities, which is improving access for women on GE's shop floors. "For young female engineers, a career in lighting or aviation can seem intimidating, but if somebody has the desire and the willingness to learn, it can be a great career."
Categories
tags