We are in a critical decade of action that will support the energy transition to drive decarbonization. More than 100 heads of state and over 35,000 participants came together in Sharm El-Sheikh, Egypt, for two weeks in November at COP27, which was dubbed the "implementation COP."
"GE took seriously Egypt's focus on COP27 as the Implementation Summit," said Roger Martella, GE's chief sustainability officer. "We wanted to prioritize action over words in Sharm El-Sheikh. We wanted to fulfill our three proof points for COP27 at once: emphasizing the importance of emerging economies; demonstrating the feasibility of breakthrough technologies; and strengthening public-private partnerships." You can hear Martella talk about COP27 on this newly released episode of GE Gas Power's Cutting Carbon podcast.
In case you missed these stories, here are nine highlights from GE's time at COP27.
Demonstrating Breakthrough Technologies
At COP27, GE prioritized demonstrating decarbonization technology to drive action in emerging markets and around the globe. In a first for the African continent, a GE LM6000 aeroderivative gas turbine was run on a hydrogen/natural gas fuel blend during parts of COP27. The demonstration, with partners the Egyptian Electricity Holding Company, Hassan Allam Construction, and PGESCO, demonstrated the infrastructure investments in safety, infrastructure, logistics, and operations associated with introducing new technologies like hydrogen for the first time in a new locale. Learnings from this success will be studied and shared by the Electric Power Research Institute (EPRI), through the Low-Carbon Resources Initiative, to inform future hydrogen-blending power projects around the world. "Today, as I announce the successful operation of a GE LM6000 aeroderivative gas turbine on hydrogen-blended fuel right here in the city of Sharm El-Sheikh during Energy Day at COP27, the world can see what is possible when you bring big dreams, strong resolve, and committed partners together," said H.E. Dr. Mohamed Shaker El-Markabi, Egypt's minister of electricity and renewable energy.
GE, together with the Egyptian Natural Gas Holding Company and Seasplit Technologies, signed a memorandum of understanding for the industrial decarbonization of the Gulf of Suez. They will evaluate the technical and economic feasibility of developing 1.5 gigawatts of offshore wind power in the Gulf of Suez and explore how local petroleum companies could participate in the project. In another first for Africa and the Middle East, the electricity generated is expected to power the operations of offshore oil and gas facilities. "This ambitious, visionary announcement sets the path towards leveraging these resources to eventually transform the Gulf of Suez to a net-zero industrial zone," said Eng. Hussein Mesharafa, CEO of Seasplit Technologies.
Liquefied natural gas (LNG) from Egypt is currently playing an important role in supplying reliable, responsible, and sustainable energy to Europe, but a large amount of methane emissions accompany its production. At the Egyptian LNG export terminal, GE will be one of the companies assessing the implementation of a zero-flaring system to address this problem. The project is part of a program between the Egyptian Ministry of Petroleum and Mineral Resources and the Coalition for Decarbonization, a multi-company effort led by Bechtel and joined by GE Digital.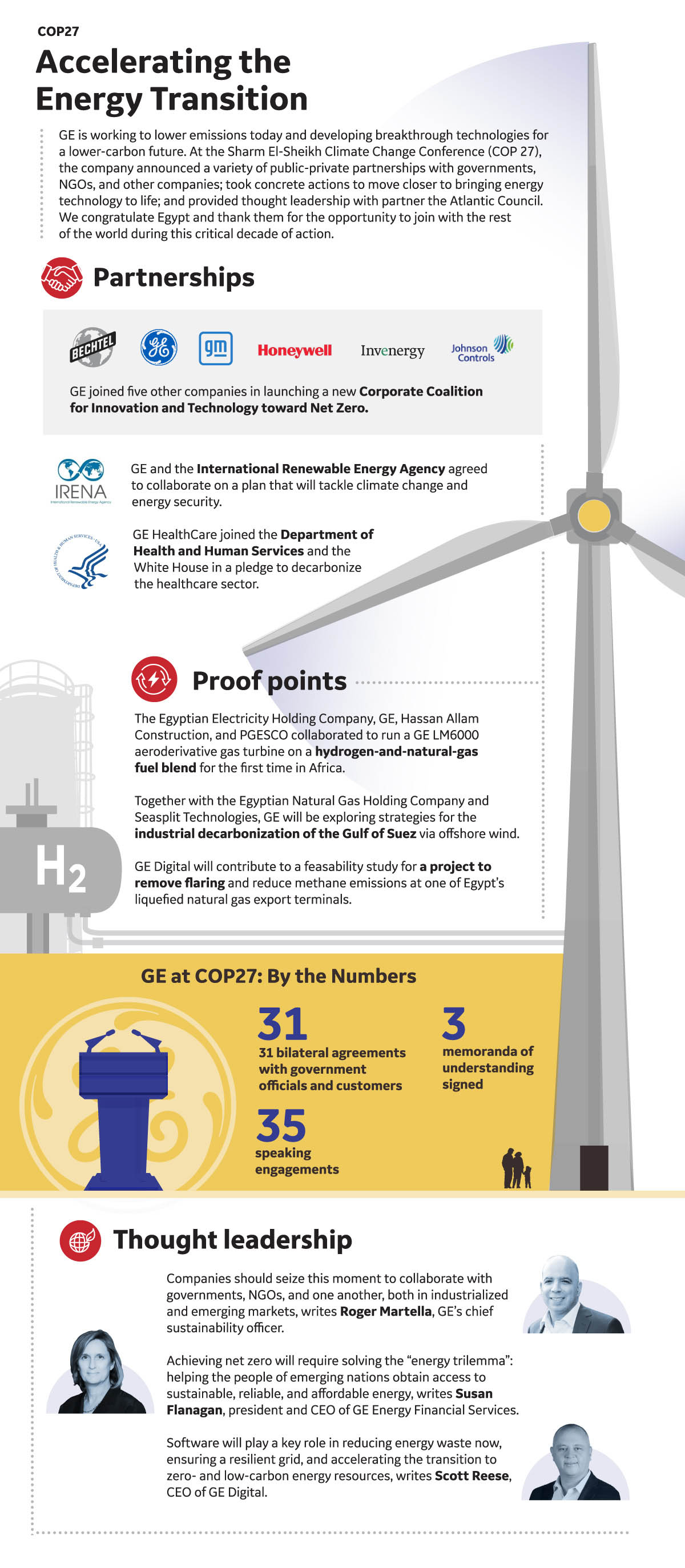 Partnerships
GE is prioritizing diverse public-private partnerships — across governments, industry, and NGOs — to ensure the necessary success for climate and sustainability commitments. On Nov. 8, Roger Martella appeared at the U.S. Center's opening ceremony at COP27 to unveil the Corporate Coalition for Innovation and Technology toward Net Zero (CCITNZ). The initiative involving six companies — GE, Bechtel, GM, Honeywell, Invenergy, and Johnson Controls — is "an accelerator for industries across sectors and geographies" that will focus on developing breakthrough technologies and promoting long-term sustainable development. The coalition aims to strengthen public-private partnerships so that the sum of their efforts can be greater than the parts, said Martella.
A few days later, GE and the International Renewable Energy Agency (IRENA) signed a framework agreement to collaborate on a plan to support climate change and energy security. This will involve exploring ways to jointly support decarbonization efforts through onshore and offshore wind, bio energy with CCUS, hydro, green hydrogen, energy storage, electrification, grid modernization, and more. "Together with forward-looking multinationals such as GE, we hope to accelerate progress and fuel global ambitions to achieve net-zero," said Francesco La Camera, IRENA's director-general.
The healthcare sector accounts for 8.5% of U.S. emissions, directly from healthcare facilities and indirectly from the supply chain. Climate change, in turn, can impact people's health and increase injuries, illnesses, and deaths. That's why GE Healthcare signed on to the pledge by the Department of Health and Human Services and the White House to decarbonize the healthcare sector and make healthcare facilities more resilient to climate change. GE Healthcare's work will build on three pillars: facility footprint reductions, fleet electrification, and renewable energy. "The connection between a healthy planet and healthy lives is clear," said Kelvin Sanborn, ESG program leader at GE Healthcare.
Thought Leadership
GE executives lent their voices to boost strategies for achieving climate and energy resiliency goals through strong policy, technology, and investments across 35 public engagements. As part of a "Partner Perspectives" blog hosted by the Atlantic Council, three GE leaders shared their insights. First up was Roger Martella, who wrote that companies should seize this moment to collaborate with governments, NGOs, and one another, both in industrialized and emerging markets.
Countries in the developing world need financial assistance from the developed nations if they are to obtain the capital needed to deliver a more just and equitable energy transition today and for future generations. So wrote Susan Flanagan, president and CEO of GE Energy Financial Services. It's all about solving the energy trilemma: helping the people of emerging nations obtain access to sustainable, reliable, and affordable energy, she said.
Finally, Scott Reese, CEO of GE Digital, wrote that the energy transition will not happen without software, which will play a key role in reducing energy waste now, ensuring a resilient grid, and accelerating the transition to zero- and low-carbon energy resources. "Software's superpower is the ability to marry human ingenuity with data, artificial intelligence and machine learning, digital modeling, computing power, and analytics engines to arrive at optimal solutions faster and with more confidence," he said.
The 28th Conference of Parties takes place next November in Dubai. In the next 12 months, GE will continue to work with Egypt to fulfill our commitments and honor that country's leadership while planning to demonstrate further proof points on lowering emissions today and developing breakthrough technologies to accelerate a lower-carbon future.
Top image: The GE LM6000 gas turbine that ran on a hydrogen/natural gas blend during COP27. Credit: GE Gas Power.
Categories