Three years into the U.S. Power Africa initiative, a roadmap is in place to connect 60 million to electricity by 2030 — and empower people across the continent.


Africa boasts some of the world's fastest-growing economies, but its growth potential is limited by poor energy infrastructure, with only a third of the population of Sub-Saharan Africa having access to power.

To help address this problem, the U.S. launched the Power Africa initiative a few years ago to bring power to 60 million businesses and homes by 2030. Working with the World Bank, African Development Bank and other countries inside and outside of Africa to attract private-sector investment, the program recently released a roadmap on how it will achieve its goals.

"We want to make sure that we are all working together to try to figure out what are the sticking points and how can we overcome them," says Andrew M. Herscowitz, the coordinator for President Obama's Power Africa and Trade Africa initiatives.

In an interview, he discusses lessons learned since the 2013 launch, the importance of a partnership approach, and his optimistic outlook on power Africa's future:

 

With more than 600 million living without power in Africa, how important is it to improve access to electricity for the continent to realize its potential?

There are a lot of exciting things happening in Africa. You look at this massive energy deficit, but I also see it as a massive opportunity for building out markets in ways that we can't anywhere else in the world.

When Power Africa first launched, we were focusing heavily on grid-level projects. But you look at the roadmap we just launched, only a portion of the connections are on grid, with plans to connect 25 million 30 million of homes and businesses through our Beyond the Grid initiative.

Companies are creating systems that are beyond just two light bulbs and cellphone charger — they're creating these super-efficient appliances. They've become appliance-leasing companies, allowing people who are living off the grid to approximate what life is like living on the grid by using DC-powered fans, televisions, clothing irons, and electric razors. As the quality of those products improve and they become more and more efficient, it's going to create opportunities for people who otherwise couldn't be connected to the grid. At same time, the demand for these super-efficient appliances is creating a market for appliances that have a very low carbon impact.



What do you see as the potential for Africa to "leapfrog" to a more sustainable power sector?

That's what happening in this off-grid space. The companies that are leading the rooftop solar market — like Mobisol and M-Kopa — have business models that are driving the market and creating micro-economies, as well. They have hundreds of people working for them, and they're also reaching out to some of the most impoverished people who are now making mobile payments — essentially banking the previously unbanked. And the value of the data that they have of people's payments will likely lead to a whole different market for that data for advertising or otherwise.

So it's a whole micro-economy that is going to boom. The role of Power Africa — along with our partners like the UK's Energy Africa and the African Development Bank's New Deal on Energy for Africa — is determine how to harness what those companies are doing and get them into markets all over the continent. So that you're cutting out the utility — and you're cutting out us and the governments — and people are dealing directly with companies and are not waiting a month, a year or 10 years to be connected to the grid.



With Power Africa is now in its third year, how would you rate what has been accomplished so far, and what is your message be to communities in Africa who are eager to start seeing the results?  

We're doing well. We took a very analytical approach to our Roadmap. We could have gone out and said, we have 45,000 MW of projects in the pipeline, so we're going to blow past our goal. But we didn't do that.

We looked realistically at what percentage of deals get past the finish line and we adjusted down significantly. Then we looked at the gaps that we need to fill and we asked, "What have we learned so far, where should we be focusing our efforts?" So we have a very realistic path of what we need to do, based on what we've learned over the past three years.

Obviously for the big, grid-level projects, flipping the switch doesn't happen overnight. That's why we've have grid rollout as a priority — an opportunity to get people connected who live close to the grid. We want to figure out how to get a significant number of people across the continent actually connected to the grid. Where that can't work, we have Beyond the Grid.

The actual impact we have had on some specific projects has been significant, as well. Ethiopia, for example, just issued a request for qualification for its first-ever solar tender. All of the capacity-building went that went into negotiating the Corbetti geothermal deal — which is still not across the finish line yet — gave the government a comfort level to proceed with the solar tender. We now have all of these lessons learned in Ethiopia and elsewhere that are incredibly useful.

Our Roadmap has us achieving our goals though 2030. If we can achieve those goals sooner, that would be fantastic. But there's no one silver bullet that's going to solve the problem immediately. It requires partnerships among all these different groups, and we've built trust amongst all of the 120 private- and public-sector partners.

(Top image: Power Africa officials from various US Government agencies, other donors, financiers and Reykjavik Geothermal staff talk with the villagers inside the Corbetti Caldera where villagers collect water from steam emanating from the rocks. Courtesy of Nena Terrell, USAID Ethiopia.)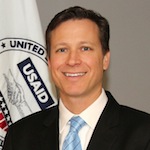 Andrew M. Herscowitz is the coordinator for President Barack Obama's Power Africa and Trade Africa initiative.
All views expressed are those of the author.
tags