Five hundred years ago, Michelangelo fashioned David from marble cut out of the mountains towering over the Tuscan town of Carrara. Today, however, the area's craftsmen are in the business of making Goliaths.
Adjacent to Carrara are the towns Avenza and Massa, the home of two huge plants and testing fields where GE's Oil & Gas business builds some of the world's largest industrial equipment, including five gas turbine generators for the Chevron-operated Gorgon Project, one of the world's largest natural gas developments located off the coast of Western Australia.

The first module just started generating electricity on Australia's Barrow Island, as the project moves ever closer to producing gas.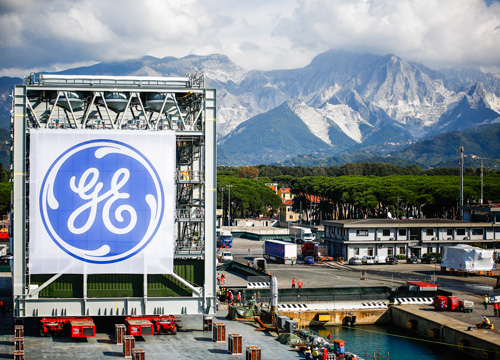 Top image: The first power module arrives on Barrow Island in Western Australia. Above: The module in the Marina di Carrara in Tuscany, with the area's marble mountains in the background. Image credit: GE Oil & Gas

The Gorgon Project is developing the Gorgon and Jansz-Io gas fields, located between 130 and 220 kilometers (80 to more than 130 miles) off the northwest coast of Western Australia.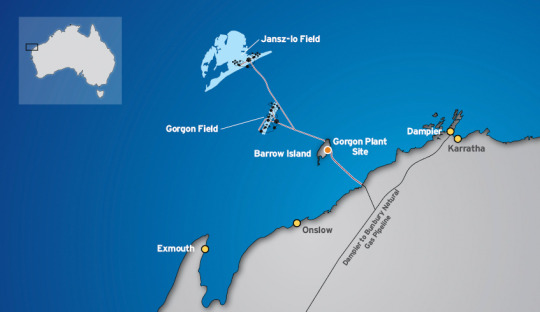 Power from the GE modules will drive the compressors and refrigeration units on Barrow Island that will liquefy natural gas coming from the sea floor.
Chevron will then send the liquefied gas (LNG) via a 2.1-kilometer-long (1.3 miles) loading jetty to a port, so that it can be pumped into supertankers and shipped around the world. The domestic gas will be piped to the Western Australian mainland.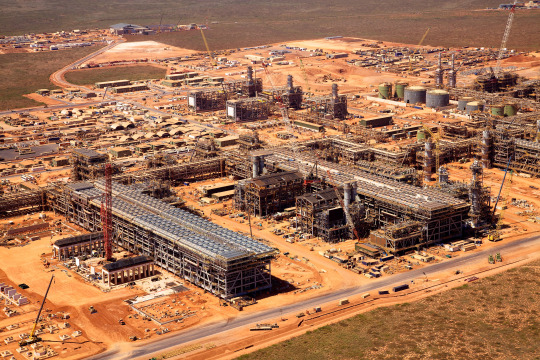 The five GE modules on Barrow Island (upper right). The Gorgon project is operated by an Australian subsidiary of Chevron. The project is a joint venture of the Australian subsidiaries of Chevron (47.3 percent), ExxonMobil (25 percent), Shell (25 percent), Osaka Gas (1.25 percent), Tokyo Gas (1 percent) and Chubu Electric Power (0.417 percent). Image credit: Chevron

Each of the modules weighs as much as four double-decker Airbus jets. GE started shipping them from Italy to their new home more than 12,000 miles away three years ago.

GE Oil & Gas says that building complex industrial installations like Legos from ready-made modules helps energy companies reduce capital costs, improve reliability, speed up start-up time, and minimize their footprint at the construction site.

"At one time, finding oil and gas in some parts of the world was no more difficult than simply digging a hole," says Davide Iannucci, a general manager for turbomachinery solutions at GE Oil & Gas. "But today, the largest and most attractive prospects tend to be in locations that are remote, have extreme climates, are in environmentally sensitive areas, or have all three of them combined."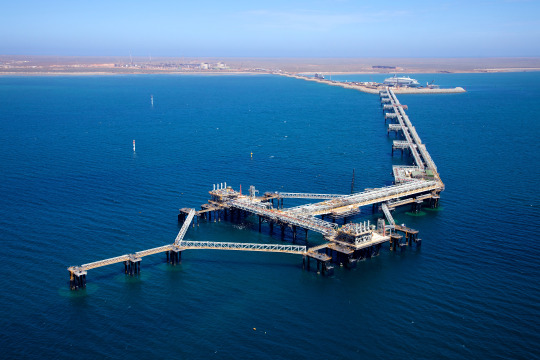 The loading jetty. Image credit: Chevron

Barrow Island, for example, is classified as a "Class A" nature reserve with 378 kinds of native plants, 13 types of mammals and 43 reptiles. As a result, GE workers in Italy had to adhere to a strict quarantine management plan to comply with Gorgon Project and Australian Quarantine requirements while building the modules.

To prevent soil, plant and wildlife contamination, workers had to walk through pressurized air cabins to clean their clothes every time they entered the construction lot. An automatic system washed the soles of their shoes. No food or drink with the exception of bottled water was allowed inside.




Some 3,700 people came to see the first power module in the Marina di Carrara port before it pushed off for Australia. Image credit: GE Oil & Gas

The beating heart of each module, which takes about a year to complete, is a massive Frame 9 gas turbine - made at a GE plant in Belfort, France. In total, the five gas turbine generators will have a combined site rating of 584 megawatts of electricity to support Gorgon's LNG plant.

Workers in Avenza applied six miles of structural welding to assemble the steel trusses that support each module and hold the turbine in place, and also attached 12 miles of electric cable.




Building the massive, 2,300-ton modules was not the only challenge. When they were finished, the company had to move them through Avenza's streets to port, and load them onto a ship.

It took the first module 4.5 hours to cover the 500-yard distance between the GE plant and the Marina di Carrara port. The goliath rolled, like a centipede, on 578 computerized wheels attached to four orange self-propelled transporters (see above). At one tight point, the module slid so close past a residential complex that a quarter would have gotten stuck between the structures, GE says.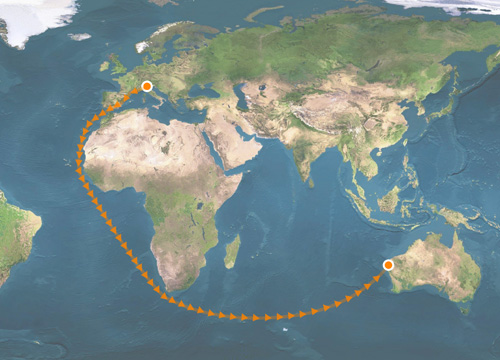 The modules had to cover 12,400 miles between Italy and Barrow Island. Image credit: GE Oil & Gas

GE also had to triple the size of the Avenza plant to more 140,000 square meters (a quarter of the National Mall in Washington, D.C.), to accommodate the structures.

"We are in the midst of an exciting period for the Australian LNG industry, developing, commissioning and starting-up major projects across the country," said Mary Hackett, the GE Oil & Gas regional director for Australia, New Zealand and Papua New Guinea. "Our technology is pivotal in all these projects and to helping Australia develop into a world class, and possibly the biggest, LNG exporter."

It looks like this goliath is a winner.
tags