Great ideas for new business ventures happen every day and everywhere. Some go far, while others never take off. Great ideas are at the heart of development; they allow economies to grow, and they improve people's lives. So it is important to understand why some great ideas never come to fruition even as others thrive.


What do entrepreneurs need to pursue a great idea? First of all, they need the ability to give legal form to the idea — that is, to start a business — simply, quickly and inexpensively and with the certainty of limited liability. They also need the certainty of a well-designed insolvency system, in case the idea fails to work out. In addition, they will need to hire people to help realize the idea, will probably need to obtain financing (both equity and credit) and — in today's increasingly interdependent global economy — may in many cases need a simple way to import and export. And they will need a straightforward way to pay their taxes.

Doing Business measures business regulations that affect domestic small and medium-size firms in 11 areas across 189 economies. Ten of these areas — starting a business, dealing with construction permits, getting electricity, registering property, getting credit, protecting minority investors, paying taxes, trading across borders, enforcing contracts and resolving insolvency — are included in the ease of doing business ranking. We also assess those measures in our distance to frontier score, which shows the gap between an economy and the best performance observed on that indicator among all economies. Doing Business also measures labor market regulation, which is not included in these two measures.

The Doing Business data highlight the important role of the government and government policies in the day-to-day life of domestic small and medium-size firms. The objective is to encourage regulations that are designed to be efficient, accessible to all who use them and simple in their implementation.

Where regulation is burdensome and competition limited, success tends to depend on whom one knows. But where regulation is efficient, transparent and implemented in a simple way, it becomes easier for aspiring entrepreneurs to compete on an equal footing and to innovate and expand. In this sense, Doing Business values good rules as a key to social inclusion. Enabling growth — and ensuring that all people, regardless of income level, can participate in its benefits — requires an environment where new entrants with drive and good ideas can get started in business and where good firms can invest and grow, thereby creating more jobs.

Since 2004, the Doing Business report has captured more than 2,400 regulatory reforms making it easier to do business. In the year from June 1, 2013, to June 1, 2014, 123 economies implemented at least one reform in the areas measured by Doing Business — 230 in total. More than 63 percent of these reforms reduced the complexity and cost of regulatory processes, while the others strengthened legal institutions. Twenty-one economies, including six in Sub-Saharan Africa and six in the OECD high-income group, implemented three or more reforms reducing burdensome bureaucracy or improving legal and regulatory frameworks. Globally, more than 80 percent of the economies covered by Doing Business had an improvement in their distance to frontier score — it is now easier to do business in most parts of the world.

Sub-Saharan Africa, the region with the largest number of economies, accounted for the largest number of regulatory reforms in 2013/14, with 39 reducing the complexity and cost of regulatory processes and 36 strengthening legal institutions. As in previous years, however, Europe and Central Asia had the largest share of economies implementing at least one regulatory reform, with some 85 percent doing so.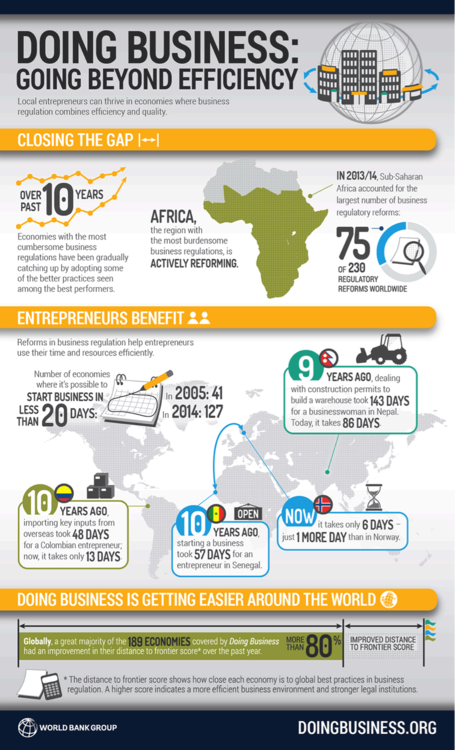 One of the big innovations in this year's report is the expansion of the data on the quality of regulation. Measuring aspects of the quality of regulation is not new for Doing Business; some indicator sets, such as getting credit and protecting minority investors, already included a focus on regulatory quality. But starting this year, a systematic effort is being made to include measures of quality in most of the indicator sets. This year's report introduces a new measure of quality in the resolving insolvency indicator set and expands the measures of quality in the getting credit and protecting minority investors indicator sets. Next year's report will add measures of regulatory quality to the indicator sets for dealing with construction permits, getting electricity, registering property, paying taxes and enforcing contracts.

The results so far suggest that efficiency and quality go hand in hand. For resolving insolvency, the data show that there is a positive correlation between the recovery rate for creditors and the strength of the legal framework for insolvency. The recovery rate measures the cents on the dollar recouped by secured creditors through insolvency proceedings and is a measure of efficiency, because time and cost are two important components. The strength of insolvency framework index measures how well insolvency laws accord with internationally recognized good practices and is therefore a proxy for quality.

Very few economies have an insolvency system with both high efficiency and low quality. But many economies have an insolvency system with low efficiency and high quality. These are economies that have well-designed laws but face challenges in implementing them effectively. These results suggest that well-designed laws are necessary but not sufficient to achieve efficiency in an insolvency system.

The benefits of business friendly regulations are well established in the economic literature. To name just a few:



Reforms simplifying business registration lead to more firm creation.


Increasing trade openness has greater effects on growth where labor markets are more flexible.


Cumbersome, poorly functioning business regulation undermines entrepreneurship and economic performance.


Introducing collateral registries and debt recovery tribunals leads to better-performing credit markets.


Reforms improving access to credit and the efficiency of property registration are correlated with product and process innovation by young firms.



Among the more encouraging trends shown by Doing Business data over the past decade is the gradual improvement in economies' performance in the areas tracked by the indicators. Moreover, economies with the weakest regulatory institutions and the most complex and costly regulatory processes tend to focus on the areas where their regulatory performance is worse, slowly but steadily beginning to adopt some of the better practices seen among the best performers.

This process is leading to a convergence toward best practices. As an example: In 2005, the time to transfer property averaged 235 days among the economies ranking in the worst quartile on this indicator. Among the best three quartiles, it averaged 42 days. Today that gap is substantially narrower. While the difference is still substantial at 62 days, it is considerably smaller than the 193 days in 2005.

As this convergence continues, more entrepreneurs around the world will have an opportunity to bring their great ideas into fruition.

Rita Ramalho is the Manager of the World Bank Group Doing Business. Previously, Ramalho was the program manager of World Bank GroupEnterprise Surveys and Women, Business and the Law project.


Categories
tags