Two of the world's most efficient gas turbines, made by GE in Greenville, South Carolina, will drive a new power plant built by Moxie Energy and Caithness Energy in Salem Township in Luzerne County, Pennsylvania. The 1,029-megawatt (MW) facility, called Caithness Moxie Freedom generation plant, will tap natural gas from the world's most prolific shale gas area, the Marcellus Formation, and generate enough electricity to power approximately 1 million American homes when the plant comes online in 2018. It will help Pennsylvania and the wider region shift away from coal to cleaner energy.
The deal is also the latest example of what GE calls the GE Store. The project involves GE Energy Financial Services as a lead financing partner. The unit, like GE Capital Aviation Services, is one of the core GE Capital businesses that will remain with GE after its exit from banking.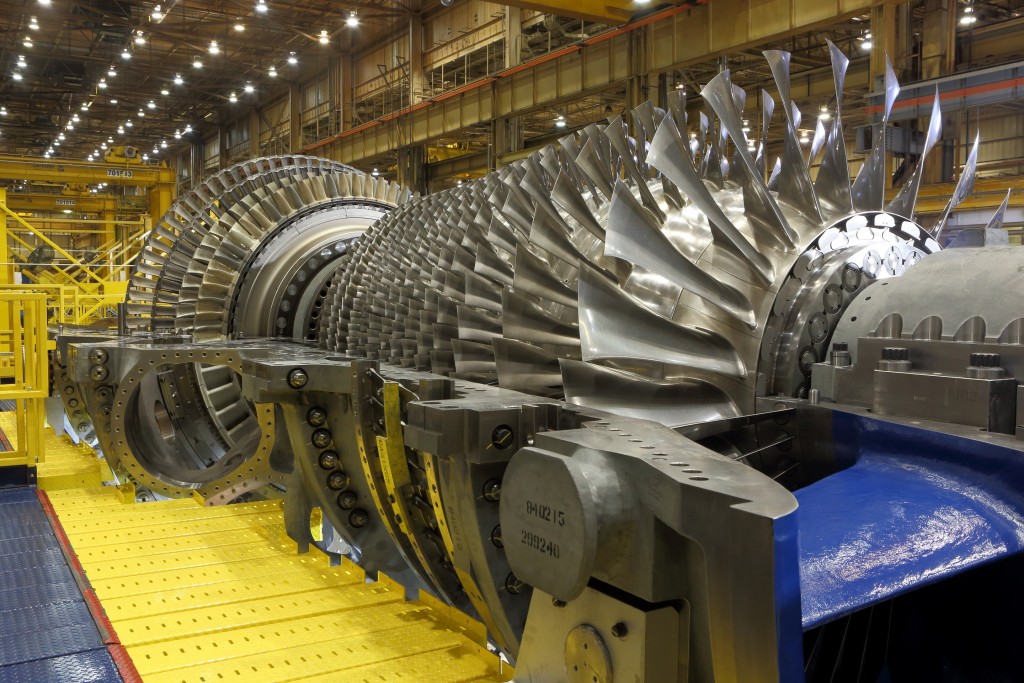 Above: Two of the world's most efficient gas turbines, made by GE in Greenville, South Carolina, will drive a new power plant capable of producing enough electricity to power approximately 1 million American homes. Top: The Harriet at a testing stand in Greenville, S.C. Images credit: GE Power

GE Energy Financial Services and its co-leads arranged $592 million of debt financing for construction and operation of the plant with a syndicate of banks including BNP Paribas, Citigroup and Mitsubishi UFJ Financial Group. The project also backed equity from Global Infrastructure Partners, John Hancock and First Reserve as preferred equity investors.

"Working with GE on both the technology and the financing helps us move forward with confidence in the construction and operation of the Caithness Moxie Freedom project," says Leslie Gelber, president of Caithness Energy.

The huge turbines — GE calls them HA, but workers nicknamed them Harriet — come in two flavors. The 7HA is engineered for countries such as the United States, and parts of Asia, where the electric current oscillates at 60 hertz. The 9HA is used in countries operating at 50 hertz.

Moxie and Caithness also purchased two GE steam turbines, the control system, associated equipment and a long-term services contract. The power plant will use a combined-cycle design that can generate up to 50 percent more electricity from the same fuel than a traditional simple-cycle plant.

The two gas turbines will first extract energy from burning natural gas and use it to spin electricity generators. Then, a heat recovery steam generator (HRSG) captures waste heat that would otherwise escape through the exhaust stack to create steam that is then converted to electricity.

"Being selected for the Moxie Freedom project shows the power of the GE Store," says Joe Mastrangelo, president and chief executive officer of gas power systems at GE Power, referring to the idea that different GE businesses can share knowledge and research to quickly build innovative products. "The technology inside our gas turbines comes from across the GE portfolio." Referring to the steam turbine technology, Mastrangelo said GE Power also has a "superior steam-tail capability with the addition of Alstom to our business."

Harriet combines designs and materials developed by GE scientists for supersonic jet engines and other advanced technology. They include removable, aerodynamic blades made from single-crystal alloys and thermal barrier coatings that withstand high temperatures for improved efficiency.

During validation testing at the factory, the turbines use more than 3,000 sensors to collect mechanical, temperature and exhaust data to ensure they operate reliably and efficiently. The design gives Harriet a combined-cycle efficiency exceeding 61 percent — the Holy Grail in power generation because transforming such a large percentage of fuel into energy significantly lowers the cost of electricity generation.

The turbines allow the entire power plant to ramp up from zero to full output in just 30 minutes, giving utilities the flexibility to respond to changing power demands and also to incorporate variable sources of generation such as the wind and the sun.

At the Moxie plant, the turbines will operate in a single-shaft combined-cycle configuration where gas turbines and steam turbines both turn the same generator. As a result, the operators will be able to run one unit while the other is offline — the first time such a design has been used with the 7HA turbine.

GE's recent acquisition of Alstom's power and grid business boosted its global installed power-generation base to some 1,800 gigawatts. No other maker of power-generation equipment has a larger footprint.

The combination now allows GE to sell packages of equipment, such as the HA turbines in combination with Alstom steam turbines, and helps customers lower their fixed costs. For example, in Sewaren, New Jersey, PSEG's combined-cycle power plant will use a 7HA.02 gas turbine and an Alstom HRSG. In Pakistan, the Bhikki combined-cycle power plant will use two 9HA.01 gas turbines and an Alstom steam turbine. And in Texas, Exelon's Colorado Bend and Wolf Hollow power plants will each use two 7HA.02 gas turbines and two Alstom HRSGs.

To date, GE has received orders for 23 HA units, among 78 that have been technically selected* for use in power plants being planned globally.

The company built a $250 million testing center in Greenville, South Carolina, where engineers have put the Harriet turbines through rigorous tests. The off-grid, full-speed, full-load test bed uses 4,500 sensors and employs more than 200 engineers, who push the machines to operate in stressful conditions. Validation tests rate the reliability of cutting-edge technology to make it easier for projects using the machines to secure financing, insurance and trust among customers making the critical decision to buy the huge turbines. The 7HA.01 model passed validation testing in November.

*A technical selection is one of the first steps in developing a new power plant. It means that if the power plant is constructed and commissioned, it will use GE gas turbines. Following technical selection, a developer will proceed with securing financing, permitting and more.
Categories
tags