The night the 700-year-old mountain oasis of Rakuru was to see its first electric light, the whole village gathered in the largest room and waited for someone to flip the switch.
But nothing happened.

"We scrambled in the dark to look for the problem," said Shantnu Mathuria, a GE Power employee who had trekked to the isolated spot in Northern India to bring electricity to the people of Rakuru. They found one loose contact and then tried it again. This time the room lit up with bright light. "The people were hugging each other and dancing," said Shivani Saklani, a GE Power project management specialist who also made the journey. "The experience was so powerful it made me cry."

Perched like a snow pigeon's nest 13,000 feet high on the granite flanks of the Karakoram Range, Rakuru consists of eight stone homes surrounded by fields of wildflowers, barley and green peas sustaining approximately 70 villagers. But since this summer, it's also a beacon of light shining across the stark, treeless landscape. (See video: Powering Everyone One Village At A Time.)
Saklani and Mathuria were part of an eight-member expedition dispatched by GE Power and Global Himalayan Expedition (GHE) in late summer to electrify Rakuru." People want to be working on significant things that leave a lasting impact," said Ricky Buch, a GE Power senior marketing leader who helped organize the trip and recruit Saklani and her colleagues. "We tapped into that desire."

The journey to electrify Rakuru started seven months earlier in a different mountain oasis half a world away. GE Power President and CEO Steve Bolze and other GE leaders were at the World Economic Forum's annual meeting in Davos, Switzerland, when he sat down with GHE's Jaideep Bansal to discuss their shared belief that electricity is a basic human right and their desire to collaborate to bring power to people without access and in the most remote locations in the world. As a result, GE Power and GHE plan to electrify a total of 10 villages throughout the Himalayas.

Starting just a few weeks before the late-July trek, GE Power put out a call to local employees and asked them to apply for the first trip to Rakuru. Employees from all over India applied for the eight available spots. "We were looking for passion and an excitement to contribute," Buch said.

The team gathered in the capital and boarded a plane bound for the medieval mountain city of Leh. Surrounded by snow-capped mountains, they spent two days in the city hydrating, sleeping and getting used to the altitude, and also to each other. "We were from all over India," Saklani said. "Most of us met for the first time." She remembers sitting around a bonfire and watching shooting stars streaking over the black sky above. "It was pitch dark at night, and the Milky Way stretched overhead," she said. "It was an amazing sight."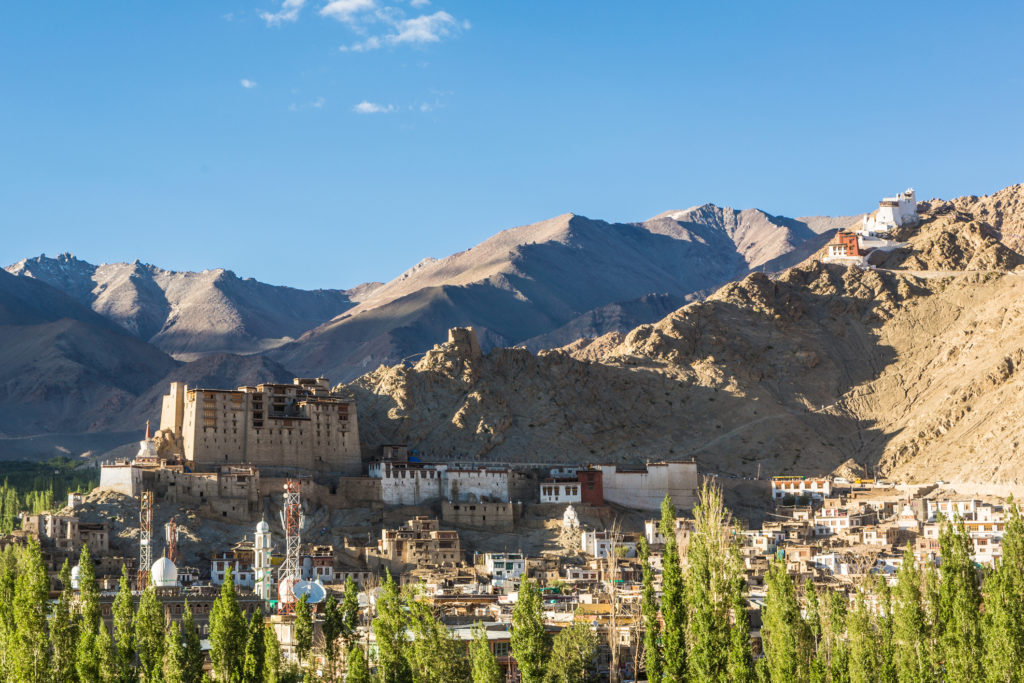 Above: The ancient city of Leh in Ladakh, India. Top: A view of the Karakoram Range from Nubra Valley. Images credit: Getty Images.

Two days later the team loaded a white minibus with their equipment and gear and piled inside. They climbed along a narrow winding road to the Khardung La pass — at 17,582 feet one of the world's highest highway passes — and then dropped 6,000 blood-curdling feet along tight turns to the village of Skuru in the Nubra Valley, their basecamp. Rakuru was nestled in the clouds some 3,000 feet above them and 8 miles away.

The next morning the team woke up in the dark and met with their mountain guides. They arrived with a pair of donkeys and a dzo — a cross between yak and cattle — that would carry some 200 pounds of baggage as well as all of the equipment needed to electrify the village.

When they set out at 5:30 a.m., the temperature was hovering just above freezing, but the sky was clear and besotted with stars. After the first gentle incline, the narrow, rocky path started alternating between steep climbs and drop-offs. "You had to pay attention to your every step," Mathuria said. "In some places the path was just one and a half feet wide. One false step and you end up in a deep valley." Saklani said the guides taught her to meditate as she was walking and focus on the moment, not the far-off destination. "There was a cool breeze blowing in our faces. I spent a lot of time inside my head, reflecting on life and where I came from."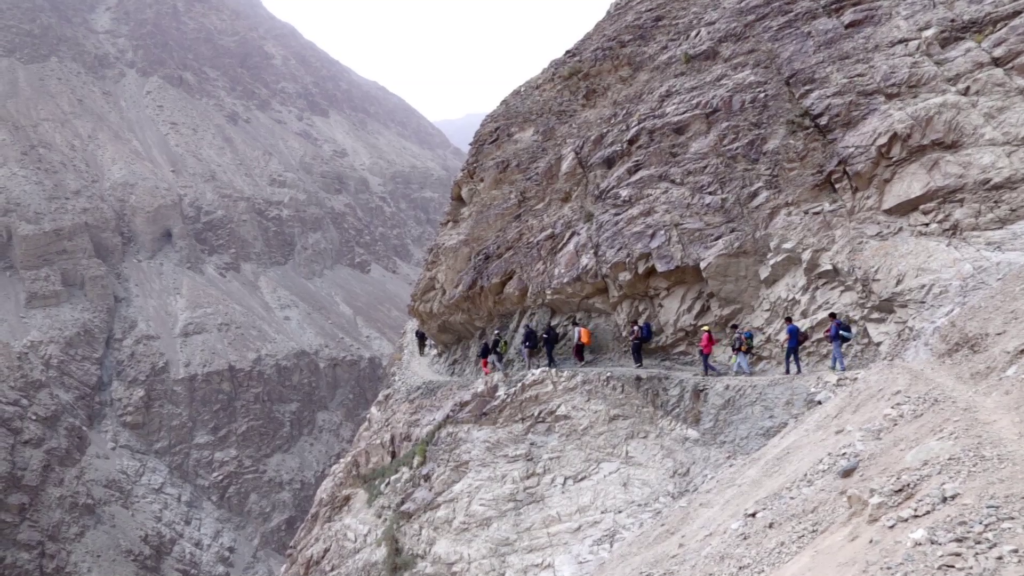 "In some places the path was just one and a half feet wide," said GE's Mathuria "One false step and you end up in a deep valley."

The exhausted trekkers reached Rakuru more than 10 hours later. The villagers were waiting for them outside with kataks — ceremonial silk prayer scarves — yak butter and cups of chang, the local milky beer-like beverage made from fermented barley. But since it was getting dark and it was freezing, they went inside and tucked in for the night.

The next morning the team got up early and used a translator to explain to the villagers — many of whom only spoke the local Ladakhi language — what exactly they would be doing. They started by installing two grids in the village and a third one stretching to a home occupied by an 81-year-old woman, one of the oldest Rakuru residents. They divided themselves into groups. One team was stretching wires, another was installing solar panels and batteries, and yet another was hammering sockets into wooden beams supporting the roof. The houses had eight to 10 rooms, and they had to make sure there would be enough light in each.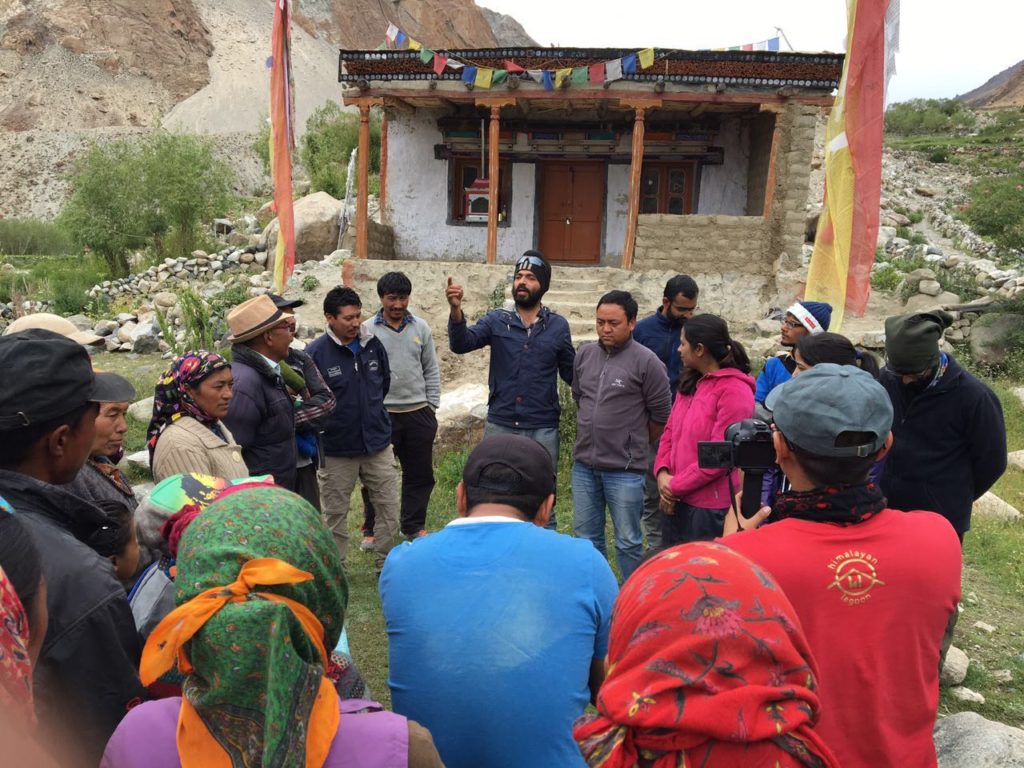 Rakuru consists of eight stone homes surrounded by fields of wild flowers, barley, and green peas. Image credit: GE Power

After they overcame the wiring mishap, the party trekked to the house of the 81-year-old woman, who had never experienced electricity in her life, and turned the lights on for her. "This lady stole the show," Saklani said. "She snuffed out her candle and gave us her blessings. We were tired, but our work was finished. We illuminated the whole village."

But there are still more than 1 billion people without access to electricity. "We started this project as a calling, but we realized there is a global commercial opportunity for this technology," Buch said. "We're in the process of developing new products and services that will allow people in Africa, India or Southeast Asia to gain access to electricity. This technology will have a lasting effect. It will change lives."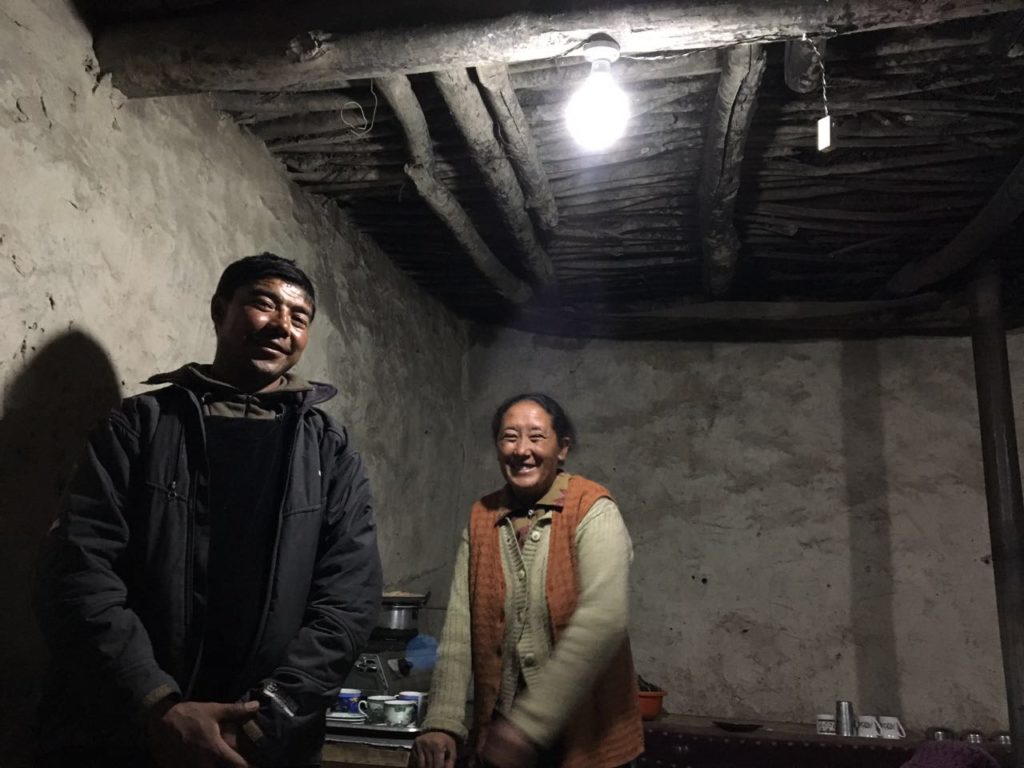 Electricity is a basic human right, says GE's Ricky Buch. He helped organize the trip that brought power to people living in the remote Indian village of Rakuru. Image credit: GE Power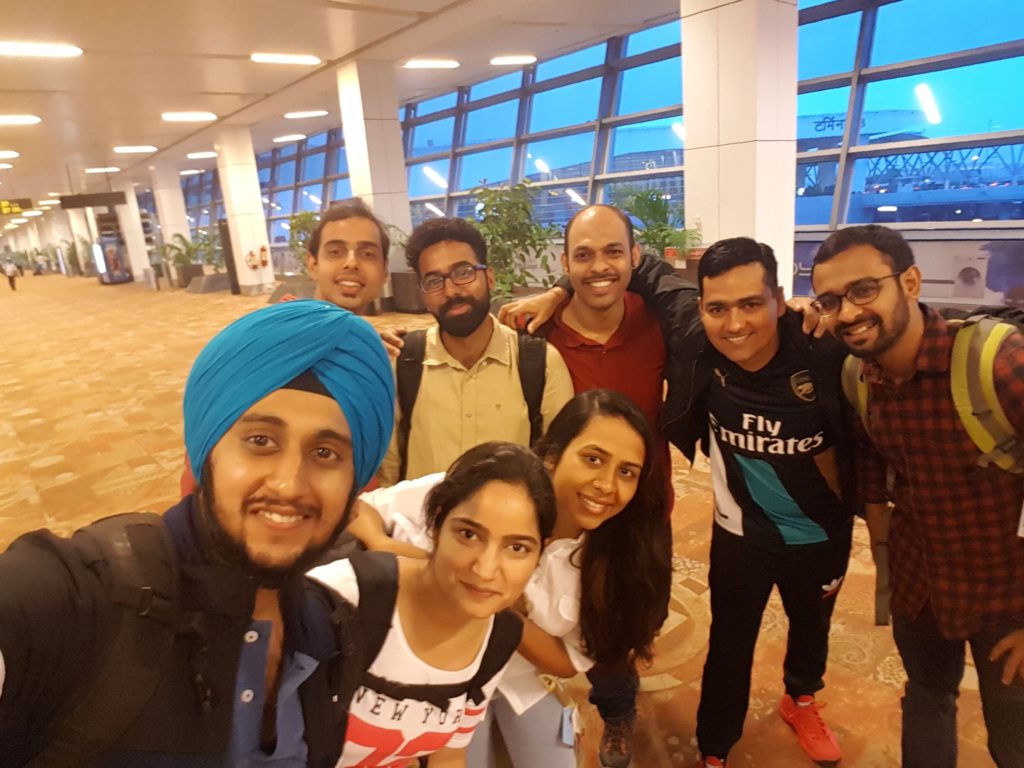 Selfie time. Meet the GE team that carried out the mission. From left to right: Arshdeep Singh, Shivani Saklani, Ashruti Joshi, Paras Bhatia, Shantnu Mathuria, Harish R, Sumit Sharma, and Rishiraj Kashyap.
Categories
tags