In March, Gerhard Seyrling, General Manager of Grid Automation at GE Energy Connections was elected to his second term as President of the European Association of the Electricity Transmission & Distribution Equipment and Services Industry (T&D Europe). At the frontline of change, he discusses how an interconnected Europe will shape the T&D industry.
 

 

Beyond Brexit, there is one issue on which most Europeans can agree: the need for clean, reliable energy. Increasingly, the best path forward is to join forces. By opening borders to the flow of electricity, renewable energy sources become more accessible, but only if technology keeps pace.

Europe is on the move, building a growing network of interconnected electrical grids. The goal is to ensure a stable and more sustainable energy supply. If the sun is shining on the French Riviera, and local power companies have more solar power than they can possibly use, why couldn't they send some of that clean energy north to Paris, or beyond?

The European Union has implemented targets reinforcing this push to optimize resources, calling for 10 percent interconnection capacity by 2020, rising to 15 percent by 2030. This means that all EU countries must have transmission systems in place that are capable of carrying electricity across borders to neighboring countries, and vice versa. According to the Commission, "22 EU countries are on track to reach, or have already reached, the target, but more interconnections are needed."

As the T&D industry meets the infrastructure needs of individual nations, we must facilitate a growing EU-wide electricity market to buy and sell electricity seamlessly, across borders -- all while assuring a stable market. These are the goals.
Technology that goes the distance

Not all connections can get the job done. Cross-border electricity flow requires high voltage direct current (HVDC) technology, capable of carrying more electricity over longer distances, more effectively. HVDC is essential to getting the power from where it is produced to where it is needed most.

For example, several HVDC projects are being planned in Germany, linking offshore wind reserves in the North Sea to high population zones in the south. Work is already underway on the France-Italy Link (FIL), which cuts beneath the Alps to join the two nations' grids, connected at each endpoint by GE HVDC technology. Future projects will evolve with even more complex technologies.

At the same time, new grid automation technologies to protect the DC network must emerge. The more grids that are connected, the more variable the sources of power, the greater the need for intelligent systems to assure performance, reliability and security
Connectivity hand-in-hand with sustainability

Uniting Europe's grids is only part of the equation. We must also reinforce efforts in energy efficiency and de-carbonization. These are equal and parallel EU targets. The T&D industry is uniquely positioned to help optimize the entire system – from where the energy is produced to where it is consumed.

A more intelligent, digitalized grid can improve the flow of electricity from sources like wind or solar. It will transmit real-time data on how much electricity is available when and where. It can predict and adapt to consumption needs. The need to improve energy efficiency while reducing the industry's carbon footprint will trigger advances in software and energy storage.

The potential of digitalization for our industry is tremendous. It touches everything from primary equipment right up to the highest levels of network management. Only with every element functioning together, can the supergrid become a reality.
European roots, super-sized ambitions

Europe has a great opportunity to lead supergrid development. After all, the T&D industry began in Europe and today, it represents a €25 billion market, employing over 200,000 people across the continent. From the start, innovation has been the T&D industry's strength and it remains an area where we can continue to make a difference.

I see a future where we fulfill our goal of an interconnected European grid. Even further, I can imagine a system that would allow exchanges of electricity all the way from the border of North Africa with its solar energy resources, to the North Sea and its growing offshore wind parks. It would stretch east to the Russian Federation, and why not, into China -- always with the same objective: connecting more people to affordable, secure and sustainable energy.

 

(Top image: Courtesy Getty Images.)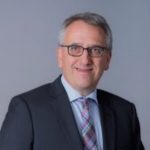 Gerhard Seyrling is General Manager Grid Automation, GE Energy Connections, and President of T&D Europe.

 

 

 

All views expressed are those of the author.

 
tags