Last spring, the National Football League, the sports performance brand Under Armour, and GE called on researchers, scientists and enthusiasts to find new tools for detecting concussions and protecting football players from traumatic brain injuries.
The partners just announced the first seven winners of the latest stage of the Head Health Challenge. Their solutions range from 3D virtual reality systems designed to detect brain injury to 3D printed "microlattice" materials engineered to reduce the force of the impact and a helmetless training technique. Take a look.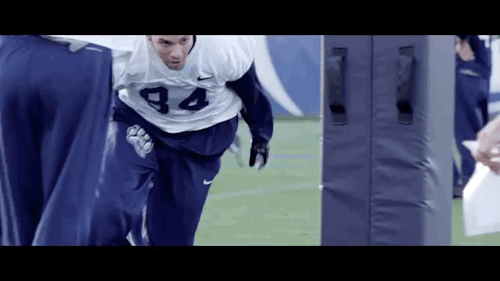 A team at the U.S. Army Research Laboratory, has developed a special plastic called  "rate-dependent strapping material." It stretches like bubblegum when pulled slowly, but becomes much stiffer when you try to jerk it.  The material could be used to attach the head to the torso and control head motion.

Researchers at Emory University and Georgia Tech in n Atlanta, Ga., came up with a portable device called iDETECT. They plan to use the system to measure changes in the brain affecting memory, reaction time and balance after a person is hit in the head.

A team of researchers from the University of Miami, Miller School of Medicine, the University of Pittsburgh School of Medicine and Neuro Kinetics, Inc. came up with easy to use, portable 3D virtual reality goggles. They use fast miniature cameras to look for changes in eye movement and abnormal responses associated with concussions.

Scientists from University of California, Los Angeles partnered with the firm Architected Materials, Inc. on a new energy-absorbing material that could replace the foam padding in existing helmets and reduce the force of a head hit. The plastic, which resembles a delicate honeycomb, is made from a special 3D-printed "microlattice." The team can also use the material to collect data, see where the hits are coming from and detect their severity.

Scientists at the University of Washington and VICIS, Inc. in Seattle are also building a better helmet that can protect players against skull fractures and traumatic brain injury. Their helmet is better able to absorb impact forces believed to cause concussions.

University of New Hampshire researcher Erik Swartz took a different approach. He is placing pill-sized accelerometers, gyroscopes and other head sensors behind players' ears to measure the effectiveness of Helmetless Tackling Training (HUTT), a training technique he developed to teach players to "keep their heads out of the game." The players are working through tackling drills, but without helmets and shoulder pads in place. "The concept is that when you go into contact with another person and your head is not protected, you are much more likely to leave your head out of the contact," Swartz says.

Detroit's Viconic Sporting, Inc. is using its car industry expertise to develop yet another approach to prevent head injury. The company is working on special resilient plastic pads that would go underneath the artificial turf on the field, buckle and absorb the impact energy when players fall down.

The Head Health Challenge is part of a four-year, $40-million R&D drive funded by the NFL, GE and Under Armour.  It set aside as much as $20 million for two open innovation challenges. The winners of the first challenge, which looked at improving the diagnosis and prognosis of traumatic brain injuries, were announced in January, 2014. This week's winners were competing in the second challenge exploring innovative ways for identifying and preventing brain injury.
Categories
tags