Airborne within five minutes of receiving an emergency call, New Zealand's Otago Regional Rescue Helicopter service is equipped with life rafts, stretchers, portable oxygen, medical packs, a humidicrib, a Breeze Eastern winch with 270kg (595 pounds)  lifting capacity, GPS, radio directional finders, Nitesun helicopter searchlights, night-vision goggles and its latest investment — a handheld, pocket-sized ultrasound from GE Healthcare called Vscan Extend.
In the hands of an aeromedical paramedic or emergency specialist, the ultrasound will most often be used to "see" under the skin and verify the heartbeat of the region's injured, ill, prematurely born, breathless or traumatised.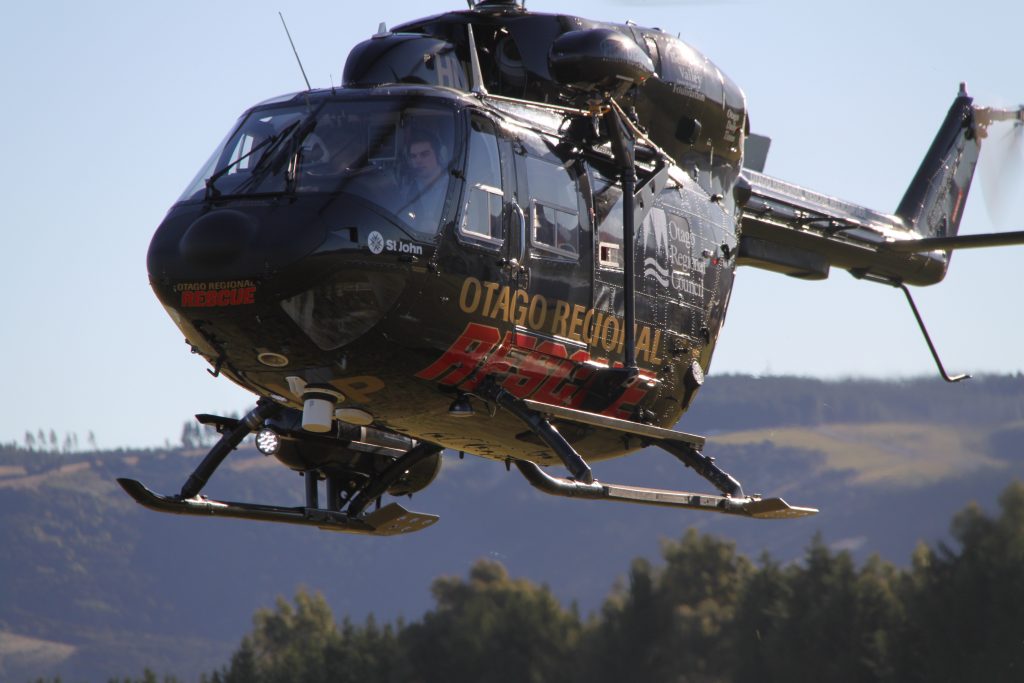 Seeing provides greater clarity than listening, especially in or near a helicopter, where "it's so difficult to use a stethoscope, with the noise and the vibrations," says Dr Markus Renner, one of a team rostered to attend emergencies and airlift critically ill patients to Dunedin Public Hospital.

Ultrasound creates virtually instant images of the patient's soft tissue, and shows fluid movement in the body, allowing clinicians to assess organ condition and function, and abnormal pooling, blockage or absence of fluid flow. Making that view inside the body portable, GE's Vscan Extend handheld ultrasound — with a screen the size of a smartphone, a dual probe and 10-second start-up — enables clinicians to make focused assessments and accelerate treatment decisions at the point of care.

Renner, a specialist intensivist and anaesthetist, and an advocate for greater use of ultrasound  at point of care in medical emergencies, says, "There were several indications for using portable ultrasound in the helicopter." These included not only diagnostic applications such as assessing cardiac activity, and checking for internal bleeding, thoracic injuries or pulmonary embolism (blockage of an artery in the lungs); but also therapeutic interventions such as easily locating veins to apply intravenous medications to paediatric patients — the chopper service's youngest emergency passengers.

Otago Regional Rescue Helicopter's mission-data log gives bare but still evocative detail of its retrievals: a 55-year-old female injured in a road accident near Glenorchy; a 25-year-old male picked up from Jack's Point, Queenstown after a work accident; a 14-year-old girl suffering a medical emergency transferred from Dunstan Hospital; a man aged 75 injured in a farm accident at Heriot.

Scattered across more than 66,000 square kilometres of beautiful fjordland, walking and cycling tracks, rugged coastline, farm land, mountainous terrain, lakes and ski fields, the towns and cities of New Zealand's lower South Island are served by numerous district hospitals and medical centres, but just one tertiary hospital in the south-eastern city of Dunedin.

The roads that link communities in this Lord of the Rings landscape tend to follow meandering lines of least geographical resistance, where a helicopter can fly direct and significantly reduce critical minutes to arrival at the scene of an accident, or to transfer a patient in need of specialised medical treatment to Dunedin.

Renner tells one of the first stories of Vscan Extend intervention on the rescue-helicopter service when a patient was in shock, suffering abnormally low blood pressure and hypoxia — inadequately low oxygen in the blood. "The paramedic at the scene made the reasonable assumption under the circumstances that the patient had a collapsed lung and was experiencing progressive build up of pressure, so he wanted to decompress the chest," he says. But he saw lung sliding on the ultrasound image, an exclusion criteria to pneumothorax, which led the team to look for and find the actual cause of shock. "So the ultrasound data made a difference by helping to prevent a procedure that wasn't indicated," says Renner.

He also anticipates cases in which imaging by ultrasound will lead to the triage of unstable trauma patients who show evidence of free abdominal fluid directly from the helicopter to the operating room, rather than being sent first to the emergency department for further diagnostics. "By bypassing the emergency department you would gain time and hopefully make a difference in the outcomes for those patients," he says.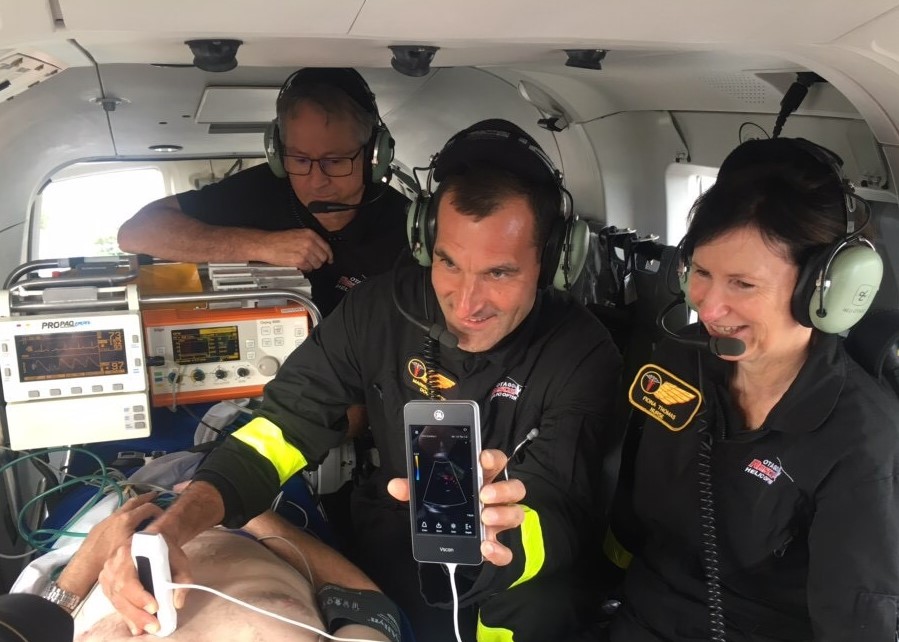 tags