If GE Aerospace's recent deal-signing activity at the Paris Air Show is any indication, the market for wide-body commercial jets appears to be getting some of its mojo back after years of sluggish growth exacerbated by the COVID-19 pandemic.
Last week in Paris, which hosted its first international air show since 2019, GE Aerospace announced deals to deliver 107 GEnx-1B engines to the Boeing 787 fleets of two separate airlines: 90 to Riyadh Air in Saudi Arabia and 17 to China Airlines in Taiwan. The deal with Riyadh Air includes spare engines and a TrueChoice services agreement, while the China Airlines deal includes a comprehensive services agreement.
"We are proud to partner with Riyadh Air and China Airlines to support their fleets and fulfill their visions for long international routes," said David Kircher, general manager of GEnx for GE Aerospace. "GE Aerospace's GEnx engine is a perfect fit for their 787 fleets, with its combination of power and the ability to reduce fuel consumption and CO2 emissions."
Airlines are seeing a release of pent-up demand among customers after a slowdown in international travel brought about by the pandemic. According to the International Air Transport Association, this year the industry is projected to see a 27% increase in passenger revenues over 2022, along with an average passenger load factor (a measurement of capacity utilization) of 80.9%, which is close to the record performance of 82.6% in 2019. At the same time, there is also a strong desire to save money on fuel costs and curb carbon emissions.
Earlier this year, Kircher confessed to getting "a little emotional" when the last 747-8F cargo jet was completed at Boeing's wide-body aircraft factory in Everett, Washington. The reason? It would be powered by the last two GEnx-2B engines to be produced at GE Aerospace's engine production and assembly facility in Durham, North Carolina. Still, Kircher takes pride in the fact that 42% of the more than 1,500 747s delivered by Boeing have been GE-powered, and that the last 155 of them have been equipped with GEnx engines. "And you know, there are still 747s flying today that were delivered 30 years ago," he said.
On the continuum of aircraft engine durability, that's a pretty big deal. The GEnx engine family has nearly 50 million flight hours since entry into service in 2011 with close to 3,000 engines in service and on backlog, including spares. Despite the wind-down of the 747, going forward the GEnx team is focused on being "the engine of choice" on Boeing's 787 Dreamliner passenger jet, as well as the 787 freighter. Currently, the GEnx-1B powers two out of every three Boeing 787 aircraft in service.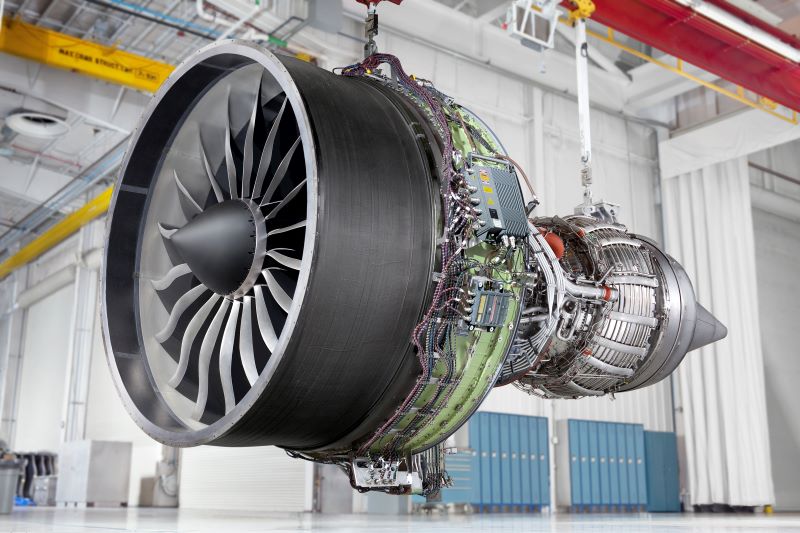 "Most customers, when they select a 787, they have an option between a GEnx-1B engine and another engine," said Kircher. "Our engine is at least 1.4% more fuel-efficient  [than its predecessor GE engine] for a nominal 787 mission. That equates to $300,000 per airplane per year in fuel savings." It also equates to a reduction of 2.2 million pounds of CO2 per aircraft annually.
"It's an incredible part of our commitment to a more sustainable future," he added. "This product is just going to keep working for our customers."
That's the objective. And to achieve it, the GEnx team has a number of technical innovations on hand to improve engine performance and increase what's known as "time on wing." GE's 360 Foam Wash, developed with the help of GE Research in Niskayuna, New York, cleans engines like the GEnx that over time can see a buildup of cement-like dust particles due to exposure to hot and harsh climates. By breaking down and removing the buildup, 360 Foam Wash can help improve engine compressor efficiency, reduce fuel consumption, lower CO2 emissions, and extend time between shop visits.
Then there's the FlightPulse app, developed by GE Digital, which allows pilots to measure their fuel use and other statistics against those of their peers or against their own previous flights so they can self-discover areas to optimize operations and efficiency.
They've made improvements inside the GEnx as well. "Over the last year, our engineering team finished an upgrade to the hot-section hardware inside the combustor and the high-pressure turbine blades," Kircher said. "This is the part of the engine where all the efficiency, all the magic, works. That upgrade will help reduce the operating cost of the engine by improving time on wing."
Kircher considers it "an honor to be chosen as a strategic partner to Riyadh Air and China Airlines." At the same time, meeting the demands of new wide-body customers presents new challenges. But he sees this as a significant opportunity — one that GE Aerospace won't shy away from.
"We're going to do what we always do at GE," he said. "Make our engines better, make them more efficient, make them more reliable. It's all about the customer: How do we make that customer experience great? How do we help make their business more successful? How do we make it so seamless to them that the engine just works?"
Based on the GEnx's track record, he's got a few decades to figure that out.
Categories
tags