Aerospace engineer Pooja Choudhary still remembers her first plane ride. The Mumbai native was 11 years old when she joined her class on a school trip to Jaipur, one of India's top tourist destinations. But the city's famous pink palaces weren't what piqued Pooja's interest. She was in it for the plane ride. "When I was in school, watching planes fly overhead would fascinate me and inspire me to dream high," she says. "I still remember how the whole aircraft cabin felt so huge and the view outside so liberating."
That fascination with flight never left her. She went on to study engineering in her hometown, did an internship at Air India's engine overhaul shop in New Delhi, and in 2017 landed at GE's research and technology center in Bengaluru. "I did a lot of research about GE when the company came to my school and found it to be very fascinating," she says. "I really wanted to be here." Now in her 20s, she works on the latest jet engines, explores new manufacturing technologies like 3D printing and develops data analytics to make sure that customers like Air India can keep their planes flying as much as possible.
Pooja is among the latest generation of India's brightest students who have come to work at GE's John F. Welch Technology Center in Bengaluru. Although still a relatively new addition to the 127-year-old company — the center celebrated its 20th birthday last year — it has come to play an outsize role in the way GE innovates, designs products and services, and works with customers around the world. The large facility employs more than 3,500 Ph.D.s, engineers and other specialists and serves as a home to GE Research and GE businesses including Aviation, Healthcare, Gas Power and Renewable Energy.
"We understand GE, we understand the products, we understand the customers, and it's just awesome to finally have that in one place," says Alok Nanda, the center's CEO. "We also have this amazing energy because our demographic is still quite young, full of hope and full of enthusiasm. When you bring the domain knowledge of our experts together with all this energy, then magic can happen."
Nanda speaks from experience. In 2000, he was a young engineer who answered a GE newspaper ad looking for people with the same skills he had. "I did some reading up on GE and was very fascinated with the kind of technologies GE was working on and the reputation it had around the world," he says. "I at least wanted to interview." He got his wish, and still remembers the date: September 17, the same day then–GE CEO Jack Welch was in town to open the lush campus. No pressure, he laughs.
Twenty years later, Nanda oversees the development of technologies that will help shape the future, like finding more sustainable ways to generate and distribute energy, making healthcare smarter and more accessible, and building more efficient jet engines. But he also serves as a father figure to many young engineers who come there every year from all over India.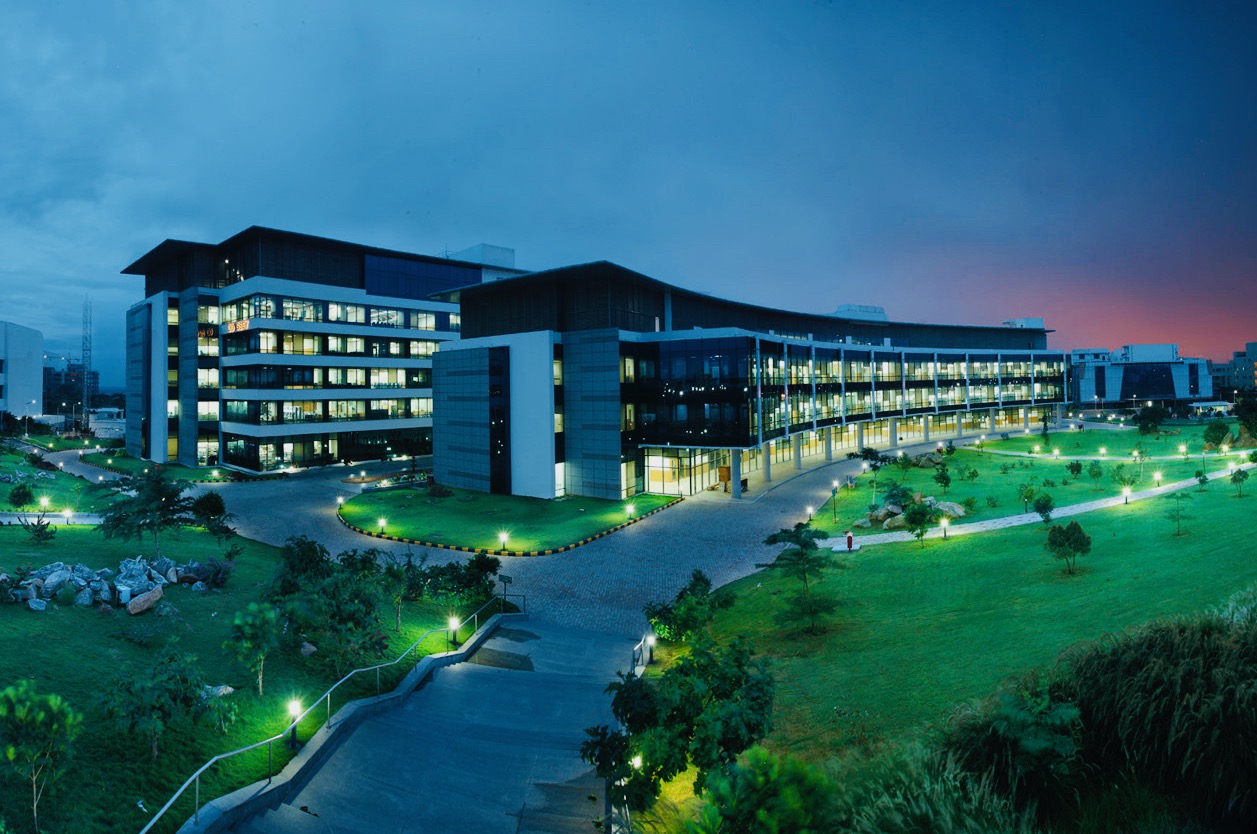 Take Sneha Pappu, who works on advanced gas turbines from GE's HA family. These machines are helping countries move toward decarbonization and bring more renewables online. Most recently, Sneha has been part of a team looking to use 3D printing, also known as additive manufacturing, to redesign a micromixer, a critical component of the turbine's combustion system that can improve the turbine's fuel efficiency. "3D printing is the latest and greatest technology," she says. "We are testing it right now, and it's great to see where it goes and what are the challenges we have to overcome."
Just a few years ago, Sneha was studying mechanical engineering at the National Institute of Technology in Trichy, a city some 220 miles southeast of Bengaluru. When GE came to look for talent at her school, she learned about the company's Edison Engineering Development Program, which serves as a pipeline bringing top engineering talent to GE's core businesses. She liked what she saw. "I was very much impressed with the people who came to represent the company," she says. "I always wanted to work for a company where I could put into practice what I've learned."
There are currently some 200 "Edisons" on the campus in Bengaluru, and this type of enthusiasm is exactly why the center has become a place where GE works on some of its most important projects. One of its earliest endeavors was the GE90, which for a long time held the distinction of being the world's most powerful jet engine and currently powers many long-haul passenger jets. "In the beginning, we didn't really know about aircraft engines, but we knew physics, mathematics, engineering and analytics really well," Nanda says. "We used to do so many things to establish our credibility, constantly learning and critiquing each other's work so that when we deliver, it's the best."
The success with the GE90 earned the group that worked on it a spot on global teams developing the engine's even more powerful successor, the GE9X, and the LEAP engine, another groundbreaking machine that includes 3D-printed components as well as parts made from light, tough and heat-resistant ceramic matrix composites (CMCs). That engine was developed by CFM International, a 50/50 joint venture between GE Aviation and Safran Aircraft Engines. The center's employees have also put their stamp on the latest GE software, and they are developing components for hybrid systems that combine wind energy with solar panels and batteries to make renewables more predictable, among other projects. "When I joined, 20% of GE's revenue used to come from outside of the U.S. and Western Europe. Now that number is 65%," Nanda says. "The markets have also moved, and we were luckily right in the center of all the growth."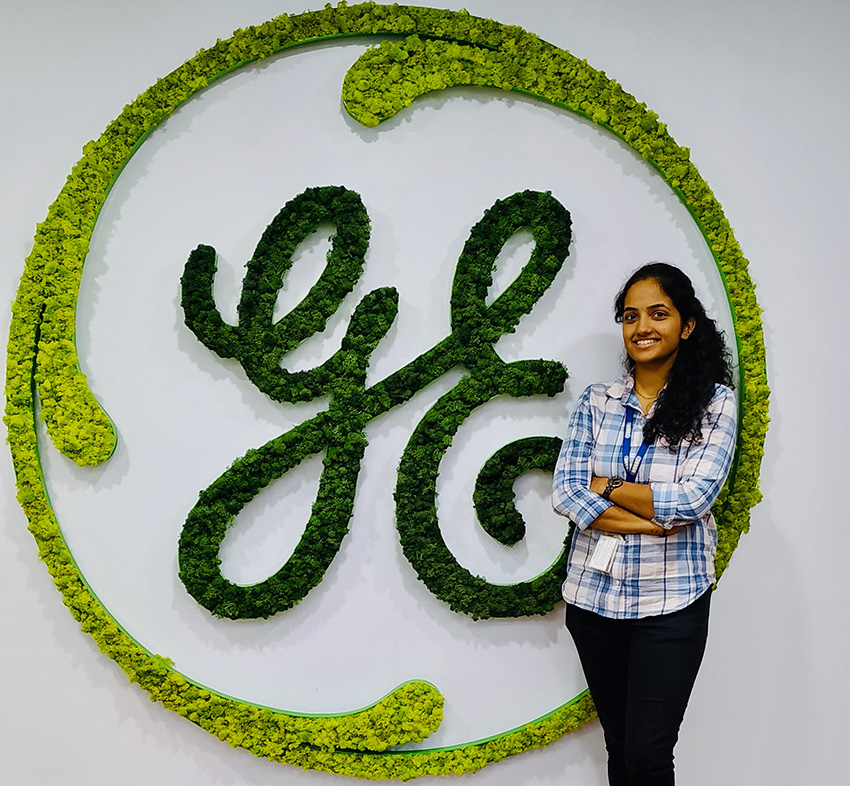 The campus, shaded by tall palm trees and quilted with emerald lawns, has also become a destination site for GE customers, who come there to learn more about GE and find new ways to work with the company. "Our center is like a lab for them," Nanda says. "You see every part of each GE business and you also see all the other GE businesses. It's very unique."
When Air India came by to find a way to overhaul their engines faster and sent representatives to Bengaluru to find a solution, "we discussed a lot of issues. Our engineers went to their shops to understand what they were facing, and we studied their data," Nanda says. "Now the same fleet is probably one of the best in the world in that class of engines."
But it's not just customers who mingle on the campus. Nanda also keeps the doors open to the local community. For example, the center started a program that adopts schools near the GE campus. The company helps teach and coach students, brings them on campus, and sometimes even provides food for the schools so pupils come to class to have a meal and stay for the education. One of the students, a young woman named Shruti, recently earned her own engineering degree and completed an internship at the center. "It was such a proud moment for us," Nanda says. "I've known her since she was in the seventh or eighth grade and now she is an engineer, and nobody from her home has ever gone to school. I asked her, 'Shruti, would you like to work at GE?' and she said: 'I will see, Alok.' I was so proud of that. It just gives you a sense of fulfillment."
What are the center's plans for the next 20 years? Building on the foundation and reaching out, Nanda says. "We have great domain knowledge; that's something we didn't have 20 years ago," Nanda says. "Internally, everybody knows us, we will work on great programs, we will have ownership, we will deliver. But now is the time to do the same with the external ecosystem — with governments, customers, to an even larger extent than we do today, with educational institutions. And finally, how can we leverage startups?"
The young engineers GE Reports talked to are already working to define the future. Sanjana G, who joined GE from the National Institute of Technology in Trichy a year ago, now develops artificially intelligent algorithms and other computer code for GE Healthcare's Edison software platform. The job, which is helping write healthcare's next chapter, was the perfect next step for Sanjana, who joined a software club at her school, developing an app to help doctors understand diabetic retinopathy. The eye condition is an urgent problem in India, where some 65 million people suffer from diabetes. "I studied production engineering, but that didn't stop me from pursuing what I wanted to do," she says.
Sanjana and her colleagues often attend gatherings of engineers from different fields, where they can mix and match insights, learn news things, help solve problems and find new opportunities for the center.
Says Nanda: "For us it was important to establish that it's OK to be able to say, 'I don't know this, and I need to learn.' If we didn't do this, we would never be able to come to this stage. You have to be open to accepting that you need to learn. Humility is something that we've been working on very hard."
tags