Eddie Velo was a Minnesota turkey farmer with a big headache. His birds produced a lot of manure, tons of it. Workers used pitchforks to clear the stuff out of Velo's barns, but few could keep at it for very long. He needed a machine that could do the job.
Two local entrepreneurial blacksmiths, brothers Cyril and Louis Keller, said they would help. They made him a light and agile loader that could get around poles and in and out of corners. It did the trick, and a lot more.

Velo's loader, built in 1957, became the prototype for a whole new compact equipment industry and launched Bobcat Company, an iconic multi-billion American business whose machines now do chores for customers in many corners of the world.

Bobcat has more than 600 dealers in the U.S. and another 400 abroad. The company, now a wholly owned subsidiary of Doosan Infracore, employs more than 2,500 workers in the United States and Canada and reigns as North Dakota's largest manufacturer.

A lot of Bobcat's growth over the last three decades was financed by GE Capital. "Bobcat has experienced dramatic growth during its partnership with GE," said Ed Hetherington, President of Doosan Infracore Financial Solutions. "Bobcat's revenue has increased more than 400 percent, in part because GE has extended Bobcat dealers the necessary credit to maintain and grow their businesses and stay competitive."

GE Capital's Equipment Finance business, which is based in Irving, Texas, funded more than $6 billion in equipment for American companies and hospitals in 2011. That figure is expected to grow to nearly $7 billion this year. "We're an important source of liquidity to businesses across the U.S. and we're working more quickly and efficiently to help our customers grow and thrive," said Diane Cooper, general manager of Equipment Finance.

Bobcat is one of Cooper's oldest customers and her division has been with the equipment maker through hard times. "The recession was tough on construction equipment customers," said Rich Goldsbury, President of Bobcat and Doosan in North America. "We witnessed the worst times in the history of our business and industry," he said. "But GE's commitment to our dealers allowed many to remain profitable."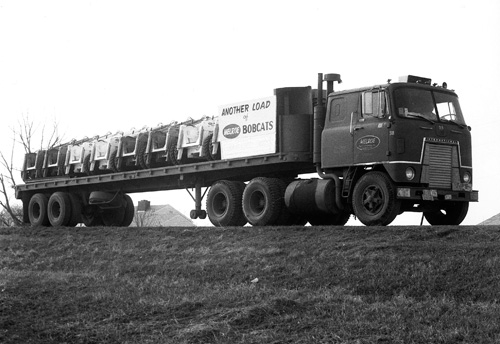 Semitrailers carrying new Bobcat skid-steer loaders across America's highways became a common sight as the company's sales grew through the mid- to late-1960s.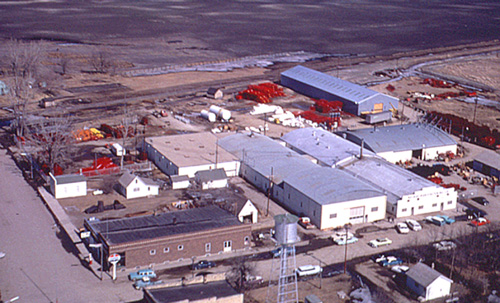 The Gwinner, N.D. Melroe (Bobcat) factory in the mid-1960s. As the Bobcat loader took off, the Melroe Company grew to accommodate production.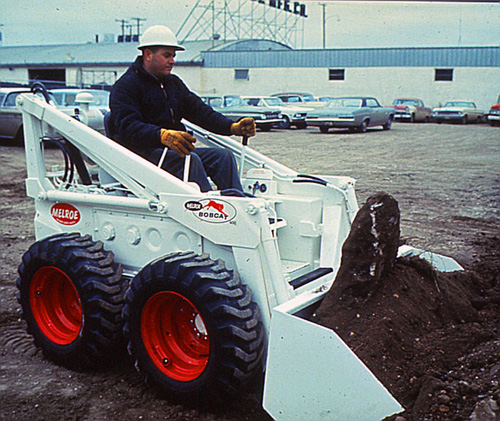 One of the early M60 three-wheeled loaders, a predecessor to the Bobcat skid-steer loader, working in a common farm application of the time, circa 1959.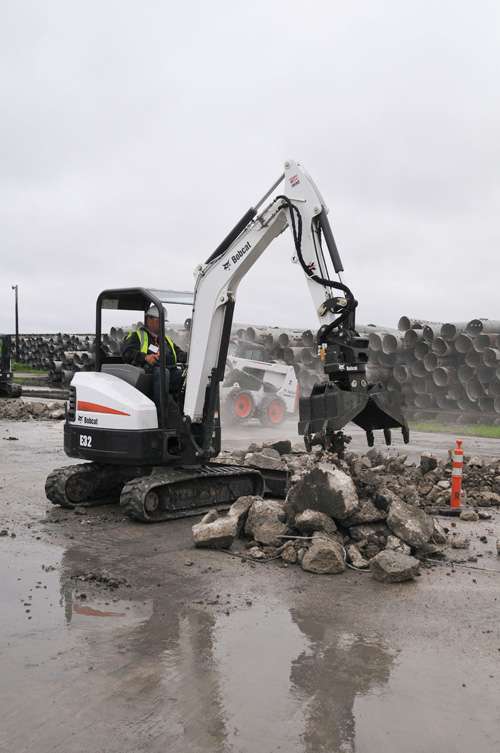 Like all M-Series compact excavators, the Bobcat E32 conventional tail swing model features a quieter cab that reduces sound levels by more than 5%.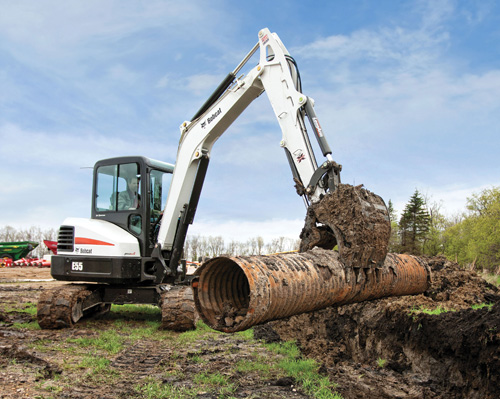 The Bobcat E55 is a conventional tail swing compact excavator that delivers proven performance through smooth control of the work group, time-saving attachments and fuel-efficient turbocharged diesel engine.




The Bobcat S770 delivers big productivity and performance for digging, loading, pushing, grading and other tough assignments.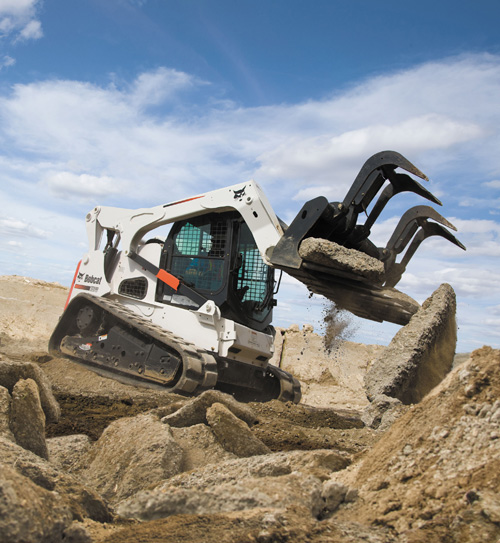 The T870 is Bobcat's largest compact track loader ever manufactured, with a 12-foot lift height, making it the highest lifting compact track loader on the market.
Categories
tags