Last February, GE hosted a webinar titled "Aeroderivative Technology for Vietnam: Staying Competitive with Fast, Flexible, Reliable Power". The webinar provided valuable insights on how aeroderivative gas turbines can be used to address Vietnam's energy challenges in various areas and featured several GE Gas Power experts.
During the discussion, the four panelists examined the impact of aeroderivative gas turbines and their potential in ensuring grid stability, addressing the issue of effectively integrating renewable energy sources, and delivering sustainable energy that complements and supports the use of renewable energy.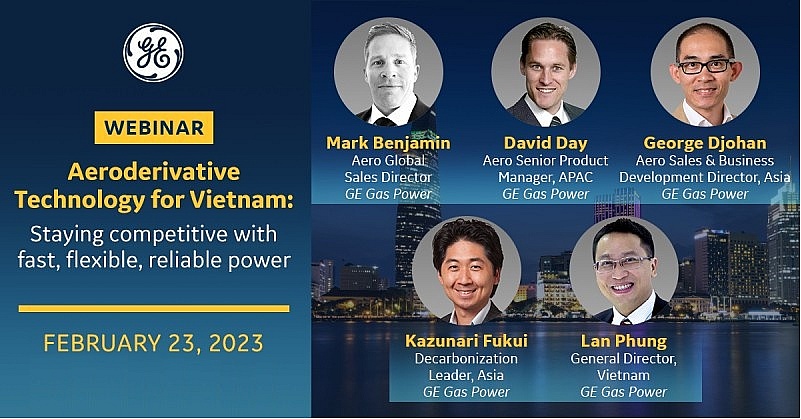 Revolutionizing power
GE's aeroderivative lineup consists of versatile and portable innovations that can be employed in a broad range of settings, such as utility generation, district heating, mobile power, rapid power, and grid reliability.
Mark Benjamin, Aero Global Sales Director, argued that "globally, the trend is moving towards renewables. However, this poses challenges for the grid. In terms of grid stability, renewables have inherent variability in power output, which creates instability."
This is why Benjamin stressed the importance of fast and flexible backup machines. "Traditionally, gas turbines have been used for utility and industrial energy generation, oil and gas, and mining. As the market shifts towards renewables, they are increasingly being used for grid stability and as a backup for power shortfalls," Benjamin explained.
George Djohan, Aero Sales & Business Development Director, Asia elaborated on how features such as Aero technology can bring benefits in terms of providing stability to the grid while supporting renewable energy sources. "It is important to note that Aero technology is not meant to compete with renewable energy, but rather support it," Djohan said.
David Day, Aero Senior Product Manager, APAC, explained during the webinar that there is a growing consensus that peaking power plants will be necessary to maintain the reliability of electricity supply. "Aero can help with this by providing speed, mobility, flexibility, and reliability with dual-fuel machines that can run on gas and diesel and can also run on alternative fuels. Aero's turbines have high cycle limits, which require very little maintenance and allow for successful project delivery," Day said.
"Aero's turbines also offer a natural fit for renewable energy firming. Many renewable energy generators have approached us for Aero turbines because they want to offer firmed renewable contracts. The five-minute starts and fast ramp rates, along with sync condensing, make Aero an attractive choice for providing backup power," Day added.
For the next 10 years, power generation capacity is expected to grow by over 50%, and generation is expected to increase by 24%, as Fukui explained during the webinar. "Therefore, it is crucial to focus on decarbonizing power generation while also growing its capacity for the future," he said.
"To address this challenge, we need to switch from coal to lower carbon fuels, partner gas power with renewable energy, use low-carbon fuels like hydrogen or ammonia, and invest in carbon capture technology," Fukui argued.
Boosting Vietnam's energy transition
GE already has a strong presence in Asia, and over 300 aero units installed in the region, with repair shops in Malaysia, Thailand, Singapore, and Australia, and a JV partner in China.
As Vietnam's energy demand continues to grow, the nation is confronted with the challenges of limited domestic resources, unreliable power grids, and ecological concerns. To tackle these problems, the government is advocating for renewable sources of energy such as wind, solar, and natural gas power.
Day cited the success of the LM2500XPRESS in Germany as an example. "This demonstrated how Aero's turbines can provide higher reliability and availability, optimized cash flow, and easy maintenance for renewable energy projects," Day said. "Overall, Aero's turbines offer speed, mobility, flexibility, and reliability to meet the challenges of the Vietnamese power network."
Djohan argued, "In addition to the grid stability benefits, there is also potential for Aero technology in the industrial sector in Vietnam as the country is growing rapidly, especially in the industrial and other economic sectors."
Kazunari Fukui, Decarbonization Leader, Asia, emphasized the importance of a non-carbon economy and Vietnam's goal of achieving net-zero emissions by 2050. "In terms of the practical roadmap for Vietnam, GE is committed to supporting the government of Vietnam in implementing this plan, especially in terms of electricity production. We have been working closely with local partners to identify the best locations and solutions for the country's energy needs," Fukui said.
While sustainability is essential, it is also crucial to maintain affordability, Fukui emphasized. "That's why we believe in a portfolio of solution approach rather than a one-size-fits-all solution. Our team is working on this to ensure that merely switching from coal to gas can result in a 50% reduction in CO2 emissions. Moreover, gas has the potential to contribute to Vietnam's mission of becoming net-zero by 2050 as well," he said.
Categories