When meeting with a parliamentarian, it helps to have a conversation starter. Mark Kelly, technical leader at GE Renewable Energy in Australia, designs wind farms with the aim of optimising energy output; and when he met with Ed Husic, Labor MP for the Western Sydney electorate of Chifley, at Science meets Parliament 2019 he came carrying a pinwheel with a purpose.

Haliade-X — the world's largest and most efficient offshore wind turbine.

"I made it to give to Ed, but even just walking around with it in advance of our meeting, everyone came up and asked what it was and why I was holding it," says Kelly.

The 20th turnout of Science meets Parliament (SmP), co-ordinated by Science & Technology Australia (STA) attracted more than 200 researchers and innovators eager to talk to 70 or so available parliamentarians from various parties about the transformative potential of their work.

"Science meets Parliament brings Australia's scientific community right into the heart of federal political leadership," said STA president Dr Jeremy Brownlie. He explains, "The event gives scientists of all kinds and politicians from across the political spectrum the chance to sit down face to face and discuss how science is addressing some of the most pressing issues facing Australia, and how it can inform critical decisions for the nation's future."

GE supports both SmP and the Superstars of STEM initiative which seeks to promote the visibility of women working in STEM and thereby encourage girls into these problem-solving, life-enriching fields.

One of the great overarching benefits of both programs is the forging of personal connections: between politicians and people at the forefront of sci-tech endeavours; and between scientific disciplines.

GE was represented at SmP by Kelly, a mechanical engineer delivering high-performing wind farms for Australia's transition to clean energy; by Azam Niazi, an aerospace engineer embedded with Virgin Australia, innovating in the field of data analysis and predictive maintenance of aircraft engines; and by Keren Rambow, head of GE Aviation in the region, who has High Energy Astrophysics and Electrical Engineering qualifications.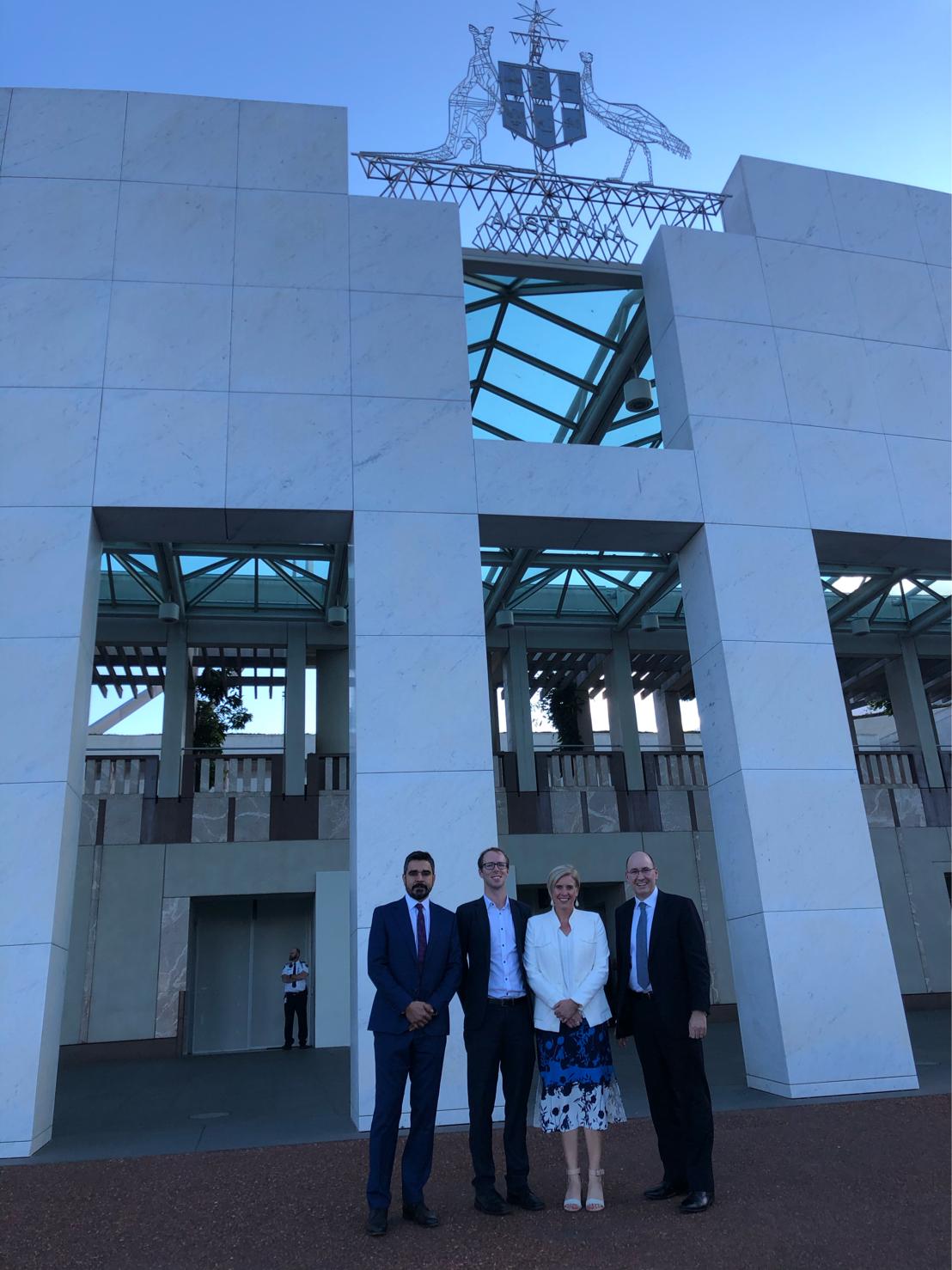 "From tourists, to adventurers, to explorers."


Professor Fiona Wood just gave an incredibly passionate, nerdy, powerful key note for @ScienceAU #SmP2019

This hit me hard. Am ready!!! pic.twitter.com/gJrL1ChRDg

— Kalinda Griffiths (@Klick22) November 25, 2019


Superstar of STEM, Kalinda Griffiths, captured part of Professor Fiona Wood's address to the Science meets Parliament delegates.

Accelerating science and technology to meet wicked challenges

On the parliamentary side, Niazi says that the politicians recognise the need for agility in applying scientific resources to the gnarly challenges facing Australia: "They acknowledged that not a lot has been done in the recent past, and they do need to accelerate the pace."

Meanwhile, radiochemists at SmP were having light-bulb moments talking to metrologists; nanoscientists were connecting with microbiologists… "I was speaking with a person from Deakin University who's working in AI, and we had a great conversation on GEs research into the use of AI to improve the accuracy of wind forecasting," says Kelly.

"There was a lot of energy and a collaborative atmosphere," he adds, although perhaps not enough co-ordinated energy policy for an engineer focused on wringing the best performance from renewable-energy infrastructure.

Kelly says he had hoped to get across to Husic the need for evidence-based policy on climate change and then the importance of consistent policy on Australia's transition to renewables: "If you have a stable policy it gives grid operators and the people who are designing grid infrastructure the ability to come up with a solution that meets the policy objective. Renewables are a real challenge in the grid space at the moment, largely because there hasn't been clarity on where we're going," he says.

Like Rambow, Kelly came away from SmP with parliamentary contacts with whom he can continue the discussion. On Husic's desk the purposeful pinwheel serves as a reminder that STEM practitioners are constantly evolving the capabilities of renewable plant to mesh with the grid and deliver on a clean-energy future.

Overall, concludes Niazi,"Science meets Parliament was a wonderful opportunity to meet people from various fields of science, as well as the people who are making the decisions in parliament.'
tags