GE and Baker Hughes agreed to combine GE Oil & Gas and Baker Hughes to create a world-leading oil and gas technology and services provider. The new name of the company will be Baker Hughes, a GE Company.
With $32 billion of combined revenue and operations in more than 120 countries, Baker Hughes, a GE Company, will draw from GE's digital technology expertise and Baker Hughes' capabilities in oilfield services, offering customers best-in-class physical and digital technology solutions for productivity, the partners said. The complementary product portfolio of GE Oil & Gas and Baker Hughes in drilling, completions, production, and midstream and downstream services will create the second-largest player in the oilfield equipment and services industry.
"This transaction creates an industry leader, one that is positioned to grow in any market," said GE Chairman and CEO Jeff Immelt. "Oil and gas customers demand more productive solutions. This can only be achieved through technical innovation and service execution, the hallmarks of GE and Baker Hughes."
The new company will operate as a public company traded on the New York Stock Exchange and will have dual headquarters in Houston and London. GE will have 62.5 percent of financial and voting interest in the new company, and Baker Hughes shareholders will own 37.5 percent. The transaction is expected to be completed in the second half of 2017.
"The combination of our complementary assets will create a platform capable of seamless integration while we enhance our ability to deliver optimized and integrated solutions and increase touch points with our customers," said Baker Hughes Chairman and CEO Martin Craighead. "With employees of Baker Hughes and GE Oil & Gas coming together, the new company will be an industry leader, well-positioned to compete in the oil and gas industry while pushing the boundaries of innovation for our customers."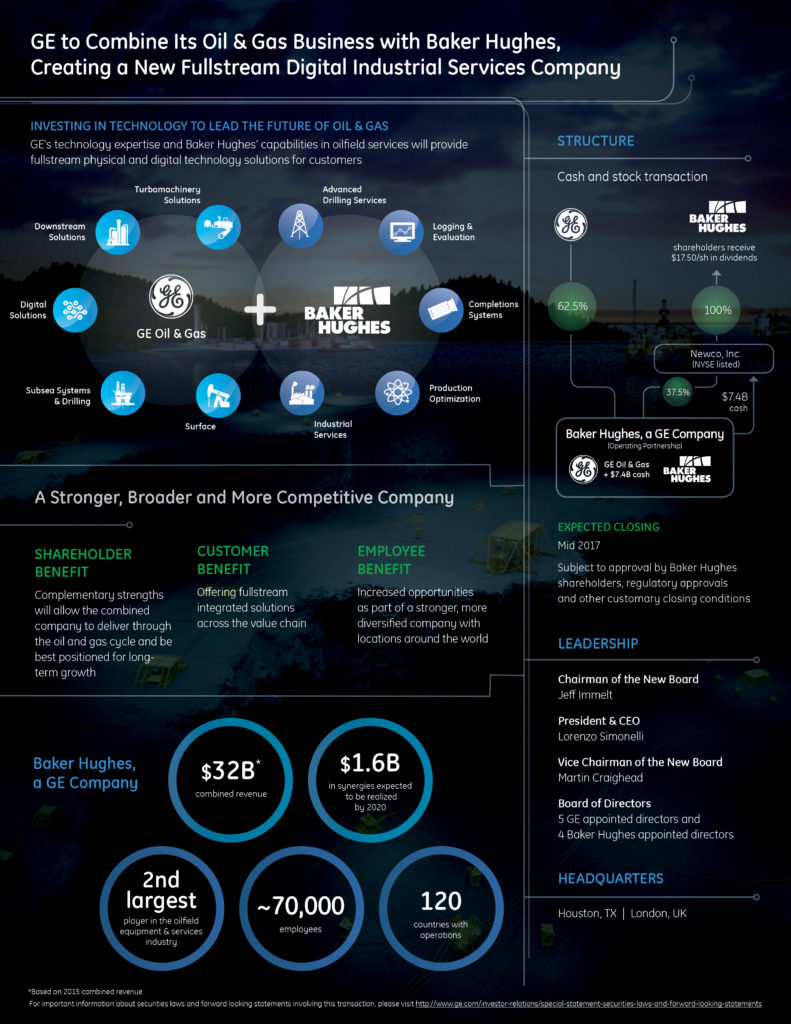 The combined strengths of GE and Baker Hughes create a stronger diversified portfolio positioned to deliver through the oil and gas cycle, the partners said. Using the GE Store — the internal marketplace for ideas where GE businesses share technology and know-how — Baker Hughes, a GE Company, will bring solutions to local markets at scale around the globe and build its digital framework in the industry with Predix, GE's operating system for the Industrial Internet. As a truly fullstream company – from resource extraction, to transportation, to end use – Baker Hughes, a GE Company will be able to support a wide customer base, the partners said.
Baker Hughes, a GE Company, will be led by Lorenzo Simonelli as president and CEO. Jeff Immelt will serve as Chairman and Martin Craighead will serve as Vice Chairman of the Baker Hughes, a GE Company, Board of Directors.
"This transformative transaction will create a powerful force in the oil and gas market as we continue to drive long-term value for our customers and shareholders," Simonelli said. "GE Oil & Gas and Baker Hughes are an exceptional cultural fit, sharing a commitment to exceeding customer expectations. Both companies' employees will benefit significantly from being part of a larger, stronger company that is positioned for long-term growth. We look forward to combining the digital solutions and technology from the GE store with the domain expertise of Baker Hughes and its culture of innovation in the oilfield services sector."
The new company is expected to be accretive to GE's earnings per share by approximately 4 cents by 2018 and 8 cents by 2020. Baker Hughes, a GE Company, is also expected to yield $1.6 billion in synergies by 2020. Baker Hughes shareholders will receive a one-time dividend of $17.50 per share, equivalent to approximately $7.4 billion.
To learn more about Baker Hughes, a GE Company, tune in to the analyst conference webcast replay from October 31, 2016 at either www.ge.com/investor or www.BakerHughes.com.
The transaction is subject to approval by Baker Hughes shareholders, regulatory approvals and other customary closing conditions.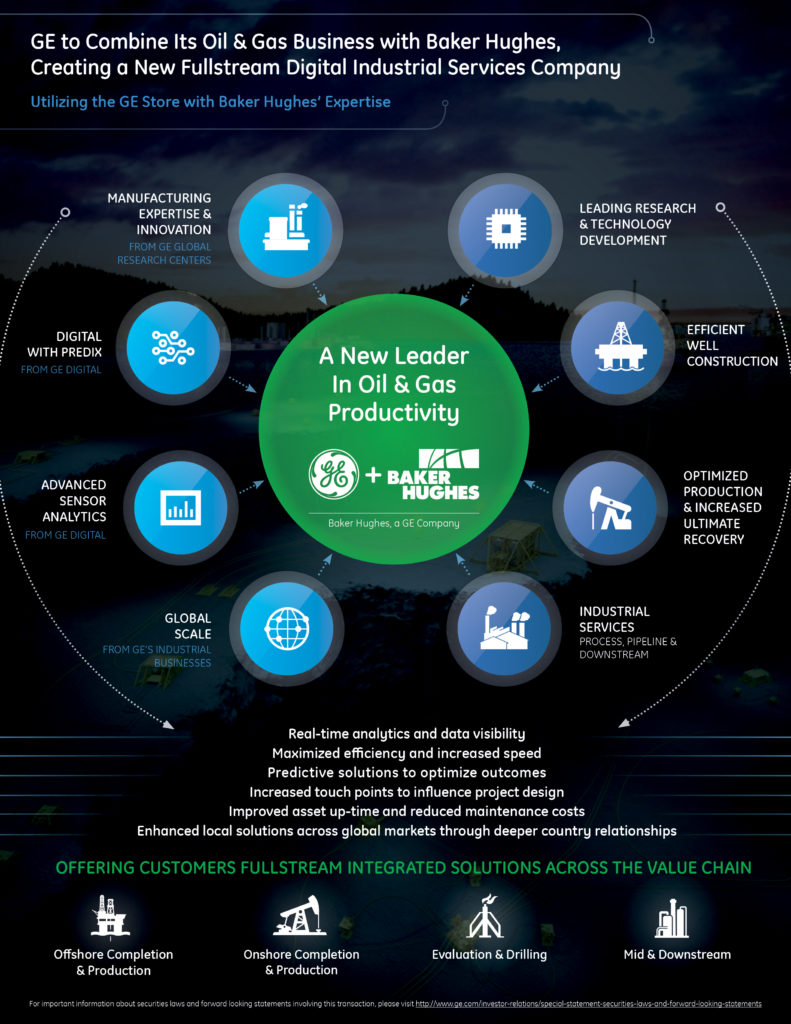 Categories
tags