The U.S. Navy's new Zumwalt class of stealth destroyers is seeking to redefine sea power. Quite literally.
In the past, ships used most of their installed power for propulsion, with the engines and propellers directly connected through large and complex gearboxes. But the all-electric Zumwalt vessels will come equipped with so-called "integrated power systems (IPS)," designed to route electricity around the ship in an instant, eliminating mechanical gearboxes and allowing the power to be used for both propulsion and other electrical systems – including powerful new weapons.

This flexibility means the 610-foot-long Zumwalt, named after the late Admiral Elmo "Bud" Zumwalt Jr.,
will have nearly 10 times more available power than its predecessors. It could become the first ship carrying next-generation weapons like electromagnetic railguns, which use a strong electromagnetic pulse, rather than gunpowder, to shoot projectiles.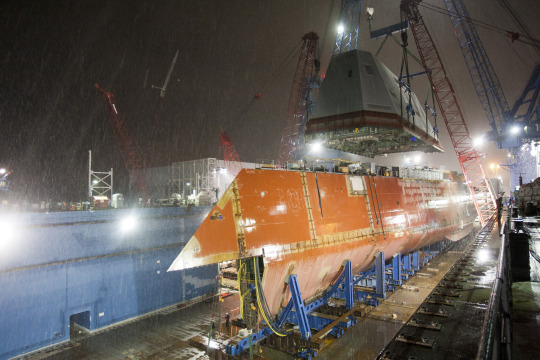 Images credit: Bath Iron Works

The IPS could free up as much as 80 percent of the ship's power dedicated to propulsion within a fraction of a second. "We're no longer restricting the engines to provide propulsion power only," says Adam Kabulski, director for naval accounts at GE Power Conversion, which developed the IPS. "This design allows you to send electric power wherever you need it. You can access many megawatts in a short amount of time and convert it into energy. It's instantaneous."

The system is also highly redundant. Instead of the typical three-phase motors, the Zumwalt's "advanced induction motors" have 15 phases. "The design is innovative, being smaller and quieter than traditional motors, and also highly survivable," Kabulski says.

The IPS, which delivers power at 4,160 volts, is also equipped with harmonic filters, power electronics and other technology to maintain power quality and manage electrical disturbances from spreading through the system.

So much tighly managed power gives ship designers many options. The U.S. Naval Institute recently reported that the Navy was considering the electromagnetic railgun for the third planned Zumwalt-class destroyer, USS Lyndon B. Johnson.

The weapon can release up to 5 million amps, or 1,200 volts within 10 milliseconds, according to Military.com. That's enough to speed up a 45-pound projectile from zero to 5,000 mph in one one-hundredth of a second, the site said. "Energetic weapons, such as EM railguns, are the future of naval combat," said Rear Adm. Matt Klunder, the chief of naval research.


The Navy said it planned to test fire a series of GPS-guided hyper-velocity projectiles from the gun mounted on a high-speed vessel at a floating barge as far as 50 miles away. "We're going to fire it against a floating target," U.S. Navy Capt. Mike Ziv, program manager for Directed Energy and Electric Weapon Systems, told Military.com. "We're trying to gauge the ability to engage a target over the horizon. We're going to have a gradual ramp up and gather data." The tests are slated for the summer of 2016.

GE has been supplying electric propulsion technology to the shipping industry for a century. The Navy's first electrically propelled ship, the aircraft carrier USS Jupiter, was commissioned in 1913.
tags