This story was written in first person by Barry Kirby, an Australian doctor who runs Hands of Rescue, a not-for-profit medical service in Alotau, in the Milne Bay province on the southeastern tip of Papua New Guinea. It is also a tribute to Peter Loko, GE's country leader for PNG. He passed away in July.
Last Thursday I flew to the Sehulea health center, on an island off Papua New Guinea, through the only hole in the sky we'd had for months.

At midday there was a slight easing of the constant rain squalls that had plagued us — a small window of opportunity for me to jump into our DeHavilland Beaver bush plane and get to a mother-to-be who was waiting for us.

I had seen Beatrice five days earlier at the health center. Emergency nurse Kila Koupere and I had been doing obstetrics training and assisting in the antenatal clinic. On that visit, as part of my nonprofit organization The Hands of Rescue, we'd travelled by boat, dropping into seven health centers, delivering 100 mother-and-baby gifts, training and assisting staff and doing ward rounds at each center.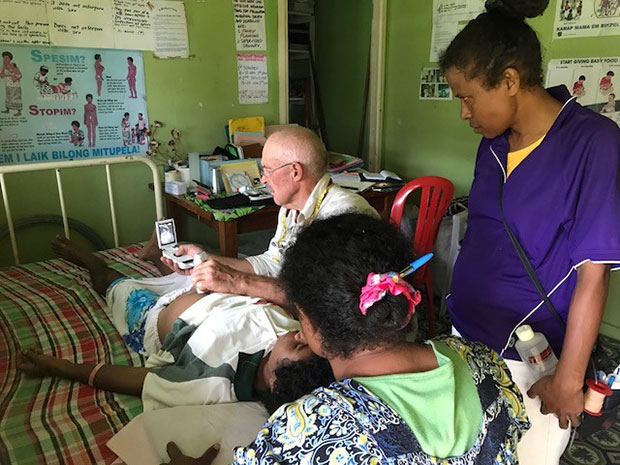 Beatrice, age 39, was 32 weeks pregnant. Her baby was lying transverse (sleeping sideways) when I examined her that day with my Vscan — the handheld ultrasound machine that GE's PNG Country Leader Peter Loko had donated and delivered to me in January. The scan clearly showed that Beatrice had a placenta praevia major.

In this deadly condition, the placenta covers the cervix, and as the uterus grows near term and stretches, the placenta detaches from the uterine wall and begins to bleed. Bleeding may be minimal at first but can become catastrophic. Mother and baby can die unless a cesarean section is performed.

I hadn't been able to take Beatrice back to our center in Alotau by boat because seas were rough. Instead, I'd promised to return in the Beaver in two days. But the weather had prevented me from flying.

On Thursday, with low clouds but no rain falling, I took off from Gurney airstrip. After takeoff and wheels up, the control panel showed four blue lights, indicating the wheels were now retracted inside the floats. The flaps also retracted and I gently reduced the manifold pressure and brought back the revs—the usual sequence for getting airborne in a Beaver amphibian. I climbed to 1,400 meters to get over the misty clouds ahead.

After landing on the grassy Sehulea airstrip 40 minutes later, following greetings and hugs, I was told that Beatrice was on her way to the health center. She'd heard the Beaver fly over her coastal village and had started walking.

While waiting, Sister Dorcas John, the nurse in charge, asked whether I could also see a 5-year-old boy with a fractured left forearm. He appeared with his arm in a nice sling, but he needed a proper cast. He was excited at the prospect of riding in the "mighty Beaver" — it was even worth breaking an arm for

When Beatrice arrived, I examined her and found her baby was now head down, hard against the placenta and clearly not happy that the placenta was preventing it from nestling deep into the mother's pelvis. I checked the position of the placenta with my Vscan and was convinced it was covering the opening to the cervix. Beatrice could start bleeding at any time.

Conscious of the weather, I urged that we must get going. We were making our way out when Sister Dorcas hesitantly asked if I could see just one more patient. We walked to the room they call the general ward.

Lying on the floor beside his father was a 10-year-old boy with a grossly swollen, smelly right thigh with a discharging wound sinus. He was wasted and pale. Memories from a time I'd rather forget flooded back to me. I told Sister Dorcas, "I have to take him out now."

Seventeen years earlier as a 50-year-old intern I was visiting Mapamoya health center on a health patrol boat, not far from Sehulea as the crow flies. The sister in charge at Mapamoya asked me to see a boy she had been treating for a few weeks without success. "He has a boil on his right thigh, but doctor I'm sorry he smells rather offensive," she said.

As I approached the derelict building which served as an inpatient ward my senses picked up the odor of infected flesh. At the end of a long, dark, empty ward was a small boy lying on a wooden bed.

He had a discharging wound sinus which could have been a boil draining, but the smell suggested something else. I incised and drained the wound under light anesthesia, hoping to release the trapped infection from his thigh muscle, but quickly realized this was not a deep skin infection. It looked like a fungating growth of abnormal tissue. He had a Ewing's sarcoma, a type of tumor, arising from the femur, a fairly common condition in PNG.

I told the father we should immediately take the boy to Alotau with us. The father said he would go home and get some things and return, which would have taken a whole day. I told him we couldn't wait and that he would have to get another boat into Alotau. A month later, when the boy and his father turned up at Alotau hospital, it was too late. The child went into surgery for amputation of his right leg, but died under anesthesia.

Seventeen years later, it seemed to me that here was the same little boy. This time it would be different.

They hurriedly placed him on a stretcher and boarded him onto the plane. With Beatrice and her precious baby sitting in the co-pilot seat and the boy with the fracture sitting in the back, we closed doors and fired up the engine.

It came to life with a reassuring rumble, and we lifted off in half the length of the strip. We climbed out through a gap under a low bank of angry clouds and headed towards Alotau. There was no chance of turning back as our track in the sky seemed to be swallowed up by the advancing weather. Luckily, we landed safely.

Yesterday I visited my patients at the hospital.  The boy with a fracture is all smiles in his new cast of plaster and will remember his flight in a Beaver for the rest of his life.

X-ray confirmed that my little boy with the big leg has a Ewing's sarcoma. He will have to have his leg amputated in order to save his life.

But Beatrice — in a satisfying end to this story — was confirmed by the hospital's larger ultrasound as suffering from placenta praevia major. She was matched with a blood donor and is ready for C-section. Her baby has received steroids to mature its lungs in preparation for an early delivery, before bleeding starts — probably in a week's time.

Thank heaven for Sister Dorcas, and thank heaven for Vscan. It helped save Beatrice's life and that of her baby. It's so reassuring to have it with me to identify those mothers at high risk in remote health centers, knowing that the Vscan is as good as, if not better than, the larger machines used in our provincial hospitals. Peter sadly passed away July 12. His death was widely mourned. But his work helped save lives. Thank you, Peter and GE.
Categories
tags