GE Aviation will open a new assembly plant in Indiana to build the world's first passenger jet engine with 3D printed fuel nozzles and next-generation materials, including heat-resistant ceramic matrix composites (CMCs) and breakthrough carbon fiber fan blades woven in all three dimensions at once.
Though the engine, called LEAP, will not enter service until 2016 on the Airbus A320neo,  it has already become GE Aviation's bestselling engine, with more than 6,000 confirmed orders from 20 countries, valued at more than $78 billion (U.S. list price).

The LEAP is being developed by CFM International, a 50-50 joint venture between GE and France's Snecma (Safran).

The partners have designed three versions of the LEAP engine for three next-generation single-aisle passenger planes: the A320neo, Boeing 737 MAX and COMAC C919. Boeing estimates that the single-aisle market will represent 70 percent of all commercial airplane deliveries and 47 percent of total delivery value over the next two decades.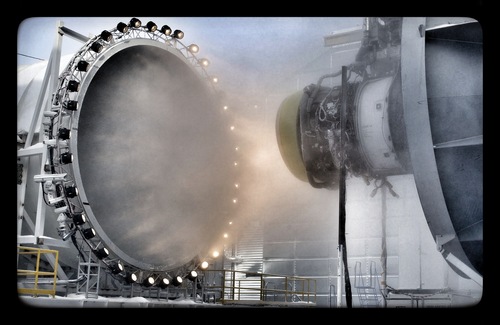 A LEAP 1-A engine is powering through an icing test in Canada.

The new $100 million plant will be based in Lafayette, IN. It will employ 200 people by 2020. They will operate an advanced assembly line equipped with automated vision inspection systems, radio frequency parts management and other new technologies designed to improve production.

The Lafayette plant is the seventh new GE Aviation factory in seven years. Combined, the plants support more than 2,500 new jobs.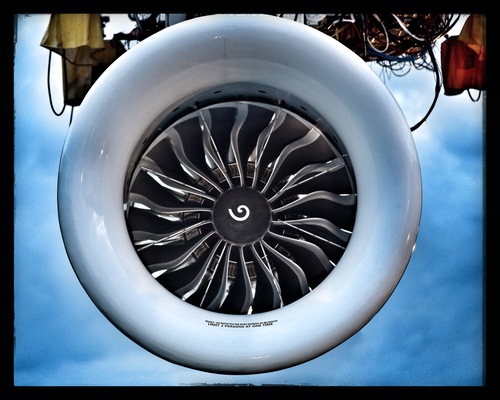 The first LEAP-1A on a test stand in Ohio. (Also in top image.)

GE and partners have about 34,000 commercial jet engines in service. The number will grow by a fifth, to 41,000, over the next six years. GE Aviation's multi-year backlog for equipment and services reached $125 billion at the end of 2013, a 20 percent jump in just one year.

To meet that demand, GE Aviation plans to invest more than $3.5 billion in plant and equipment between now and 2017. Most of the money will be spent in the U.S.

The LEAP engine has benefited from GE's $1 billion annual investment in jet propulsion R&D. Scientists at GE Global Research have spent the last two decades developing some of the most advanced parts of the new engine, including CMCs, 3D printing methods and controls systems.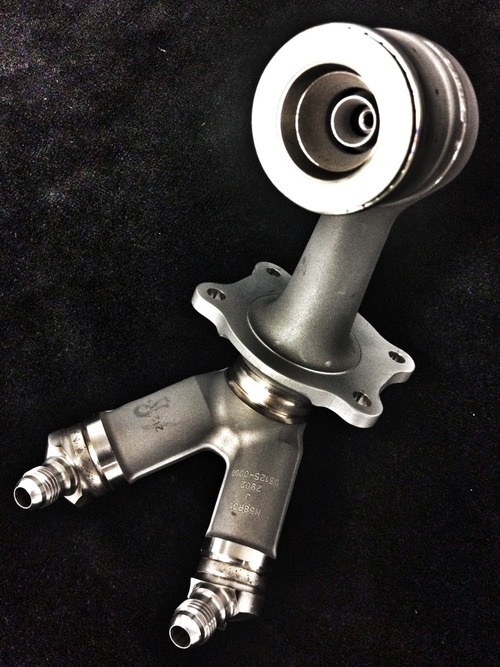 Each LEAP engine has inside 19 3D-printed fuel nozzles (pictuted above), fourth-generation carbon-fiber composite blades, and parts made from CMCs.

The 3D-printed nozzles are five times more durable than the previous model. 3D printing allowed engineers to use a simpler design that reduced the number of brazes and welds from 25 to just five.

The CMC parts help with weight and heat management. They are two-thirds lighter than the metal equivalent and can operate at temperatures 20 percent higher than their metallic counterpart, at levels where most alloys grow soft.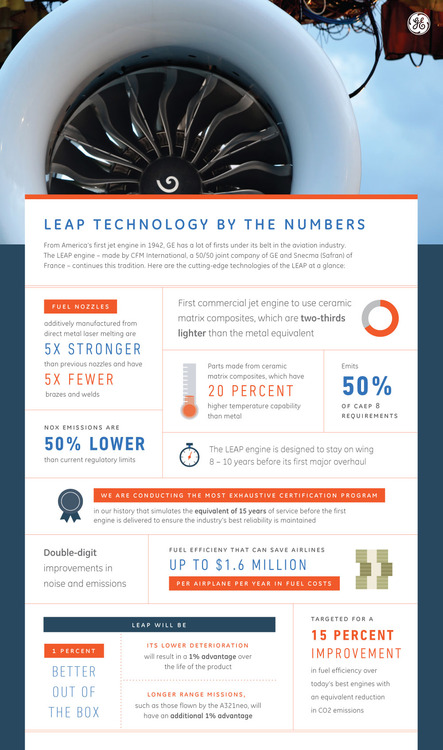 Click to download.

"When you start thinking about design, the weight savings multiplier effect is much more than three to one," says Michael Kauffman, GE Aviation manufacturing executive. "Your nickel alloy turbine disc does not have to be so beefy to carry all those light blades, and you can slim down the bearings and other parts too because of a smaller centrifugal force. It's just basic physics."

The new technologies allowed the design team to cut the engine's weight by hundreds of pounds compared to the same size engine built by using metal parts, increase the internal temperature and make it more efficient. "We are pushing ahead in materials technology, which gives us the ability to make jet engines lighter, run them hotter, and cool them less," Kauffman says. "As result, we can make the engines, and the planes they'll power, more efficient and cheaper to operate."

The first LEAP engine is already going through an exhaustive development and certification program. It is powering through tests at GE and Snecma facilies in Ohio, France, and, most recently, Canada.

The tests will evaluate various engine systems and operability. The engine will go through 60 different "builds" for both ground and flight testing. (A build is defined as the same engine that has been disassembled for inspection and then rebuilt to continue testing. It may or may not include new hardware.) Ultimately, the tests will put the engine through the equivalent of 15 years of airline service by 2016.

Says Chaker Chahrour, executive vice president at CFM: "We get to put the engine through its paces in the most comprehensive test program we have ever undertaken."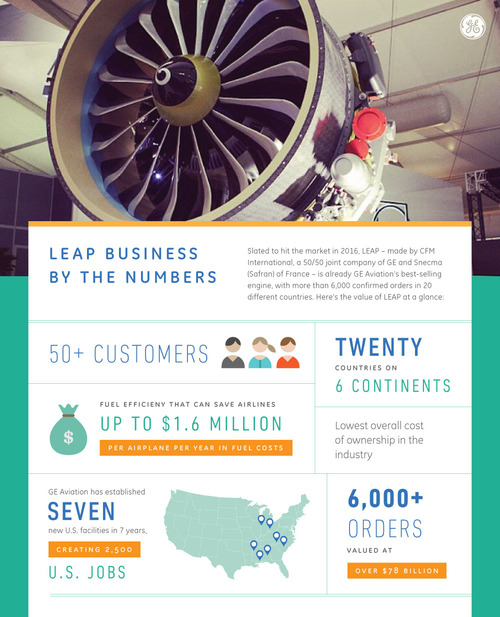 Click to download.
Categories
tags