Ultrasound machines, perhaps best known for imaging fetuses in a mother's womb, have been around for decades. They've also now become an important tool on the front lines of fighting COVID-19, as doctors realized their fast deployment, flexible design and small size can save time in helping patients.
Doctors in China recognized that a pass of an ultrasound transducer probe — the hand-held scanner clinicians slide across the body — can provide a vital insight into a patient's lungs. As the new coronavirus spread to Europe, their colleagues there quickly turned to the technology, using it to help identify signs of low oxygenation in the body that could be caused by COVID-19.
This innovation-by-necessity has been recognized recently by Fast Company in its 2020 World Changing Ideas list. Specifically, the magazine awarded an honorable mention in its health and wellness category to GE Healthcare's Venue Go ultrasound system. Venue Go includes an artificial intelligence feature, the auto B-lines tool, that highlights and counts B-lines, which may signal COVID-19. The tool provides a lung diagram and generates a lung ultrasound score that helps clinicians to easily follow the progression of the lung condition in these patients as they fight the virus. Venue Go is also well-suited in the fight against COVID-19 because it has innovative design features like a flat-screen that is easy to clean and probe placement up top to keep cables off the ground.
"Now more than ever, Venue Go is essential in helping clinicians improve patient outcomes," said Anders Wold, president and CEO of GE Healthcare's Clinical Care Solutions. "We are seeing unprecedented demand for this AI-powered system by offering a more accessible, easy-to-use solution in critical care situations such as COVID-19."
Another GE Healthcare technology — the company's Critical Care Suite — also won an honorable mention in health and wellness from the magazine. Critical Care Suite uses AI to read X-rays and flag life-threatening conditions like a collapsed lung, which happens when an air pocket forms between the lung and chest wall.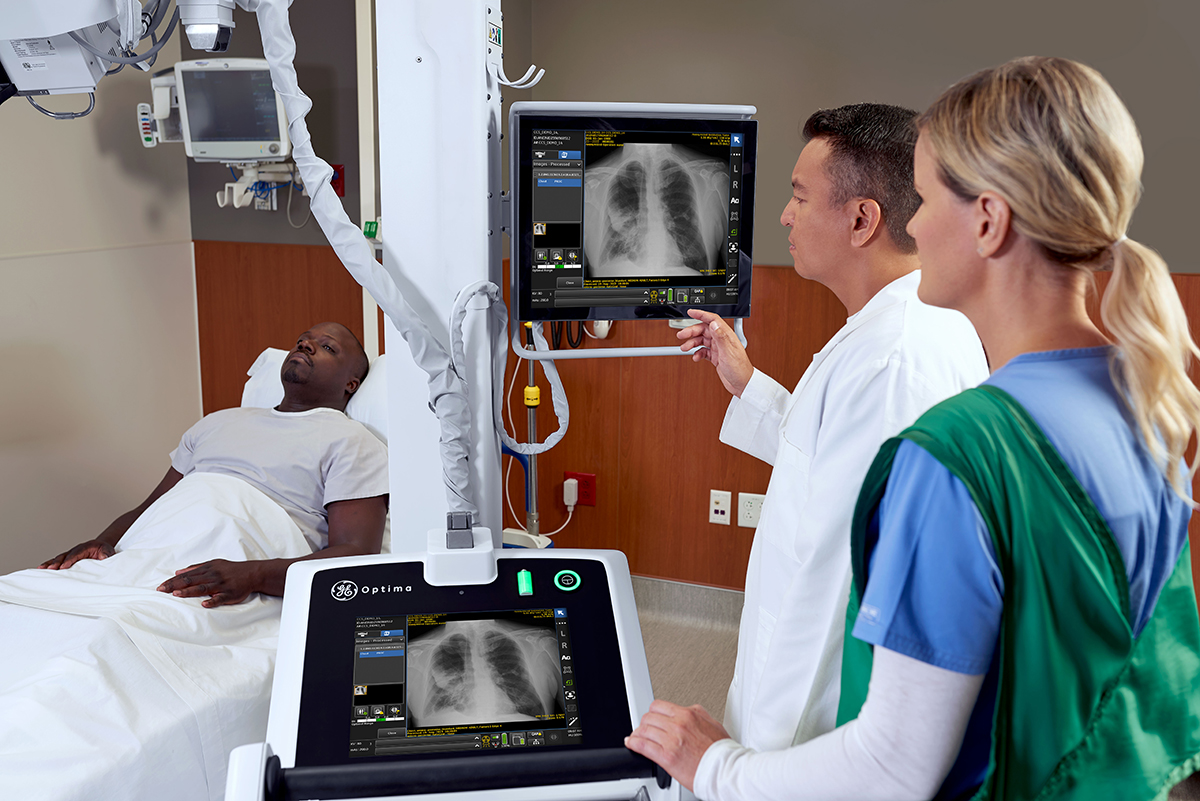 Top: Venue GO uses algorithms, which have been trained on hundreds of thousands of ultrasound images, that can automatically detect subtle irregularities and giveaway patterns in the grayscale and highlight them for clinicians. Above: Designed to optimize X-ray image management and enhance triage notification procedures, GE Healthcare's Critical Care Suite utilizes on-device artificial intelligence to prioritize pneumothorax detection. Image credits: GE Healthcare.
Doctors can treat it by the insertion of a needle or tube into the pocket, letting air out. But radiologists who interpret X-rays to identify pneumothorax — as the condition is medically known — can have a backlog of up to eight hours of chest X-rays to review. That delay leaves time for the air pocket to grow larger, increasing pressure on the lung and turning the collapsed lung into a potentially life-threatening condition. GE Healthcare trained Critical Care Suite's AI on thousands of anonymized chest X-rays to be able to spot the typical set of conditions indicating pneumothorax to help prioritize X-rays for swifter review by a doctor.
"Minutes matter when dealing with critical cases," said Scott Schubert, president and CEO of X-ray for GE Healthcare. "Our Critical Care Suite solution gives us an opportunity to help clinicians speed up diagnosis, which could ultimately save lives and improve outcomes."
While Critical Care Suite hasn't been used in the fight against COVID-19, it and Venue Go reflect the larger trend of supporting doctors' expertise with technology, assisting them in making quicker decisions that help patients faster. Fast Company's panel of 10 industry judges selected winners, finalists and honorable mentions across 26 categories from more than 3,000 entries, focusing on the criteria that products or projects must improve personal or global well-being and longevity.
Categories
tags