It wasn't just luck that the Ebola epidemic didn't spread once it reached Lagos. Here's what other countries can learn from Nigeria's effective response.


A horror never before seen unfolded in late spring and summer 2014: the first urban Ebola epidemic in human history.

As Ebola spread through the densely populated urban center of Monrovia, Liberia, cases overwhelmed the country's fragile health infrastructure. Hospitals and Ebola treatment units overflowed with sick and suffering patients; television crews filmed people dying in the streets.

The situation threatened to get worse rapidly — and much, much bigger. On July 20, 2014, a sick traveler from Liberia got off a plane in Lagos, Nigeria — a densely populated city with 21 million residents, nearly 20 times larger than Monrovia. As Africa's largest city and an international travel hub with departures via every conceivable mode of transportation to cities throughout Africa and the world, spread of Ebola in Lagos could have turned a regional epidemic into a global catastrophe.

The ill traveler sought treatment at a private hospital in Lagos. At the airport and in the hospital, he came into direct contact with 72 people before he was diagnosed with Ebola. He infected 13 of them with the virus, one of whom fled quarantine to travel by air to Port Harcourt, the country's oil capital, further spreading the infection to doctors and others in that city. It looked as though a nightmare scenario — the exponential spread of Ebola in multiple urban centers — was about to become a reality.

Not Just Luck

With all the elements for a global epidemic in place, why didn't it happen? It wasn't just luck.

Unlike the three other nations in West Africa where the Ebola epidemic raged, Nigeria had a functioning emergency operations center (EOC) and incident management system. CDC and international partners helped establish this public health infrastructure in an all-out effort to eradicate polio. When Ebola landed in Nigeria, the government had the critical systems already in place to detect the virus and interrupt transmission before it could spread out of control.

Nigeria also had another advantage: a team of disease detectives trained through CDC's Field Epidemiology Training Program (FETP), in which a CDC resident advisor mentors epidemiology trainees in a two-year program modeled after CDC's elite Epidemic Intelligence Service (EIS). Nigeria's FETP is one of 55 such programs with more than 3,100 graduates in 72 countries. More than 80 percent of graduates of these programs stay in their home countries, generally working in leadership positions.

Nigeria's FETP trainees spread out across Lagos in the hours and days after the initial patient's positive Ebola diagnosis, looking for anyone who might have come in contact with the traveler. CDC staff in Nigeria and from Atlanta became part of the incident management system providing a coordinated, urgent response. The teams identified 894 people at risk for Ebola and completed nearly 19,000 home visits to monitor residents for symptoms. At the airports, more than 147,000 travelers were screened for fevers that might indicate Ebola infection.

Eventually, the effort identified 19 additional people with Ebola across three generations of transmission in the two cities, and were able to end the outbreak before it could spread further among Nigeria's population of about 180 million people — or beyond.

How to Stop the Next Outbreak

Outbreaks are an inevitable threat of nature. They cannot always be predicted. But frequently they can be contained and controlled — if detected in time, and if there is an appropriate, rapid response.

In today's increasingly interconnected world, an outbreak in one country is just a plane ride away from almost any other country. Every nation's health security depends on the health security of other nations — which is why CDC supports the Global Health Security Agenda (GHSA). GHSA is a collaborative effort by more than 50 countries working to ensure that every country has the minimum infrastructure necessary to prevent, detect, and respond to disease outbreaks. Guinea, Liberia and Sierra Leone are among the participating nations.

GHSA includes:



A nationwide laboratory network equipped with modern diagnostic tools and that follows strict biosafety protocols.


Real-time disease surveillance.


A timely electronic system for reporting disease outbreaks.


A dedicated workforce of medical and public health professionals, including disease detectives.


Emergency operations centers capable of coordinating an effective response within two hours.



Having these capabilities in place helps countries deal more effectively with day-to-day health issues and allows them to be ready to rapidly scale up in emergencies.

CDC is committed to protecting the health, safety, and security of Americans — but we'll only be safe if we can stop international health threats at their sources. By investing in the world's health we're protecting our own — and giving us all a better chance at stopping the next epidemic, or pandemic, before it reaches our borders.

(Top image: CDC Director Dr. Tom Frieden exits an Ebola treatment unit in West Africa in 2014. Courtesy of CDC.)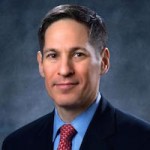 Dr. Tom Frieden is Director of the Centers for Disease Control and Prevention.
All views expressed are those of the author.
tags