Mr. Trash Wheel— the world's first sustainably-powered trash collector— has removed over 9 million cigarette butts, nearly 500,000 polystyrene containers and close to 400,000 plastic bottles from Baltimore's harbor. But is he a match for the "Great Pacific Garbage Patch?" Adam Lindquist, Director of Baltimore's Healthy Harbor Initiative, explains.




Out in the Pacific Ocean between Hawaii and California floats a massive heap of garbage, appropriately named the Great Pacific Garbage Patch. Some estimates put the patch at equal to the size of Texas, and according to a recent report, over 80 percent of ocean trash comes from land-based sources. This means most ocean trash isn't dumped directly into the water; it starts on the land and then flows into the sea. Because so much ocean trash is starting out on land, so should the solution.

It is far more cost effective and efficient to collect trash at the end of a river, stream or storm drain than in open water. That's why Baltimore built the world's first sustainably-powered trash collector at the end of a stream near the historic Inner Harbor. Affectionately known as "Mr. Trash Wheel," the device has collected over 1 million pounds of trash since being installed in 2014, and has become the most viable solution to ocean trash operating in the world today. A pair of five-foot tall googly eyes gives the device its personality and has even transformed it into a local celebrity.



Mr. Trash Wheel doesn't just pick up floating trash, he also cracks jokes, takes selfies and shares pictures of his favorite garbage. He does this all through his social media pages (Twitter, Facebook and Instagram) where he has over 20,000 followers from around the world.




Today is the LAST DAY to buy Floatilla tickets. Don't miss your chance to hang out with me on the water: https://t.co/9HtQLbDT31 pic.twitter.com/I627KfqlNQ




— Mr. Trash Wheel (@MrTrashWheel) June 5, 2017






He's even been featured in National Geographic, NBC News and National Public Radio. Fans drink Mr. Trash Wheel beer (brewed by Baltimore's Peabody Heights Brewery) and even helped to raise over $550,000 to fund a second trash wheel in Baltimore known as "Professor Trash Wheel" (she, too, can be followed on Twitter and Facebook).

The trash wheels are the collective brainchild of Clearwater Mills, a private company, and the Waterfront Partnership, a Baltimore-based nonprofit. With their support, the Healthy Harbor Initiative engages city residents using social media, volunteer events, kayaking and innovative projects. The theory is that if everyday citizens aren't actively using and working to restore the marine environment, politicians and other key decision makers are unlikely to follow suit.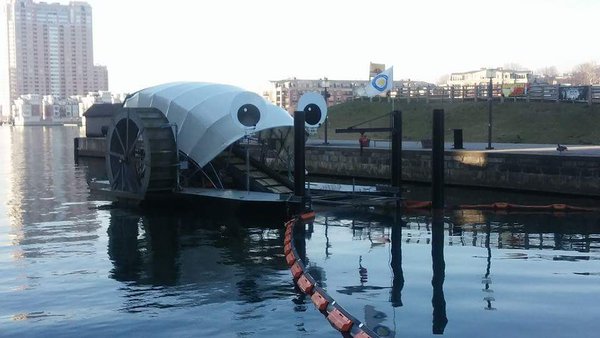 9 million cigarette butts, nearly 500,000 polystyrene containers and close to 400,000 plastic bottles. Without the trash wheels, much of that trash would end up floating all the way from Baltimore to the North Atlantic Garbage Patch. Imagine what could be accomplished if trash wheels sat at the end of rivers up and down the east coast of the United States.

But Baltimore hopes to one day retire its trash wheels. Waterfront Partnership recognizes that they are a great immediate solution, but the long-term solution is upstream behavior change, including recycling and picking up litter, which the partnership has promoted since Mr. Trash Wheel was installed. These efforts, combined with new street sweeping and municipal trashcan programs, may be having an impact. In 2016, Mr. Trash Wheel collected 76 fewer tons of trash than in the previous year. His creators hope that, if that trend continues, Mr. Trash Wheel may even get to retire early.

(Top image: Courtesy of the Waterfront Partnership of Baltimore.)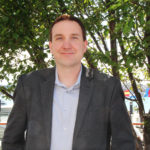 tags