Of the 7.1 billion people in the world, men make up eighteen percent and women sixteen percent of people who are online. That means there are 200 million fewer women online. And when women are offline, so is the global economy, writes Cheryl Miller Van Dyck, Co-founder and Executive Director of the Digital Leadership Institute.



The future is already here — it's just not evenly distributed.

-William Gibson

The world is becoming digitized at an unprecedented rate. The advent of the internet, mobile devices and cloud-working has put huge connectivity and computing power in the hands of individuals at the most personal level the world over. All areas of the economy are being impacted by digitization, and many market-leaders in traditional sectors — finance, entertainment and even government — are reinventing themselves as "digital." The onset of the Fourth Industrial Revolution or "Industrial Internet," characterized by digitization of the world's power and production facilities across a vast landscape populated by massive amounts of data, is set to further dwarf the digital transformation already afoot. All told, these phenomena add up to a change of staggering scope, speed and apparent inevitability, called the "digital disruption." Consequences of this disruption—for our lives, the planet and our fellow creatures—are still largely unknown.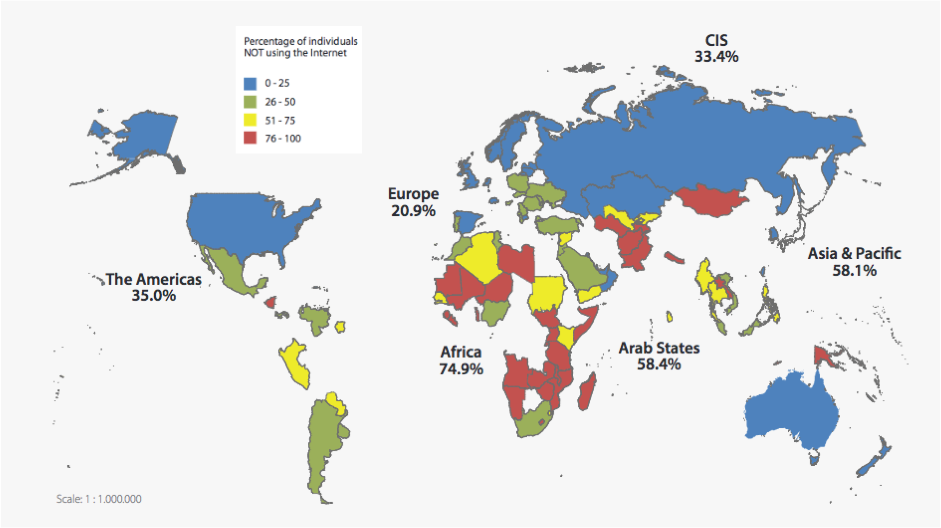 boost global GDP by up to $18 billion. A European study of the same period demonstrated that equal participation of women in the information and communications technology sector would contribute as much as €9 billion to the European economy annually, and would act as a quick-win for addressing the growing digital skills and job gap. In the face of one million tech jobs in Europe that will go unfilled by 2020, double-digit urban youth unemployment, and an almost non-existent wage gap in tech jobs, the advantage of increasing gender diversity in digital sectors seems incontrovertible. The situation is not improving, however, and even shows signs of worsening.

Despite demand for IT experts in Europe that has grown eight times the rest of the workforce for the last ten years, participation by women in these fields has fallen off in relative terms and flat-lined in absolute numbers over the entire period. In addition, from 2005 to 2012, when sex-disaggregated data was collected for the Digital Scoreboard for Europe, research showed a persistent lag in digital skill-levels of European women that represented a ten percent difference between the genders, or roughly twelve million more digitally unskilled women than men.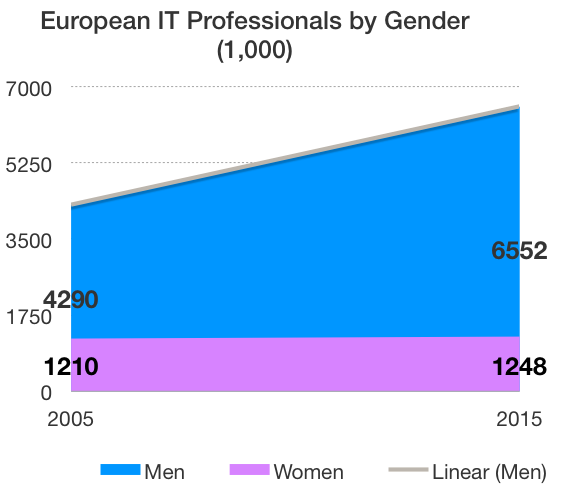 GE, Vodafone and Intel to increase representation of women in global technical and managerial roles in digital sectors should be lauded and replicated on a broad scale. Besides being beneficial to society and the women themselves, the economic value for the companies is clear, as reflected in a diverse workforce, loyal employees and a burgeoning pipeline of female talent capable of leading the digital transformation. Vision of this kind paired with concrete action on the ground to deliver it— including IT apprenticeships for women, community building and development, continuous learning, and tracking toward management — are the only way to increase the overall digital talent pipeline and engage women to fully achieve digital transformation, including that embodied in an inclusive industrial internet.

(Top photo: Getty Images.)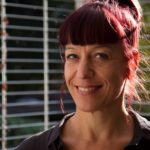 Digital Leadership Institute, a Brussels-based international NGO whose mission is inclusive digital transformation. You can follow its activities on Facebook here.






All views expressed are those of the author.
tags