There is no lack of water in Stockholm, which spreads over an archipelago of 14 islands and whose oldest quarter used to be called quite literally "The Town Between the Bridges."
Yet today, the most exciting water action in the Swedish capital takes place in huge granite tunnels deep under its streets and waterways. The city's water company, Stockholm Vatten, is upgrading its massive Henriksdal plant that treats two thirds of the capital's wastewater. To do so, it's bringing in high-tech bioreactors with undulating membranes that emulate seaweed. Designed by GE, they efficiently filter out everything from gasoline, to bleach and human waste.

When finished, the plant will become the world's largest water treatment facility with such "membrane bioreactors" (MBRs), capable of processing almost 280 million gallons of dirty water per day. The plant will release the clean water back into the Baltic Sea.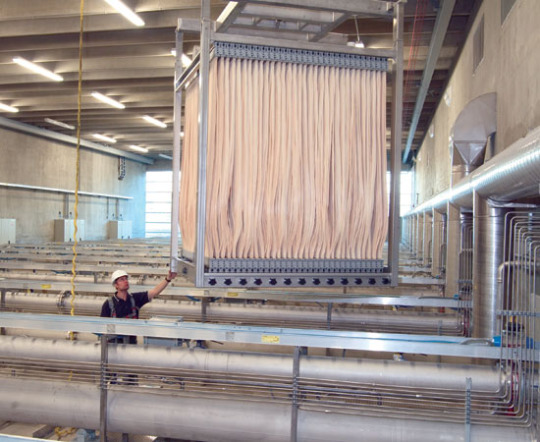 Top: A granite water tunnel under Stockholm. Image credit: Stockholm Vatten Above: A ZeeWeed cassette from GE's LEAPmbr bioreactor. Image credit: GE Power & Water

The 11 miles of tunnels blasted from Stockholm's granite bedrock make this project particularly challenging. This rocky straitjacket made any capacity expansion an extremely difficult proposition.

But the city couldn't wait. Stockholm has one of Europe's fastest growing populations and Sweden is bound by strict environmental requirements imposed by the Baltic Sea Action Plant and the E.U. Water Directive designed to fight water pollution.

Until now, Stockholm Vatten has used a number of different mechanical, chemical and biological methods to clean the water. It takes about a day for the effluent to pass through the process.





But the city needed something better and GE's LEAPmbr ultrafiltration technology emerged as the right fit. The reactor comes with unique ZeeWeed 500 filtering membranes coated with a special synthetic resin. The design allows them to undulate and sway much like seaweed.

The membranes are riddled with tiny holes just 40 nanometers wide that filter out bacteria, sediment, and unwanted nutrients like phosphorus and nitrogen.

But that's not the only benefit. The technology is also cheaper to operate and needs a third less power than conventional MBR. Its flexible design allows engineers to fit it within a smaller space – this comes handy when you're working inside a granite cave.

Gösta Lindh, managing director of Stockholm Vatten, says that the technology "will help us meet our long-term needs for increased wastewater treatment capacity and will help us do so in a more energy-efficient and cost-effective manner."

Stockholm won't be the only place with ZeeWeed. The technology is already helping to protect Australia's Great Barrier Reef, a volcanic lake in New Zealand, among many other places around the world.
Categories
tags