Beyond smart policies, innovation and private-sector collaboration will help solve the world's resource challenges.


The world's resource challenges are very much top of my mind as we anticipate the start of the important 2015 United Nation's Climate Change Conference (COP21), which will take place in Paris from November 30th through December 11th. At GE, we are deeply committed to helping to address the world's most pressing resource challenges.

A decade ago, we launched Ecomagination as our business strategy to provide cleaner technology solutions that improve resource efficiency and economics for our customers, and to improve efficiency in our own operations. Our vision was to make a global impact on resource outcomes and economic growth. It has been widely successful. That was in 2005. Today, as we assess the landscape, we recognize that today's global resource challenges are increasingly complex and interconnected. It is clear that new solutions and approaches are going to be needed to tackle these challenges.

Population increases, the rate and pattern of economic growth, technology innovation and increasing interconnections have created growing pressure on global resources over the last decade. The world's population has been on the rise. In 2005, the global population level stood at 6.5 billion. Now, a decade later, the world population has reached 7.2 billion. Eight hundred million people have been added in just the last 10 years — and 95 percent of the population growth has occurred in less-developed regions with lower income levels and less access to water, energy and food. The United Nations Population Division believes that the next 15 years will bring more of the same, projecting that global population will grow by another 1.2 billion by 2030.

The world economy has expanded in the last decade. In 2005, world gross domestic product stood at $56.8 trillion (2010 USD). By 2014, the size of the global economy reached $73.8 trillion. That's an increase of 30 percent. Emerging and developing economies accounted for 70 percent of global economic growth over the last decade. The global economy doesn't show signs of slowing. By 2030, GE expects the size of the world economy to reach $98.1 trillion. That's another 33 percent increase, with 60 percent expected to occur in the developing world.

Over the last decade, our global economy and ecosystem have also become increasingly complex and interconnected. The incorporation of information technologies into all aspects of life — even our industrial machines — and the increasing integration of our global economics, along with the tightening linkages between our planet's natural resources, has created a world that is connected in new and different ways. Data shows that the linkage between materials consumption and income levels has strengthened in the 21st century. Economic and resource challenges have become intertwined too. In this integrated world, rising greenhouse gas (GHG) emissions from power plants in Asia impact all of us; water scarcity in the Middle East affects global oil markets; and the drive for more energy resources in the United States impacts the world when it unleashes new ways to produce oil and gas for everyone.

Global water supplies are strained. About 750 million people around the world lack access to safe drinking water today, and 1.2 billion people live within water-stressed regions. Within the next decade, one-third of the world's population will live in water-stressed regions. Water is also a basic input to the global economic system and is essential for agricultural and industrial production. Global industrial water demand alone is expected to increase by 250 percent by 2030. Energy, too, is a precious commodity in an increasingly resource-constrained world. Over the last decade, global energy demand rose from 11,400 million tons of oil equivalent (Mtoe) to 13,600 Mtoe. That's an increase of 20 percent. In the decade ahead, the rising tide of world population and economic output will push energy demand up another 20 percent to 16,300 Mtoe.

Until now, economic growth has translated into greater resource consumption, which has in turn led to greater environmental impact. This must change. The local and global environmental impact of energy and water use is a great concern, and we need to decouple economic growth and environmental impact. The fight against climate change has become a defining feature of our times. Over the last 10 years, global CO2 emissions from energy production have risen to 29,259 million tons (Mt). On the current trajectory, in the next 15 years, CO2 emissions are expected to rise another 30 percent to 38,048 Mt. Stemming the rising tide of GHGs will require less carbon-intensive energy technologies and new approaches to energy production and consumption.

These are tough challenges. But, as a 130-year-old technology company, GE has always believed in creating technologies that enable a brighter future for our customers and the world around us. So we are optimistic about the role that innovation can play in confronting these challenges, and we plan to leverage our Ecomagination strategy to accelerate innovation in clean and more efficient solutions for our customers. We will develop solutions that bring together the best of the physical and digital worlds to harness the capabilities of mind and machine in order to increase resource productivity and help the planet do more with less.

We recognize that we only have one part of the solution. Smart policies will be required too; and innovation in today's world will require collaboration and commitment from those who may have different perspectives and alternative solutions, but a common drive to make the world a better place. That's why we recently launched strategic partnerships with global leaders to find commercial solutions to some of the world's toughest resource challenges. We have brought together the best of GE and the best partners to collaboratively create the innovation that will help transform tomorrow. As Ecomagination enters its next decade, we are focused on delivering on the promise to power productivity and achieve progress on an even greater scale.

It's hard not to be optimistic about the future. We have surveyed the landscape, and we believe that a lot can be achieved by 2020 through continued innovation and collaboration. Here's what we think can be accomplished by the end of the decade:



Renewable energy will account for over 50 percent of all new power plant additions


Natural gas use in centralized and distributed power generation applications will accelerate


Energy storage costs will be cut in half


The number of installed smart meters will reach 1 billion


Industrial water reuse will triple


Global LED shipments will quadruple


New coal power plants will achieve 50 percent efficiency


Global transportation GHG emissions will stabilize


Fuel cell installations will grow by 400 percent


Digital technologies will accelerate the rate of global resource productivity



This is our view. We know that perspectives differ, so we have asked external and internal technology, market and policy experts to give us their view on what can be achieved in each of these areas through the end of the decade. This is the first in a series of articles on the future of energy and the environment that will explore these issues. I look forward to hearing different outlooks and having a robust discussion around these issues which are so vital to our common future.

(Top GIF: Video courtesy of GE)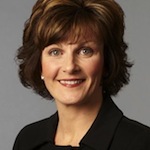 Debora Frodl is Executive Director of GE Ecomagination.
All views expressed are those of the author.
tags