From Japan's offshore solar plants to a tidal lagoon in Wales, countries around the world have found clever ways to tap renewable power. But nowhere is the need for ingenuity more in demand than in Germany, which aims to produce 80 percent of electricity from renewables by 2050, up from 30 percent now. "Today, we rely mainly on wind and solar power, but the supply can be very volatile," says Christoph Lange, chief executive of BLS Energieplan, GE's energy planning German subsidiary. "We need a third way that brings everything together."
One such solution began operation today. Engineers have flicked the switch on a new hybrid power plant that combines a flexible gas engine generating heat and power (CHP), a large roof-mounted solar array operating at 1,500 volts, batteries, and heat storage. The plant will generate a combined 1 megawatt of electricity (400 kilowatts from gas and 600 kilowatts from solar), and also heat for a GE factory in Berlin's Marienfelde district.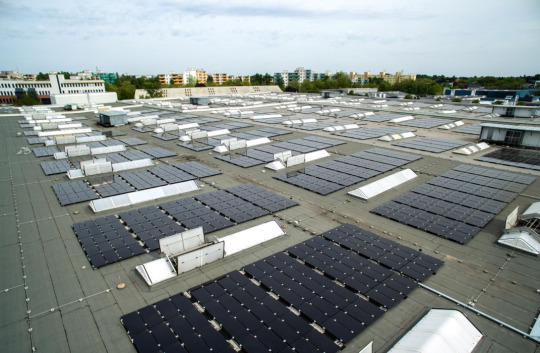 The factory's solar panels can produce 621 kilowatts at peak output.

The power plant, which was designed by BLS, the solar power company BELECTRIC, and the energy services firm Kofler Energies, will use sophisticated software from Kofler to arbitrage energy supply and demand, store excess power and heat in the batteries and heat storage, or sell electricity to the grid. "We needed a new kind of thinking," says Bernhard Beck, the founder and executive chairman of BELECTRIC. "It's no longer gas against solar. Here we can combine their benefits."

The team started working on the power plant about a year ago. They noticed that if they combined power supply curves from a certain type of gas engine and a photovoltaic array (PV), they would get a nice flat line. "The heat and power from the gas engine is reasonable in the winter, but it doesn't make sense in the summer," Beck says. "But that's also when we have long, warm days and the PV kicks in. The software helps us blend the output and optimize the whole design."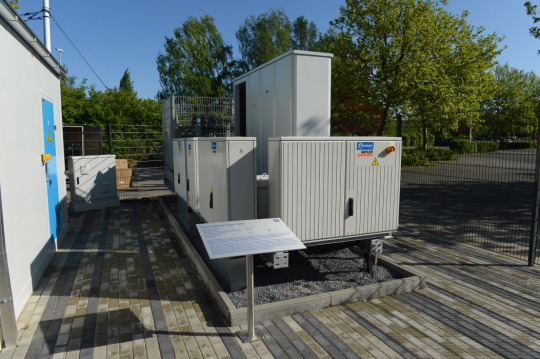 GE inverters changing direct current produced by solar panels into alternating current.

The power plant's gas engine comes from GE's "flexible" Jenbacher line. It can quickly ramp up or cut production depending on the amount of sunlight and solar power coming from the PV units. The engine generates low CO2 emissions and can be nearly 90 percent efficient in the combined heat and power mode.

The plant can sell any excess electricity to the grid or store it in batteries, which hold 200 kilowatt-hours, and release it when needed. "We want to cut the peaks in the consumption," Beck says. "At lunchtime, for example, we can stop the engine and tap the batteries."

Lange says that the new power plant could cut the GE factory's energy costs by 30 percent, compared to relying on a conventional CHP engine and the grid. "Solar is cheap and the heat is basically free," Beck says. "It's also more environmentally friendly than conventional CHP plans."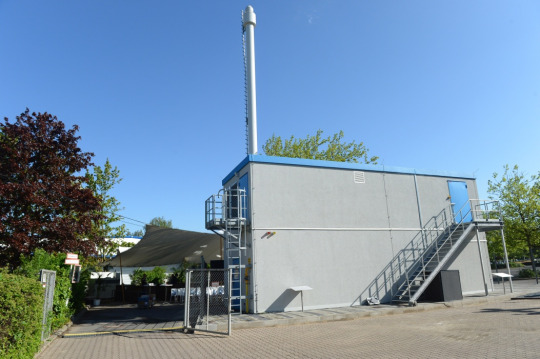 The structure housing the Jenbacher gas engine.

Both lange and Beck say the power plant could be easily scaled elsewhere since its design is modular. "This is the first time we combined gas, solar and batteries in a single design," Beck says. "It's unique and it also make a lot of economic and environmental sense."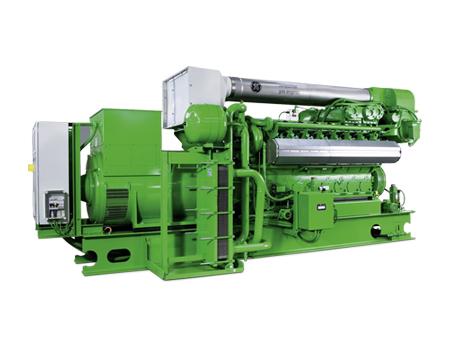 A GE Jenbacher engine.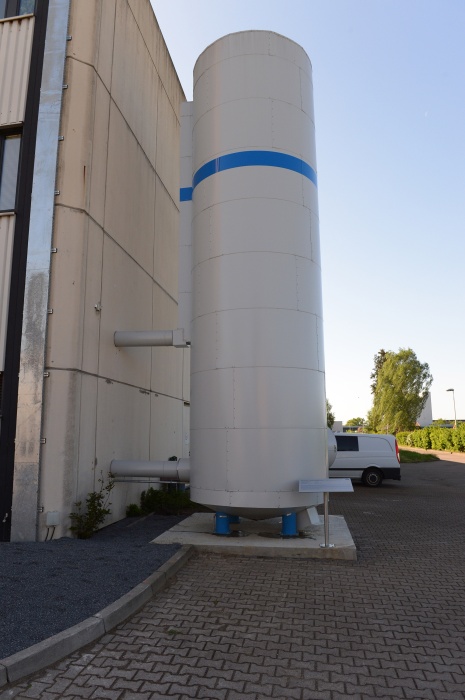 The heat "buffer" at the factory. Photo credits: GE Reports
Categories
tags